Let's talk a little bit about the fundamentals behind Pandora (NYSE:P).
If you read me regularly, you know that there is very little that impresses me about this company. But, let's forget about the fact that I think both Apple (NASDAQ:AAPL) and Google (NASDAQ:GOOG) (NASDAQ:GOOGL) are eventually going to crush Pandora - whether its eventually bought out or not - and let's just do a once over of some fundamentals.
Currently, Pandora is trading at about $27 a share, which places a market cap of $5.53 billion on the company. According to Yahoo, the company trades at a forward P/E of 55 and a price/book ratio of nearly 11. They have yet to turn a profit.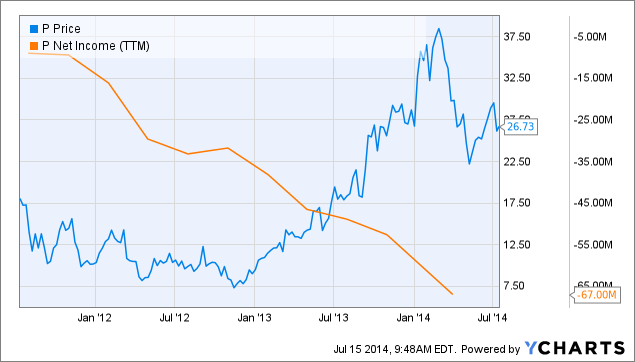 P data by YCharts
While I once again concede that the company has little debt and that the balance sheet is one of its main assets, a valuation at this current number is anything but reality-based.
Discussion has turned to whether or not a recently disclosed DOJ investigation behind collusion against Pandora could be of any help to the company. Seeking Alpha reported yesterday:
The DOJ has sent out document requests to music publishers Sony (NYSE:SNE)/ATV and Universal, as well as trade groups ASCAP and BMI, regarding the consent decrees through which they provide performance rights to Pandora and others.
The agency is investigating allegations of "coordination" between the publishers and trade groups to secure higher royalties. The probe comes after Pandora alleged during a 2013 rate-setting trial (previous) the parties colluded to change ASCAP/BMI bylaws that would allow for partial rights withdrawals, a move that paves the way for higher royalties.
During the trial, Judge Denise Cote found proof of "troubling coordination" between ASCAP, Sony, and Universal, but had no jurisdiction on the matter to make a ruling.
Content acquisition costs accounted for 56% of Pandora's Q1 revenue, with recording royalties (different from performance royalties) making up the biggest portion of the total. Q2 results are due on July 24.
While there's certainly some items of substance here, there's nothing that's going to have a profound effect on Pandora's stock price anytime soon - or maybe ever.
However, I wanted to take this chance to talk about what has had a profound effect on Pandora's stock price: constant praise from analysts despite the company's lackluster fundamentals. Pandora is a $5.5 billion ship that is being steered higher once again by analysts from across the board despite the fact that it has yet to turn a profit. Which first brings us back to the heinous upgrade that Canaccord gave Pandora days ago. Seeking Alpha reported:
A talk with Pandora's ( +3.4%) IR team has given Canaccord's Michael Graham (Buy, $43 PT) "renewed confidence in Pandora's ability to exceed [Canaccord's] revenue targets over time, especially when viewed through the lens of future local sales capacity."
Pandora has been spending heavily to grow its local ad salesforce: Sales/marketing spend rose 63% Y/Y in Q1 to $61.8M.
Meanwhile, MKM's Rob Sanderson (Buy) believes Pandora could see $5.60/year in EPS one day with the help of rising ad load. He observes that while Pandora has a 9% share of ad-supported radio listening, its audio ad sales "represented less than 2% share of the spending pie last year."
Pandora's 2014 and 2015 EPS consensus estimates are only at $0.17 and $0.48, respectively. Though its ad load has been rising, the company has been taking a measured approach in order not to alienate users who have plenty of alternatives.
Shares have topped $29 for the first time since April.
I was extremely critical of this upgrade in my last article, stating:
First off, what kind of a conversation with IR is going to lead you to up a price target on a stock? IR can't deliver any kind of materially improved metrics or guidance anywhere - they can only reiterate what the company has already disclosed. So, short of putting a nice polish job on the heap of information we've already been handed by the company (and maybe picking up the dinner tab somewhere), I'm not quite sure what the IR team could have said that Mr. Graham was so enamored with.
As I think anyone should be wary of any analyst suggesting that Pandora can, and needs to, run higher. One of the main reasons I don't work as a sell side analyst at a major firm is because I don't think I'd be able to keep my lunch down recommending a stock like Pandora and suggesting that it could be going to $43.
And that's not to say I hate momentum stocks, because I don't. I'm a fundamentals first guy by nature but the occasional Tesla (NASDAQ:TSLA) that comes along will offer me cause to abandon short term fundamentals for favor of the potential long-term gains. It's just that with Pandora, I feel their best days are behind them already.
To make my point on analysts being the driving force behind this stock, here's some of Pandora's analyst history prior to this Canaccord move:
(click to enlarge - source Yahoo! Finance)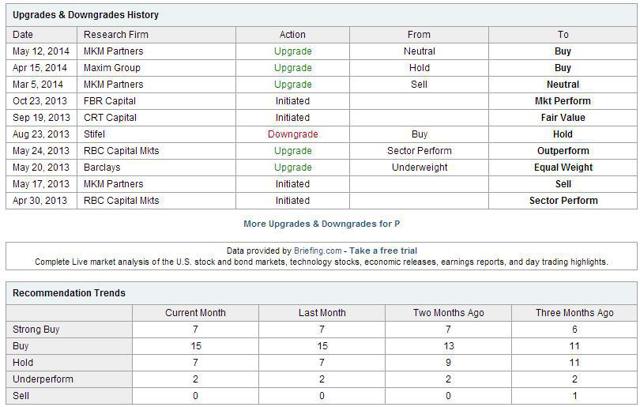 There are ZERO analysts that think you should sell Pandora in its current state, and only ONE analyst that recommended a sell within the last three months. Hilarious, right? Better than that, the consensus recommendation is calling for an average price target of $35/share. QTR thinks this estimate is about $25/share too much.
(source - Nasdaq.com)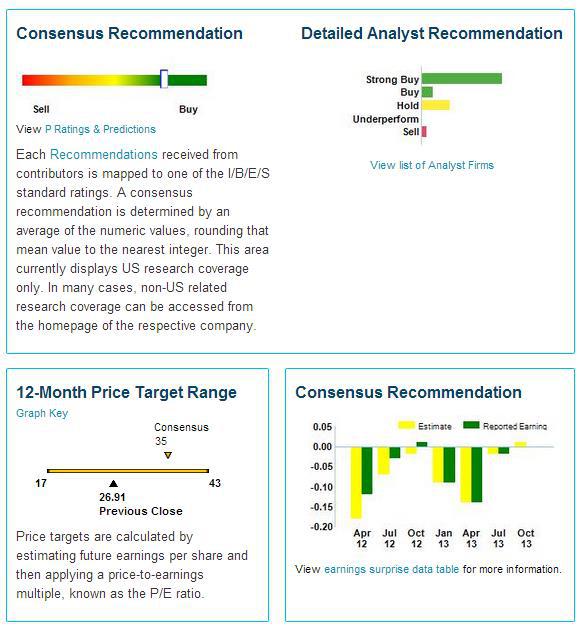 The fact of the matter is that any ruling from this DOJ investigation - which would likely be more than a year from now - won't have a material impact on the way that Pandora is valued by our crazy market.
Keeping this in mind, could it be possible that the "real" collusion behind Pandora has been the analyst consensus? With no one having the stones to stand up and potentially suggest that this stock, and company, have run its course - are we only getting one side of the Pandora picture? I'm not suggesting premeditated collusion in any way, simply collusion by ignorance. If everyone on Wall Street says Pandora is a $35 stock, does that make it true?
Think for yourself on this one.
Disclosure: The author is long AAPL. The author wrote this article themselves, and it expresses their own opinions. The author is not receiving compensation for it (other than from Seeking Alpha). The author has no business relationship with any company whose stock is mentioned in this article.