I reiterate my bullish stance on DirecTV (DTV); the company has been managing to grow its top-line through modest revenue growths in both the U.S. and the Latin American market segments. Moreover, DTV's effective cost management efforts are contributing well towards expanding its margins. In addition, the company's healthy top-line and effective share repurchases gave a boost to its earnings, which helped DTV beat analyst EPS expectations by posting an 8.70% EPS beat in 1Q14. Furthermore, the possible DTV and AT&T (NYSE:T) merger will portend well for the company's operations and cash flow base.
DTV U.S.
The U.S. Pay TV Industry is highly competitive given the presence of giant cable operators like Time Warner Cable (TWC) and Comcast Corporation (NASDAQ:CMCSA), and also with IPTV service providers, Verizon (NYSE:VZ) and T. Also, the high-level market penetration has limited the ability of DTV to grow its subscriber base in the U.S. In 1Q14, the U.S. segment's net additions of DTV were only 12,000, whereas DISH Network (NASDAQ:DISH) added 40,000 net pay TV subscribers in the U.S.
To grow its subscriber base, DTV has intelligently turned its focus towards ARPU growth to support the segment's performance. In 1Q14, the company experienced revenue growth of 5% year-on-year, mainly due to better ARPU. Effective initiatives like the penetration of DTV's Genie DVR enhanced the warranty program and an almost 3.7% increase in service charges were the main ARPU drivers in 1Q14. To highlight the future prospects of DTV's U.S. segment, Michel D. White, the chairman and chief executive of DTV said:
"In the U.S., we continue to focus on achieving our plans for profitable growth by maintaining a strong financial foundation through initiatives that drive top line sales, maximize subscriber returns, heighten our focus on the overall customer experience and effectively manage costs across our enterprise."
DTV Latin America
A rise in the income level of Latin Americans has offered a growth opportunity for the company in the region. Over the past few years, the Latin American pay TV penetration has seen a gradual increase. DTV has been eyeing Latin America, a market with growth potential, to grow both its top-line and bottom-line. Also, with its established brand name and efficient partnerships with Sky Brasil, Pan America and Sky Mexico, the company is offering best-in-class video and service experience, which has allowed DTV to establish a competitive edge over peers in Latin America. In 1Q14, the company's Latin American subscriber base experienced an addition of 361,000 net new customers as compared to 231,000 in 4Q13. The healthy increase in the Latin American subscriber base increased its Latin American segment's revenue by more than 20% year-on-year in local currency.
The company strongly believes in the growth potential in Latin America; to address this growth potential, DTV is wisely managing its investments in building out the infrastructure in Latin America. I believe that as the company will expand and improve its infrastructure in Latin America, along with its best-in-class content offering, the company will experience robust growth in Latin America in the long run.
The Bottom-Line
The company's recent quarter's revenue growth from both U.S. and Latin America decently grew its net income by 2% year-over-year in 1Q14. Moreover, the company also repurchased $895 million worth of stock in 1Q14, which added to the year-over-year growth of DTV's EPS. The company is right on track of achieving $3.5 billion share repurchases by the end of 2014, which, combined with its strong operations, will continue to scale up the EPS in coming quarters. Based on DTV's growth potential, analysts are expecting robust earnings growth of 10.20% in the long term for DTV. The following graph shows that the company is constantly increasing its EPS.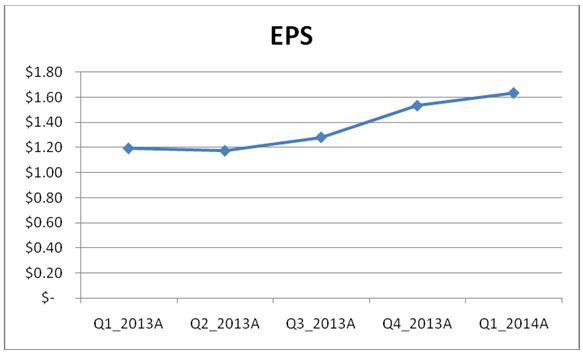 Source: Company's Quarterly Earnings Reports
The Margins Front
On the costs and margins front, DTV's effective expense management strategy is delivering results. In its effort to manage expenses, DTV adopted a disciplined approach towards customer acquisition, which affectively lowered its cost burden and increased OPBDA margin by 110 basis points in 1Q14. Furthermore, the combined effect of decreased upgradation and retention costs in the U.S. and Latin America increased the company's overall adjusted OPBDA by 7% year-over-year. Going forward, as DTV remains committed to improve its operational performance by reducing costs, these efforts will portend well for the stock performance.
DTV + T Merger
T has proposed to acquire DTV; the proposed merger is subject to regulatory approval. T has proposed to acquire DTV for $48.5 billion or $95 per share. As the trend has now shifted towards online video services, the traditional pay TV customers are gradually dropping down. In the given scenario, for a company like DTV that doesn't have its own phone services or competitive internet offering, the potential merger with T will portend well for the company in terms of retaining its subscribers by offering services on mobile phone devices.
Conclusion
The company's strategic initiatives in the U.S. and infrastructure development and expansion in the Latin American market will portend well for the company's performance in coming quarters. Also, the increasing pay TV penetration in Latin America will benefit DTV. Moreover, DTV's expense management efforts will remain important for margins and EPS growth. Due to the aforementioned factors, I am bullish on the stock
Disclosure: The author has no positions in any stocks mentioned, and no plans to initiate any positions within the next 72 hours. The author wrote this article themselves, and it expresses their own opinions. The author is not receiving compensation for it (other than from Seeking Alpha). The author has no business relationship with any company whose stock is mentioned in this article.