Over the past year, shares of The Blackstone Group (NYSE:BX), the world's largest alternative asset manager, are up more than 49%. While BX shares have enjoyed a considerable rally, I believe BX remains a strong buy.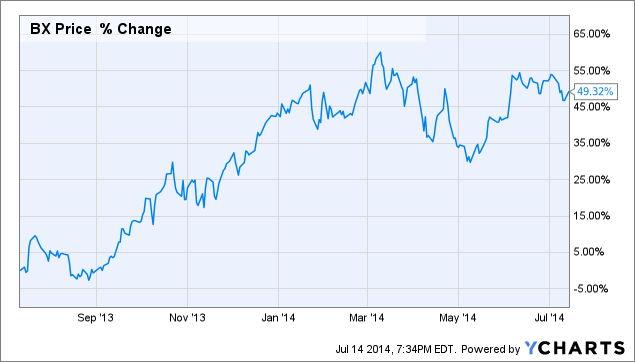 BX data by YCharts
Valuation
When BX came public in 2007 at $31 per share, the company had just over $100 billion in AUM. Now, 7 years later, BX has more than $270 billion in AUM. Despite this, BX shares are trading only slightly above the $31 per share IPO price. I find this somewhat surprising, given the fact that the main driver of BX profits is AUM. In addition to the case for BX based on this metric, the company is also trading at a cheaper valuation than traditional, non-alternative, asset management companies and a reasonable valuation relative to other alternative asset management companies.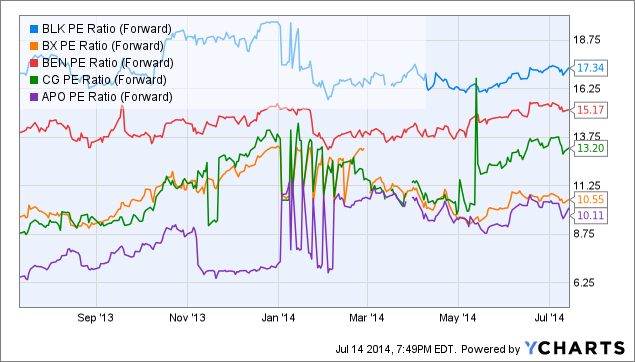 BLK PE Ratio (Forward) data by YCharts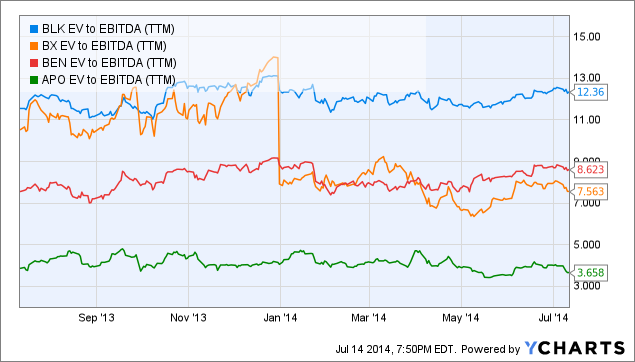 BLK EV to EBITDA (NYSE:TTM) data by YCharts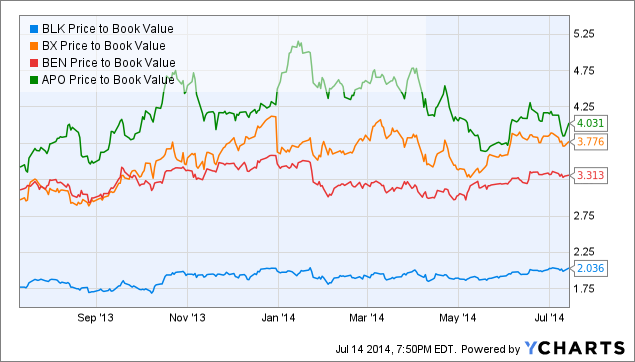 BLK Price to Book Value data by YCharts
Blackstone CEO Steve Schwarzman Talks Valuation
On the Q1 conference call, BX CEO Steve Schwarzman made some comments comparing BX's valuation to Blackrock (NYSE:BLK):
I'm confident that ultimately our shares have been revised to reflect the real value of the company. One or two quick things I was on my treadmill this morning watching this endless array of earnings results, which I am sure you have seen and somewhere around I think it was 7 o'clock BlackRock came out with it's results and they are really good and their revenues were up 9% there earnings were up 20% to $762 million. And that was a really, really good quarter and there are paying dividend yields of 2.5%.

And I just bring to your attention that we announced a little bit later, our revenue was up 20% in our earnings was - were up 30% as supposed to their 20% and actually our earnings in this quarter were larger $814 million to their $762 million. The only difference is our market capital is only $35 billion and theirs is $53 billion, which is like 32% less. And we're trading in a multiple of 10.2 and their trading at 17.

And our dividends only double at 5.6 according to analyst estimate. So, this is all public information, it always like come in over. And I was sort of watching it so, I think BlackRock is a great company. We revolve when they started, they have had terrific growth in their gold standard in the businesses that they are in. And I just wanted to point out that perhaps we're not so bad either.
While Schwarzman is obviously biased when it comes to evaluating BX's valuation, he makes a compelling case that the market is currently undervaluing BX. Even though Schwarzman is biased, it is worth pointing out that much of BX's success has come from having a better understanding of valuations than most other investment companies.
Blackstone Poised To Benefit From Increased Regulation
Another reason why I believe BX is strong buy is the likely benefit from increased regulations on banks. During the Q1 conference call, Steve Schwarzman told investors:
One final thing, because we give answers that are much too long, but sort of tells you how we think, that there is dislocation coming out of all the financial regulation that's continuing whether its U.S., whether its Europe much less in Asia at this point, though that will change, and, you know, the tightening of regulation, the prohibition to be in certain things, the mandatory requirements for equity make it very difficult for the banking system to continue extending credits in areas that the are used to and as a result of that creates opportunity which can be done through a completely different funding mechanism, which is very important to understand that when we go into businesses, we typically raise long-term capital without any demand for repayment on the liability side. And so we're finding a steady stream of those types of opportunities, which is what you would expect with a dramatic rejiggering of the financial system globally.
I believe BX is poised to benefit from increased regulation as the company is able to provide some of the investment capital that was previously provided by investment banks such as Goldman Sachs and Morgan Stanley.
Conclusion
When considering an investment in an alternative investment management company such as BX, there are a few additional things that investors must understand. Firstly, unlike banks such as Citigroup (NYSE:C), JP Morgan Chase (NYSE:JPM), Goldman Sachs (NYSE:GS), and Morgan Stanley (NYSE:MS), BX does not carry an extremely highly leveraged balance sheet. However, BX is highly leveraged to the strength of the economy and the equity markets. BX's fee structure of 2% of AUM and 20% of profits means that the company gets most of its income from its share of profits generated by its investment funds. During times of market weakness, BX earnings will fall significantly, because the value of privately-held companies is closely correlated with the performance of public markets. Investors should be aware that BX shares fell as low as $3.55 from the IPO price of $31 per share during the financial crisis.
While I doubt BX shares will ever reach this level again, the stock could move sharply lower during periods of financial weakness, and shareholders must be prepared to hold on during these periods. Another unusual thing about BX is the inconsistency of earnings reports. Unlike companies such as Coke (NYSE:KO), Pepsi (NYSE:PEP), or Procter & Gamble (NYSE:PG), which report steady earnings quarter-to-quarter and year-to-year, BX results have a lot of variability due to the realization cycle. For example, BX is reporting very strong results right now because the company has been aggressively selling companies that were taken private at lower valuations a number of years ago. This trend could change, and BX may report weaker earnings at some points in the cycle. The same goes for BX's dividend. The dividend will fluctuate based on BX earnings. Due to the difficulty in predicting BX results over the short-medium term, and significant exposure to the economic cycle, I believe BX is an investment, not a trade.
Disclosure: The author has no positions in any stocks mentioned, but may initiate a long position in BX over the next 72 hours. The author wrote this article themselves, and it expresses their own opinions. The author is not receiving compensation for it (other than from Seeking Alpha). The author has no business relationship with any company whose stock is mentioned in this article.