BlackBerry's (NASDAQ:BBRY) stock has run up from just over $7 to north of $11 in three months. For a company written off for dead, the stock is definitely showing signs of life.
BlackBerry just started selling its new Z3 smartphone in India. Reports of a sellout of the new device are a bit overdone. Website Zauba.com, which monitors imports and exports from India, reports that about 24,000 of the Z3 units were sold in India over the past few weeks. However, couple those 24,000 units with about 50,000 units of the Z10 sold in the same period and a handful of the Q5, Q10 and Z30 models, and the numbers start to add up for BlackBerry.
Numbers like 70,000 to 75,000 smartphones would be a drop in the bucket for Samsung, but for BlackBerry sales of that many units in a quarter in a relatively small market like India are encouraging signs that the company has an outside chance to survive.
This is not to say that BlackBerry is a major player in India. Even if it ships 300,000 smartphones in the country this year, it will have a miniscule market share. The important fact is that its sales may have stopped declining and could be beginning to grow again.
The smartphone market in India amounted to about 44 million units in 2013 and is one of the fastest growing in the world, likely to reach over 60 million units or more this year if it continues its 50% plus growth rate. That compares to about 420 million units forecast for the Chinese smartphone market in 2014, according to IDC.
Given the tiny market share BlackBerry holds, no one should conclude that the company will take the market by storm any time soon. But it might just continue to grow at reasonable rates with a series of new products fueling that growth.
The BlackBerry Passport expected later this year is an example. It is an odd design - a square screen with a full keyboard. I will have to hold one in my hand to see whether it is useful or clumsy, and it could be either. At 4.5 inches square and with 1440 x 1440 screen resolution, there is little doubt it offers a lot of crystal clear real estate for people to view and edit documents and texts, but it is not clear whether it is going to be comfortable to use as a phone. I am lost without a keyboard so I will definitely buy one to give a try.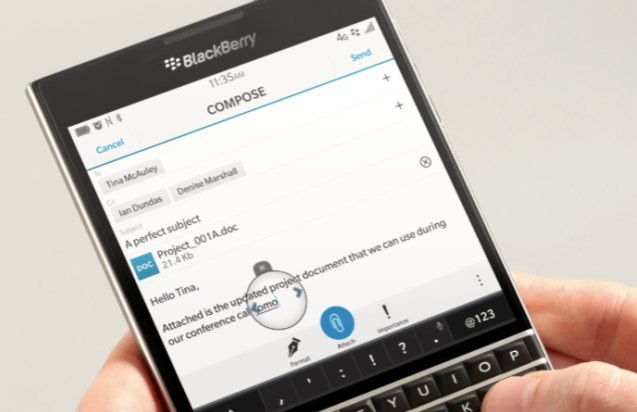 Source: Re/Code
The real appeal of a BlackBerry is and has always been security making it a traditional choice for law enforcement and government agencies. The security is a proprietary advantage and valuable to enterprise. Because security is code, I have never really understood why it is tied to a particular operating system and, in fact, was just as effective on BB7 devices as on BB10 units to my way of thinking.
That being the case, it seems logical at least that the security features could be coded into other operating systems if BlackBerry chose that route. That suggests that there is room for creativity and like politics, competition in smartphones can create strange bedfellows. The Nokia X being sold by Microsoft is an example - an Android smartphone that looks and feels like a Windows OS phone and benefits from a close integration into the Windows ecosystem.
Some time ago I saw a mock up design of a BlackBerry running Windows OS duplicated below.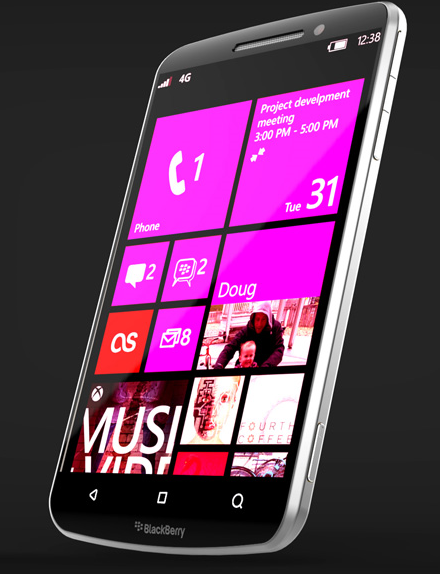 Source: Yankodesign
Why not? The Windows Phone OS is very user friendly and extremely well-integrated into the Microsoft world. Log on to a new phone with your Microsoft account and your contacts, photos, music and files are immediately available without the need for any elaborate setup. The live tiles work just like in Windows 8.1 on your desktop or Surface tablet and everything looks and feels familiar. I have a Nokia 1020 and will begin to use it as my day to day smartphone as soon as BBM for Windows becomes available, hopefully later this month. But I will miss the tiny track pad, keyboard and back button on my BlackBerry 9900 Bold which has been my mainstay for a few years now.
Maybe Microsoft should take another look at BlackBerry.
In any event, this digression into what could or might be is a distraction from the point of this article, which is that BlackBerry is far from dead, and while its resurrection is by no means assured, the stock has come back to life; there are signs the cash bleed is ending, and there is the prospect of profits.
I am long long-dated calls on BlackBerry.
Disclosure: The author is long BBRY. The author wrote this article themselves, and it expresses their own opinions. The author is not receiving compensation for it (other than from Seeking Alpha). The author has no business relationship with any company whose stock is mentioned in this article.