While mistakes from the past undermined BlackBerry's (NASDAQ:BBRY) position in the Enterprise Mobility Management industry (or EMM), the company is taking the right steps to remain the leader in this fast growing market.
The most notable of these mistakes was tying smartphone sales to its EMM product, BlackBerry Enterprise Service (or BES). BES 5, an earlier version of the current product launched on 2009, could only manage BlackBerry handsets.
As you can probably guess, the staggering drop in BBRY smartphone sales in recent years dragged BES. Fortunately, in 2013, BBRY updated its product to become cross-platform, which probably saved BES altogether.
Going forward, I believe that what was once a threat to BES will become a great advantage to regain some lost market share in business-use smartphones.
As security becomes a greater concern and the Bring Your Own Device [BYOD] trend stabilizes, the success of BES upgrades and migrations from competitors will provide BlackBerry with an important base of business-use handset customers.
BlackBerry Remains Dominant in EMM
Despite recent buzz from BlackBerry's main competitors in the EMM space, this company remains the indisputable leader in the industry. I have written about BES elsewhere, so I will not get into too much detail here.
The main competitors of BBRY in the EMM industry are Mobile Iron (NASDAQ:MOBL), Good Technology and AirWatch. The first one recently completed its IPO, while the second one filed a registration statement with the SEC and is in the process of completing its equity offering. AirWatch was bought by VMware (NYSE:VMW) on January 2014, and remains private.
Two pieces of evidence back my claim about BlackBerry's superiority in this market.
First, based on the number of enterprise customers, BBRY's 80,000 stand strong against MOBL's 6,000 and Good Technology's 5,000.
Second, Google Play's (NASDAQ:GOOG), (NASDAQ:GOOGL) data backs BlackBerry's leadership. Based on the number of installs on Google Play, BlackBerry's BES 10 passed from the 1m-5m bracket to the 5m-10m bracket in the past six months. Its competition, while also experiencing growth, still lags BBRY by a wide margin.
Additionally, BES 10 has a widely superior rating based on individual customer's reviews.
| | | | |
| --- | --- | --- | --- |
| | Installs Jan-14 | Installs Jul-14 | Avg. Rating Jul-14 |
| BlackBerry BES 10 | 1m - 5m | 5m - 10m | 4.0 |
| Good Technology | 500k - 1m | 1m - 5m | 3.1 |
| AirWatch | 100k - 500k | 500k - 1m | 2.8 |
| Mobile Iron | 100k - 500k | 500k - 1m | 3.0 |
Source: Google Play
BYOD Current Trend
The Bring Your Own Device trend will probably continue to remain strong in the near future. However, this doesn't mean the extinction of Corporate Owned Business Only (or COBO) smartphones.
Back in 2013, Strategy Analytics noted that even though BYOD was still growing at an important rate, "the portion of new smartphones purchased for business use that are corporate-owned also increased each quarter throughout 2013."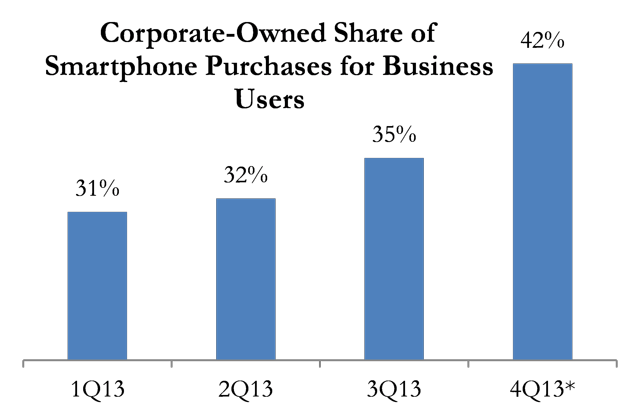 Source: Strategy Analytics. *1Q13-3Q13 figures are provided directly from the source, while 4Q13 is implied from a stated 35% share for 2013.
Strategy Analytics forecasted that smartphone sales to business users through the BYOD channel will grow at a 15% CAGR from 2013 to 2018 compared to 14% for corporate-owned devices. This of course means that the share of the latter will slightly drop in the following years. Nevertheless, it should remain a strong and lucrative segment. Going forward, Strategy Analytics estimates a stable 33% proportion for COBO smartphones.
This distinction is important for BBRY investors. I expect corporations to be more willing than individual customers to purchase a BlackBerry. I base this intuition in the general belief that BlackBerry remains the king in security and that security concerns are probably a higher priority to employers rather than employees.
From what we have seen so far from John Chen, it appears that BBRY's strategy in the hardware segment is twofold: (1) fight for the consumer market in emerging economies and (2) regain enterprise customers in developed markets.
Given this strategy, if BYOD were to completely obliterate corporate-owned smartphones, BlackBerry would surely be fighting an uphill battle against iPhone and Samsung in North America and Western Europe, given its dwindling market share in the consumer sphere.
Even BlackBerry's official blog, Inside BlackBerry, recognizes that the company's advantage is in COBO device management.
I personally find it reassuring as a BBRY investor that the COBO policy is here to stay, as it should level the field for BBRY handsets in the market for business users.
BES Current Status
Even though BlackBerry upgraded its EMM offering to manage other platforms in 2013, its implementation is still burdensome. One important drawback that impedes customers from easily upgrading from BES 5 is BES 10's inability to manage BlackBerry 7 devices.
Fortunately, the company unveiled its plans to upgrade its offering to BES 12, set to launch later this year, which solves many of the issues of its earlier versions.
Additionally, to facilitate migration to BES 12, BBRY issued the EZ Pass which will provide free migration from earlier versions and even competitors' platforms to BES 12. In the most recent earnings conference call, John Chen announced strong uptake of the EZ Pass, with over 2,600 customers and 1.2 million licenses issued. Of these customers, 10% migrated from competitors such as Mobile Iron and Good Technology.
Upgrade to BES 10 and 12 Could Drive Smartphone Sales
If you go into BlackBerry's press room, as of June 14th 2014, three of the four most recent releases disclose that three more customers have chosen to upgrade their EMM solution to BES 10:
Of these three customers, G4S has a BYOD policy while the last two follow a COBO format. While the third company had already issued BlackBerry 10 devices to its employees, Bharucha & Partners upgraded to BlackBerry 10 handsets along with BES 10.
I believe that as more companies upgrade or migrate to BES 10, some of them will choose to buy BlackBerry 10 smartphones under a COBO format.
Exactly how relevant could this be for BBRY's hardware top line?
BBRY disclosed on its recent earnings conference call that 35,000 customers use BES 10, which means that at least 45,000 still use an earlier version of this product. Since earlier versions of BES can only manage BlackBerry smartphones, all of these 45,000 customers should own BBRY handsets.
If we assume an average of 250 smartphones issued per company and suppose that only 33% of these customers choose a COBO policy and upgrade to BlackBerry 10 smartphones (conservatively assuming that none of the BYOD customers purchase a single BBRY device), we are looking at 3.7 million devices sold in maybe as little as a year. This is a huge number for BBRY, given that its target for profitability is to sell 10 million handsets a year and should add to the already strong sales for the BlackBerry Z3 handsets in emerging markets.
Conclusion
As a BlackBerry long, I have reasons to keep my shares to myself, or even add to my position, at least until the end of the current fiscal year. I certainly wouldn't want to sell under $15.
I believe the planned schedule for this year's product releases isn't an accident. The BlackBerry Classic is set to launch on November, and the recently unveiled BlackBerry Passport on September. With the BES 12 release on October, I'm liking my chances on betting that the Passport and the Classic will be a success.
Disclosure: The author is long BBRY. The author wrote this article themselves, and it expresses their own opinions. The author is not receiving compensation for it (other than from Seeking Alpha). The author has no business relationship with any company whose stock is mentioned in this article.