My previous article on Clarke Inc. (OTC:CLKFF) in the fall called for a 34% rise in the stock taking it to what was pro-forma book value at that time. Since that time, the stock (which trades with greater liquidity in Canada under the symbol CKI) is up more than that, with its current price of $12.07 exceeding my $10.14 target. These prices and all further numbers in the article are in Canadian dollars, which is how Clarke reports. Normally, a stock that had exceeded my price target with a 40% gain over 7 months would be receiving a sell or reduce rating, but in my opinion the events that have occurred over that time frame make Clarke a compelling investment, or at least a hold for those who purchased it previously and are sitting on gains.
The company has redeemed all of its outstanding convertible debentures. This redemption was hugely accretive to the company, as the debentures were convertible into Clarke shares at $7.50, well below the current share price. Those holders who did not convert prior to the close of the redemption, left money on the table, and that money accrues to Clarke's shareholders. The rest of the debenture holders converted prior to expiry of the offer, which removes a large overhang from Clarke's capitalization and reduces their debt to a trivial amount.
The company has also realized some significant gains on sold investments since my previous article, which in the case of the sales of operating businesses adds to book value, as these stakes are not marked to market. The company sold its largest remaining operating business, which manufactures commercial tanks, for a gain on sale of nearly $5 million, which is accretive to book value by about $0.25 per share. This also makes the book value of the company more liquid, and in my opinion it is considerably easier to argue that cash or marketable securities are worth book than it is to argue the assets of a tank manufacturing business are worth book value.
This asset sale, along with the previous sale of its freight business and the accretive conversion, have propelled the reported book value per share to $11.72 as of the last quarter. As shown below, the share price has tracked book value, and that outcome is even more likely as book value becomes more liquid.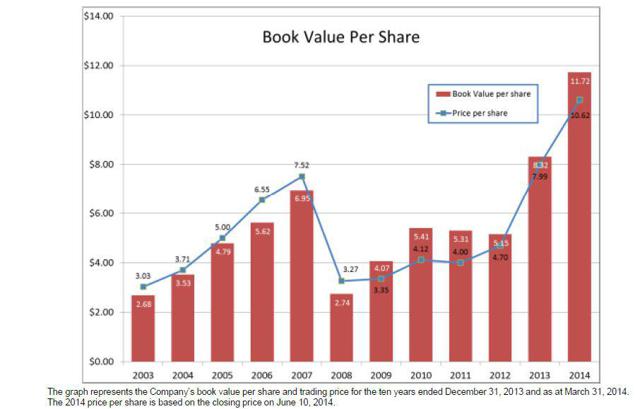 Click to enlarge
Source: June Company Presentation
If that was the end of the story, the shares would have upside limited to the future performance of Clarke's investments, as well as a 3.3% dividend yield, which would provide for a reasonable total return in a market where value investments are becoming harder to find. However, as they say on TV, "but wait, there's more!"
A number of events have occurred that are not in the reported $11.72 book value which make the company more valuable, and provide additional upside. The acquisition of Clarke holding Royal Host (OTC:ROYHF) by Holloway (OTC:HLLOF) provided Clarke with a gain, as well as made their Royal Host debentures more liquid and gave them better asset coverage. This merger is, in my opinion, also likely to benefit the company's remaining holding in the combined entity, as there is significant duplicate G&A to be eliminated. Also, both company's will be able to utilize the internalized management structure for their hotels, providing additional cost savings.
The company's largest investment is currently Sherritt (OTCPK:SHERF), which is up approximately 25% this year, as Clarke has waged an activist battle against the company. This is a great example of Clarke adding value by forcing change in one of its investments.
An updated valuation of their investment holdings appears below.

Click to enlarge
Source: July Corporate Presentation
Valuation
With the $122 million figure for liquid investments, as well as $40 million in net cash, a $50 million pension surplus, and other investments of $52 million, the company has net assets of $264 million. After the redemption of the debentures, the company has 19,925,191 shares outstanding. This suggests a pro-forma book value for the company of $13.25 per share.
Shareholders will also benefit from continuing investment success. Based on the track record since Armoyan became CEO, that is a non-trivial factor. Additionally, the company has non-capital tax loss carry forwards of $25 million available to it, which gives it an advantage in acquiring another operating business. The company has had dramatic success buying and turning around businesses in the past, and there is optionality for shareholders if management is able to perform the same feat once again. I am not incorporating any of these additional potential upsides into the target, preferring to put them in the "margin-of-safety" bucket.
Risks
Clarke is a small capitalization stock, and its investments are mainly in the small capitalization space. This increases the risk to the company, although it does also provide the possibility for outsized gains. Each of Clarke's investments has individual risks, and many of them are cheap for important reasons. For example, Sherritt has operations in Cuba, and Supremex manufactures envelopes, a business widely perceived as being in terminal decline. If management has chosen poorly, book value declines are possible. Mitigating these risks are management's track record, and a diversified portfolio combined with cash balances.
Conclusion
Clarke has dramatically exceeded my original expectations, but the news flow from the company has been so positive that a raised price target of $13.25 is appropriate. Those who invested after the original article may wish to take profits off the table, but the company is still reasonably priced to establish a position here. The book value is also more liquid than it has been in the past, so it is reasonable in my opinion for the company to track book value more quickly than it has historically.
Disclosure: The author is long CLKFF. The author wrote this article themselves, and it expresses their own opinions. The author is not receiving compensation for it (other than from Seeking Alpha). The author has no business relationship with any company whose stock is mentioned in this article.
Editor's Note: This article discusses one or more securities that do not trade on a major U.S. exchange. Please be aware of the risks associated with these stocks.