Opposite Directions
Perennial Apple (NASDAQ:AAPL) bear Michael Blair has pointed to the Samsung announcement as a sign that the smartphone market is weakening and has predicted disappointing sales of the iPhone. In contrast, Morgan Stanley's Katy Huberty has predicted blow-out sales of the iPhone for the June quarter, to the tune of 39 million units, which would be a record for the quarter.
Huberty generally knows what she's talking about. The continuing strength of iPhone sales have come as a surprise to the Apple bears, and I believe they will again this quarter. Apple bears simply haven't appreciated the impact of the iPhone 5s 64 bit A7 processor on the market and the industry. As I have pointed out recently, the ARM processor industry is still scrambling to catch up. The A7 has no peer in smartphones, and will not until smartphones with Intel (NASDAQ:INTC) and Qualcomm (NASDAQ:QCOM) 64 bit processors start appearing later this year.
Coupled with the superior iOS 7 ecosystem, the iPhone offers by far the best smartphone experience, even with its diminutive screen. The 5s is also well positioned to capture the upper echelon of the market in China, with 4G LTE beginning to roll out and the 5s being offered by China Mobile.
In contrast, Samsung pointed to weak sales in China partly as a result of the expansion of 4G. Samsung (OTC:SSNLF) also mentioned the roll out of a new line of smartphones in Q3, which is surprising since the Galaxy S5 was only released this quarter. The new line up indicates that Samsung realizes it needs to catch up with the A7 and probably indicates the time frame for introduction of new 64 bit ARM processors from Qualcomm into its phones.
As an indicator of the importance of smartphone sales, revenue and earnings for the two companies are now moving in opposite directions. Samsung's guidance of Q2 revenue of $50.6 billion represents a 10% year-over-year decline while the operating profit of $7 billion represents a 24% decline.
According to Apple's guidance, which Apple hasn't backed off from, its revenue and earnings will move in the opposite direction. At the median of Apple's guidance range it will have revenue of $37 billion, a gain of 5% y/y. Apple's median guidance on operating profit is $9.24 billion, flat from the year ago quarter.
However, if Huberty's prediction holds true, and I believe it will, Apple will exceed its guidance and have a record breaking calendar Q2. The tables below summarize my model projections for iPhone and iPad unit sales as well as revenue and operating profit projections. (The boxes labeled NA will be filled in with Apple's actual results next week.)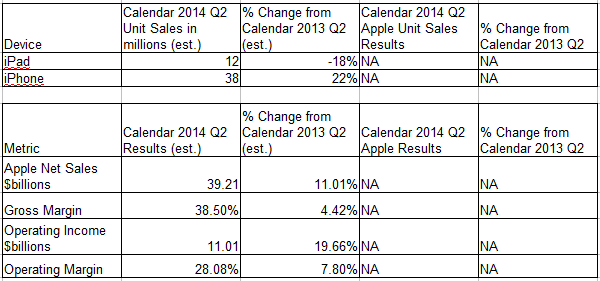 As the reader can see, although I project strong iPhone sales, I also project continuing weakness for the iPad and iPod. Apple still has an iPad Problem, as I wrote about recently, and I don't expect that problem to go away. Apple's iPad Problem in a nutshell is Intel's Bay Trail, which has made inroads in both Android and Windows tablets. The A7 in the iPad Air is a good processor, but not unrivaled as it is in iPhone 5s, since Bay Trail is also a highly capable 64 bit processor.
Apple has really needed to offer a higher performance processor for iPad, specifically a quad-core variant of the A7. I expect such a processor to be offered in the next generation iPad this Fall, but the lack of a mid-cycle refresh is hurting iPad sales.
Even with the iPad declines, the projected iPhone sales push revenue, gross margin and operating profit well above the upper bound of Apple's calendar Q1 guidance. Operating margin growth only fails to achieve double digits due to the projected growth in R&D spending. Expansion of R&D spending is something I've long advocated for Apple, and I personally welcome it, even if it does cut into profits.
Taking Market Share
Even with all the good news, I have to stop short of projecting market share growth in smartphone unit sales for Apple. There are just too many unknowns. Yes, Samsung's smartphone revenue will almost certainly decline, but that could be due to price cutting in order to spur sales, as indicated in the announcement. We simply don't know how successful that price cutting was in stimulating sell-through. Samsung mentions channel inventory build-up as a problem, so sell-in may have taken a big hit.
Per Seeking Alpha's policy on article titles, I've chosen to pose a rhetorical question. It's simply too early to tell whether Apple will take market share from Samsung. But the signs look encouraging.
Since Samsung doesn't report unit sales numbers for smartphones (almost no company on Earth is as transparent as Apple when it comes to sales reporting), we won't know for sure until research firms such as Gartner, IDC and Kantar issue their market share reports toward the end of this quarter (after all the major smartphone players have reported earnings). Naturally, I'll summarize the research data as soon as it becomes available, and update my smartphone population model accordingly.
Disclosure: The author has no positions in any stocks mentioned, and no plans to initiate any positions within the next 72 hours. The author wrote this article themselves, and it expresses their own opinions. The author is not receiving compensation for it (other than from Seeking Alpha). The author has no business relationship with any company whose stock is mentioned in this article.
Editor's Note: This article discusses one or more securities that do not trade on a major U.S. exchange. Please be aware of the risks associated with these stocks.