Business
If asked to give an example of a company with an economic moat, Hershey (NYSE:HSY) would probably be one of the 5-10 first companies to come to mind. It is in many ways an excellent business and that is why I had to take a look at it.
Founded in 1894, the company is 120 years old and enjoys the associated benefits - strong corporate culture, brand recognition, etc. The company is the largest chocolate producer in North America. It is increasingly a global company, marketing its products in over 70 countries, but still very much U.S.-dependent with over 80% of sales and assets in the U.S. The company manufactures, markets, sells and distributes products under more than 80 brand names, most significant of which are the Hershey's, Reese's, and Hershey's Kisses brand franchises. However, the company's brand portfolio also includes lesser-known, but still powerful brands, like Whoppers, Twizzlers, and Take5.
In thinking about HSY's business, I couldn't really identify any major flaws/issues. Words like 'great,' 'excellent' and superlatives are probably overused in describing business quality, but they are all so fitting here. In my mind, the company has obvious competitive advantages through brand strength, customer loyalty from end-users, longstanding relationships with retailers, distributors, etc., selling an intangible product that definitely offers consumers far more utility than it costs the company to produce, and economies of scale. As far as business quality goes, HSY is a one percenter, in my opinion.
The only issues I identified are dependence on cocoa and high-quality competition, but I am confident that industry pricing will remain rational in adjusting for cost changes, and I think HSY is best of breed.
ROIC
Return on invested capital is the best quantitative measure of business quality, in my opinion, and as such, I always like to have a calculation I am confident in. Here, I calculated the number as EBIT(1-t) over (Total Assets - Goodwill - Current Liabilities + Short Term Debt). I got 27.5% for LTM, which is excellent. 8-10% is probably average in the U.S. What's more, because of the business quality I mentioned in the above section, I see this high ROIC as sustainable here. That's very valuable.
Valuation
A PEG approach to the valuation of sustainably high ROIC businesses will almost always understate intrinsic value. I don't like to use DCF models either, as they often become a tool of confirmation bias. One imperfect but very useful method for valuation in high ROIC situations is the wealth creation 'tao of corporate finance' equation. It is a perpetuity that accounts for ROIC, WACC, and growth. Below is the equation, my assumptions, and the result: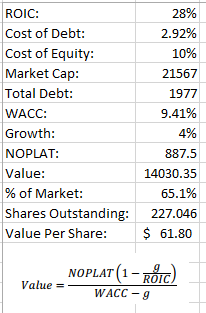 The 4% growth assumption may seem low, but that is actually quite aggressive, as it assumes HSY growth will outpace the U.S. economy in perpetuity. Nonetheless, the result indicates that HSY is nowhere near being undervalued, with a fair value output of $61.80 per share.
Considering the company's 2.04% dividend yield, analyst consensus 10% annual earnings growth over the next 5 years, sustainably high ROIC, and the safety derived from that and the qualitative moat, I think the stock would be very cheap at about 15x after-tax operating income. The business currently trades at 24.3x EBIT(1-t) though. It also trades for:
14x LTM EBITDA
21x FY15E EPS
There just isn't any way for me to argue that the stock is cheap at this point. It does seem a bit expensive, but I am in no way recommending shorting the stock. Shorting a company like HSY is idiotic in my view, as it will eventually grow into its market value and you will eventually lose your shorts, and at the very least, not make any material money on the trade.
Conclusion
HSY is an example of an all too common situation in this market - an excellent company at a premium price. I would absolutely love to own HSY stock at the right price, but unfortunately, there is just no way for me to argue that shares are cheaply-valued at this point. I will certainly keep the stock on my watch list in case it becomes a compelling value at some point in the distant future.
Disclosure: The author has no positions in any stocks mentioned, and no plans to initiate any positions within the next 72 hours. The author wrote this article themselves, and it expresses their own opinions. The author is not receiving compensation for it (other than from Seeking Alpha). The author has no business relationship with any company whose stock is mentioned in this article.