Apple's (NASDAQ:AAPL) $3B acquisition of Beats Electronics LLC was transformational in a lot of ways. News of the transaction leaked in mid-May. First, it was a de facto acknowledgement that music streaming was the future of the music business at the expense of music downloads; Beats thinks the U.S. market for on-demand streaming is 50 million - 10x its current size. Secondly, it set off a flurry of deals within music streaming:
What Does This Mean For Pandora?
Pandora is one of the leading music streaming services in the U.S. with over 75 million active listeners at March 31, 2014. Through algorithms, the company predicts listener preferences and updates its playlists based on listeners' actual music selections. In my previous article, I highlighted how the company's Q1 2014 revenue of $194 million equated to a run-rate of about $780 million.
Pandora's revenue growth is impressive in comparison to 11 months ended December 31, 2013 revenue of $600 million.
The company's content acquisition costs as a percentage of revenue declined to 56% in Q1 2014 from 75% in Q1 2013.
That compares favorably to Spotify's metric of about 70 cents on each dollar of revenue.
Yet Pandora has never turned a profit. Below is the company's historical financial performance.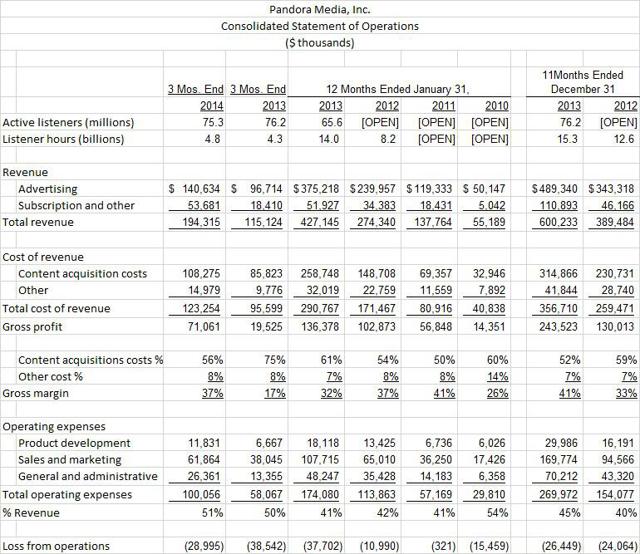 Does Pandora Valuation Include Buyout Premium?
After the Apple/Beats deal leaked in mid-May, Pandora's stock rallied from $23 per share to nearly $30 per share at the end of June. The stock now trades at about $27 per share, giving the company a market capitalization of $5.5 billion. Pandora was thought to be a takeover target. However, the obvious choices to acquire the company - Google and Amazon - have entered the music streaming space via buy or build strategies. Also, Pandora's $5.5 billion market cap and operating losses may further limit the number of interested buyers.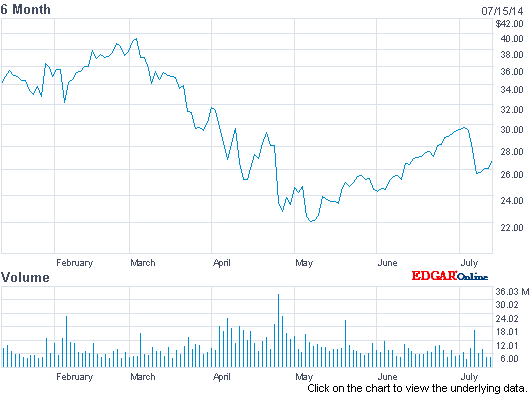 Valuation Based On Apple/Beats
The Apple/Beats transaction probably represents what a third party would be willing to pay for a music streaming service. Apple paid about 3x revenue for Beats. Though Beats was private, we understand its revenue growth was impressive - growing to over $1 billion from less than $200 million in 2010. A multiple of 3x run-rate revenue of $777 million would give Pandora an enterprise value of $2.3 billion. The following chart outlines the company's equity value and per share value based on metrics from the Apple/Beats transaction: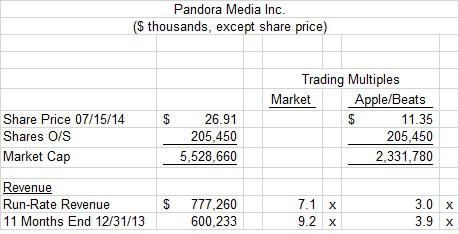 At 3.0x Pandora's run-rate revenue of $777 million, the company would have an enterprise value of about $2.3 billion.
At 205.5 million shares outstanding, that would equate to a per share price of $11.35, or a 58% discount to where the stock is currently trading.
Conclusion
The 3.0x revenue Apple paid for Beats represents how a third party would value a music streaming service. Based on that metric, Pandora is worth about $11.35 per share - a 58% discount to where the stock is currently trading. Pandora is a strong sell.
Disclosure: The author is short P. The author wrote this article themselves, and it expresses their own opinions. The author is not receiving compensation for it (other than from Seeking Alpha). The author has no business relationship with any company whose stock is mentioned in this article.