Effective immediately, PTT Research is raising its price target on Glu Mobile (NASDAQ:GLUU) to $10 per share. Since releasing our October 2013 initiation report and subsequent series of reports on Seeking Alpha, shares of GLUU have risen approximately 90%. Despite this dramatic ascent, we believe the stock remains grossly undervalued. Accordingly, we see room for an additional 60%+ move in the relatively near-term.
Our reasoning is based on ample and clear evidence. With last week's debut of Dino Hunter, GLUU is now the proud developer of two of the top three games on the iPhone and two of the top five new titles on Android.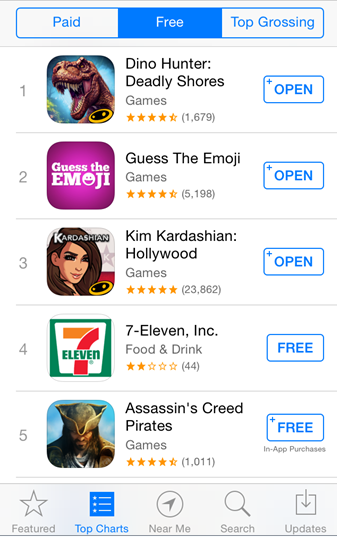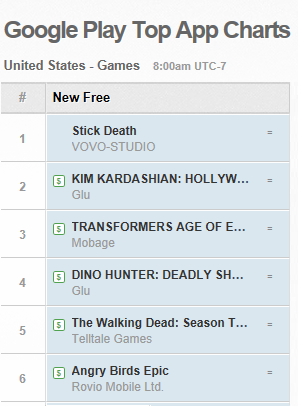 Source: Apple App Store & AppAnnie.com
BACKGROUND
In our initiation piece, we stated that GLUU should not be judged solely on the basis of the success of Deer Hunter 2014 (DH14). All games come and go. I have long believed that investors must value video game developers on their ability to sustainably generate revenue / growth / profitability on an adjusted (smoothed) basis over time.
While it was nice to see DH14 prove that GLUU could deliver a hit video game, our thesis was built around the company's new monetization platform. As a reminder, the platform is a proprietary infrastructure designed to maximize the revenue and profitability of any video game-not just a hit.
A few years ago, management made a conscious decision to allocate significant funds towards the development of this platform. During that time, the company incurred higher expenses (R&D investment). It also held back new games, hoping to release them via the monetization platform. The temporary result was lower revenues and lower profits. Though we quietly applauded the decision, we knew that lower revenues and higher expenses rarely lead in the short-term to a higher stock price. We decided to wait and monitor the company's progress.
Not surprisingly shares of GLUU suffered mightily during this R&D investment phase. Over a two-year span, the shares lost two-thirds of their value.
The platform was finally ready for initial tests in mid-2013. Based on the test results, we estimated that the monetization platform would add over 50% to the revenue of all GLUU games going forward, regardless of whether they were hits. We further believed that this alone would drive beat-and-raise quarters through the remainder of 2013 and throughout 2014.
However, investors and Wall Street analysts failed to recognize that the company had reached an inflection point. Making matters worse, the company undertook a secondary offering around that time. This knocked investor sentiment (and the shares) down to an ultimate low of $2. As we explained soon after, many investors make the mistake of assuming that all secondaries are bearish. Our experience has shown that the opposite is often true.
With sentiment at rock bottom and the company ready for takeoff, we saw the opportunity we had been waiting for.
By the time we updated our due diligence and authored our initiation report, the shares were already trading at $3. However, we felt that the quick 50% move from 2 to 3 would be only the beginning. GLUU's monetization platform was ready to provide years of ROI for the company… and its shareholders.
We believed that the company, now armed with a proven money maker (the monetization platform), would start releasing games at an accelerated pace, while also benefiting from decreased R&D expenditures. More revenue and fewer expenses are a great recipe for higher profits and stock appreciation. We also believed that more of GLUU's games would achieve financial success, due to an engine development philosophy which we will discuss later in this report.
It didn't take long for things to start clicking. Indeed, we believe that the monetization platform was a key contributor to the magnitude of success of Deer Hunter 2014. The game drove significant outperformance in the company's December and March quarters. This propelled the stock to a 52-week high of $5.65 (80% above our initiation price) in just five months.
Nonetheless, shortsighted and short-selling investors railed against GLUU's soft release schedule for the June quarter. This drove shares of GLUU back into the low-$4 range. Compounding the bearish sentiment, management engaged in another secondary offering, which pushed the shares further downward. With the stock in the mid-threes, we highlighted GLUU in two reports entitled "Glu's Secondary Offering Is Bullish" and "Picks To Triple In A Correction".
PRESENT SITUATION
Since the release of the aforementioned report, GLUU has blindsided short-sellers (which still represented 16% of all shares outstanding as of June 30) with two new hits, Kim Kardashian: Hollywood and Dino Hunter: Deadly Shores.
The unlikely nature of these hits came as a surprise to investors, but shouldn't have. As we had been claiming, the company's development and monetization philosophies were combining to elevate GLUU into the upper echelon of video game vendors. In our opinion, this is still not reflected in the company's share price.
We believe that short-sellers are walking into a trap unless 1) they have done the math on how these titles impact Glu's financial outlook and valuation and/or 2) believe that near-term supply and demand might create day trading opportunities for temporary pullbacks (which seems very risky in our view).
Kim Kardashian: Hollywood has quickly become a shockingly viral sensation. It debuted as a top-five downloaded game for iPhones and has refused to relinquish its post. The monetization platform ensured the game also achieved a top-five ranking among the iPhone's top grossing (revenue-generating) titles, an honor reserved for cultural sensations like Candy Crush and Pandora. In fact, for the past few weeks "Kim K" has been the only game to rank in the iPhone's top 20 downloaded and top 20 grossing games simultaneously.
We believe the success should continue. Kim K is receiving broad coverage in the media and on social channels like Twitter, where it is widely described as being inexplicably addictive. Based on the typical revenue trends for a game with this profile, we concur with Cowen & Co's belief that Kim Kardashian: Hollywood holds the potential to generate $200 million in revenue this year.
This would result in massive outperformance relative to Wall Street's current expectations, which call for a mere $160 million in revenue from all games, not just Kim K. With Dino Hunter: Deadly Shores hitting number one on the iPhone charts, GLUU officially has two hits, each of which could prove bigger than Deer Hunter 2014.
Below, we show the historical performance for Deer Hunter 2014. At its peak, it was the #5 grossing iPhone app. This was enough to generate tens of millions in revenue and nearly triple the value of the stock in six months: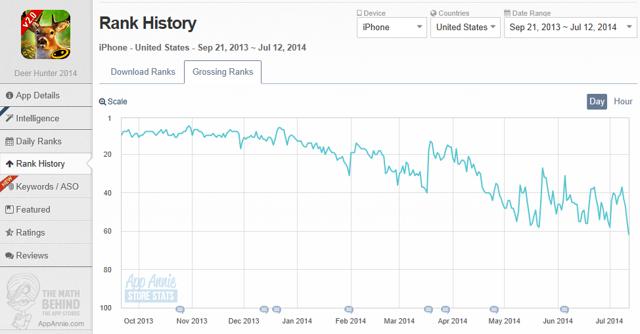 Source: AppAnnie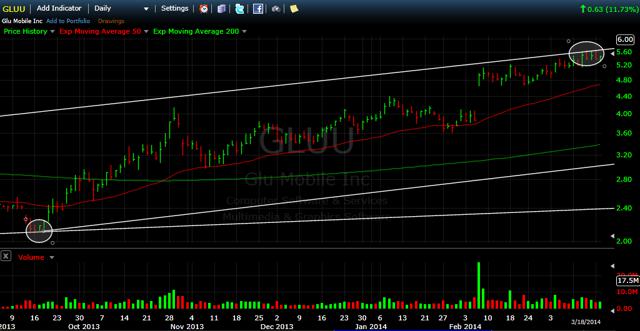 Source: FreeStockCharts.com
Kim K debuted at #5 (#4 among games) and has held steady in the position for most of its time on the market: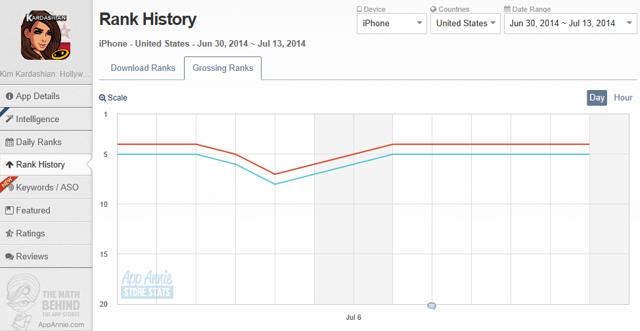 Source: AppAnnie
One of its biggest challengers is Dino Hunter, which quickly took over as the most downloaded app for the iPhone and is holding steady there: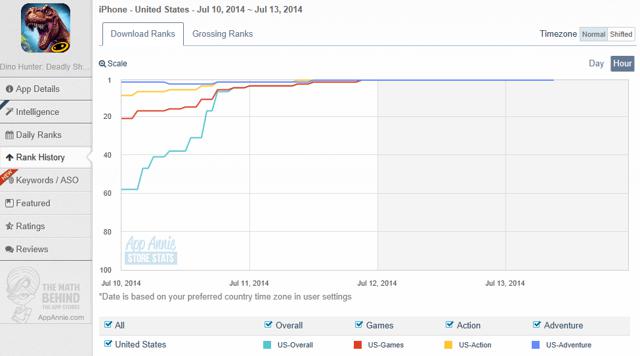 Source: AppAnnie
As the free downloads increase, add-on revenue (for purchasing new guns, etc.) is starting to flow in. Some would say that it is "roaring" up the charts: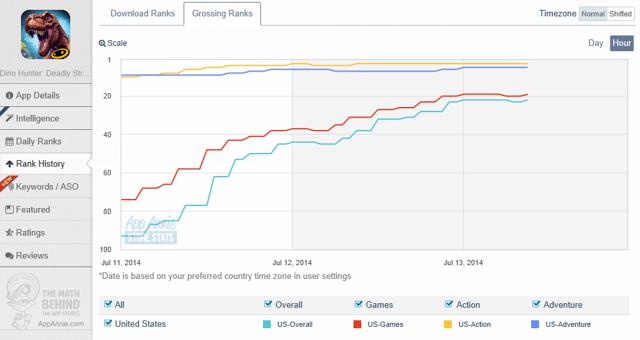 Source: AppAnnie
This level of success is nothing short of incredible… but believe it or not, our research indicates that this is just the tip of the iceberg.
ENGINES FOR ACCELERATED GROWTH
While day traders buy and sell shares of GLUU for a quick buck, other investors are taking profits on stock's three-week 60% ascent. We believe that both groups will regret the decision. In fact, PTT Research continues to salivate over GLUU's valuation as well as the company's long-term fundamental trajectory.
Specifically, we believe that significantly more hit games lie ahead due to the product development strategy being employed by GLUU. While some analysts are starting to wake up to the monetization story, very few understand that GLUU actually has a second, and equally potent, source of growth: its game engine development strategy.
As we already know, the company's new monetization platform enables GLUU to maximize revenues on every game. Most people do not yet understand the implications of the company's engine development strategy, however.
In video game parlance, an engine is basically a framework that can be utilized to make similar games. For example, if you download Deer Hunter and Dino Hunter, you will find that the two games are remarkably similar in structure. This is because GLUU used much of the former game's software code to develop the latter. In industry terms, Dino Hunter is built on the Deer Hunter engine.
Similarly, Kim Kardashian was built on the Stardom engine. Stardom was not a widely known game. GLUU management astutely realized that the game could produce much greater results once it was paired with an actual star. Enter Kim Kardashian.
Because of this engine strategy, we believe that GLUU can reap the equivalent of 10 hit titles from 10 original development efforts. Step one is to develop 10 games completely from scratch. The games that happen to become hits have engines that can be used as the foundation of 1) sequels, which can generate even more revenue than the original, and 2) numerous new games that are similar in character to the original.
If just one of ten original development efforts results in a hit, GLUU can theoretically create a handful (we'll say four for the sake of argument) new original hits using its development engine. This gives them a total of five hits (think Deer Hunter, Dino Hunter, Dragon Hunter, Alien Hunter, and Demon Hunter).
Sequels at least double this number. GLUU can enjoy 10 hits worth of revenue from its original 10 development efforts, even if only one of those efforts produces a hit. We initially alluded to this concept in "Glu Mobile: Another Quarter, Another Blowout". As we can now see with Dino Hunter and Kim Kardashian, management is taking the ball and running with it.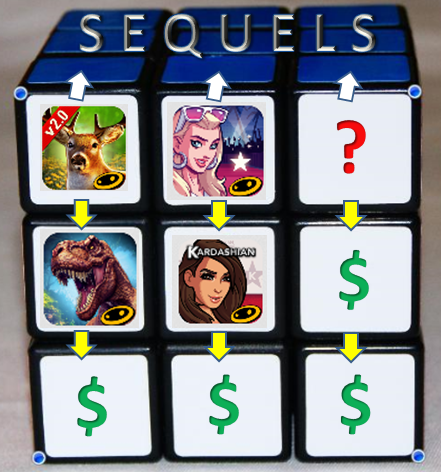 Source: PTT Research
Considering the fact that GLUU only produces 10 or 20 games per year, the implications for its success rate are amazing. Yet, somehow, Wall Street professionals have yet to acknowledge this clear reality. Consequently, our estimates for GLUU's future revenue and growth far exceed any other number published by Wall Street.
PTT RESEARCH REVENUE ESTIMATES
For 2014, we see GLUU generating over $205 million in revenue with ease. This is a staggering prediction if you consider that 1) the Wall Street consensus is currently $161 million and 2) we are already mid-way through July. Though it is seemingly brazen to predict 25% upside to Wall Street estimates with just 5 1/2 months left in the year, our data / calculations lead us to confidently emphasize the words with ease.
Specifically, we believe that Q3 will come in closer to $88 million than the current consensus of $38 million. In other words, we see Q3 beating expectations by a minimum of $25 million. We believe this will flow nicely to the bottom line, resulting in a 10-15 cent EPS blowout.
Here's how our new 2014 revenue estimate breaks down:
PTT Research 2014 Estimates for Glu Mobile
| | | |
| --- | --- | --- |
| Title | PTT Research Est | Comments |
| Kim Kardashian: Hollywood | $ 60,000,000 | VERY conservative; Includes all Stardom titles |
| Dino Hunter & Other | $ 58,000,000 | Equals mgt guid, which lumped Dino into "Other" |
| Deer Hunter 2014 (DH14) | $ 40,000,000 | This estimate is below management guidance |
| Eternity Warriors | $ 20,000,000 | This estimate is below management guidance |
| Frontline Commando | $ 15,000,000 | This estimate is below management guidance |
| Contract Killer | $ 7,000,000 | This estimate is below management guidance |
| Playfirst Games | $ 5,000,000 | Developer of Diner Dash |
| -------------------- | ----------------------- | ------------------------------ |
| TOTALS | $ 205,000,000 | $55 million above Wall Street consensus |
| Source: PTT Research | | |
Looking forward, we expect GLUU to produce many new Hunter and Stardom games. Their imagination is the only limit. Dragon Hunter, Alien Hunter, Miley Cyrus: Stardom, and LeBron James: Stardom come to mind as possibilities. Each of these could also support sequels. Conceivably, we believe GLUU could produce 10 such titles next year. Even if each game brings in a paltry $30 million in revenue, the company will handily generate over $300 million in 2015.
We also expect the company to investigate the success of breakaway games like Candy Crush to pave its way into proven genres. With the market growing at 30% per annum and consolidating around the leaders, GLUU should exceed 30% growth. Indeed, we envision its average growth far exceeding 50% for 2014-2015.
VALUATION
Until recently, short sellers justified their negative view by citing the long-held adage that video game stocks are "hit-driven." My counter-argument has been that Deer Hunter 2014 wasn't a true hit. In my opinion, it was a good game whose revenue generation was proof of a new normal for GLUU.
Games like Farmville, Angry Birds, and Candy Crush were true hits. If GLUU develops a blockbuster like one of those, watch out. Zynga (NASDAQ:ZNGA) and King Digital (NYSE:KING) both achieved $6 billion market valuations. For GLUU, such a valuation would equate to a stock price of more than $50.
Looking further forward, as the mobile gaming space consolidates and achieves critical mass, the winners will enjoy higher market share and margins. The installed base of platforms to which they will cater will be the largest ever known to man. (iOS and Android dwarf the installed base of PlayStation and Xbox.)
Accordingly, we believe that leading mobile gaming vendors will challenge (and eventually exceed) the valuations of console gaming leaders such as Electronic Arts (NASDAQ:EA) and Activision (NASDAQ:ATVI), which have historically earned valuations approaching $20 billion. For GLUU, this would represent a share price in excess of $150.
As outlandish as this sounds at present, consider that 1) every company, including EA and ATVI started with a $0 valuation and 2) the iOS and Android platforms currently power over 2.5 billion devices. This is approximately ten times the installed base of gaming consoles. Further, while not every mobile device owner plays games, those who do have the mobile device in their possession nearly 24 hours per day. They are a much more captive audience.
With mobile gaming ready to invade the living room via Android & iOS gaming consoles, smart TVs, etc, we expect more global consumers to play mobile games during the day and then continue their experience on larger (TV) screens when they get home in the evening. The majority of global consumers have limited levels of disposal income with which to buy dedicated gaming consoles.
This threatens to relegate traditional consoles to a smaller audience of hardcore gamers. We anticipate that younger children and non-hardcore gaming adults will distance themselves from console gaming in favor of mobile gaming. Indeed, ample evidence indicates that this transition is already well underway.
The path from here to there will of course be long and winding. However, Glu's management team is proving it has a good map and is ready for the journey. We believe that the odds of Glu's success justify paying a premium for its shares. If, for example, there is a 5% chance that GLUU eventually achieves a $150 share price, that optionality alone has an undiscounted value in excess of its current share price, which we already deem to be grossly discounted. In other words, 5% of $150 is $7.50.
Our fair-value estimate excludes this optionality. However, investors should view it as a free lottery ticket / call option that comes with each share purchased.
In deriving our fair-value estimate, we consider the following:
The mobile gaming market is growing in excess of 30% and GLUU is growing its share of the market.
GLUU's hit rate is on the rise. We believe that 3 of the titles released in the past 10 months will prove to be its 3 biggest in history, with each generating over $50 million in high-margin revenue.
The company appears set to deliver annualized growth in excess of 50% through (and beyond) 2015.
Considering our revenue and growth estimates, along with the operating leverage in GLUU's model (which allows incremental revenue to flow freely to the bottom line), we believe that GLUU should be valued at 4.5x our 2014 revenue estimate or $922 million. This equates to our new price target of $10 per share.
Truth be told, we could argue for a 4x multiple to be applied against 2015 estimates (or $13 per share), but with the highest Wall Street target price sitting at $7.50, there's no need to get ahead of ourselves. Over the coming weeks / months we will periodically reassess our price target and communicate all changes to PTT Research members as events warrant.
Disclosure: The author is long GLUU. The author wrote this article themselves, and it expresses their own opinions. The author is not receiving compensation for it. The author has no business relationship with any company whose stock is mentioned in this article.