As our daily readers know, we have been bullish of financial stocks mainly via the Financial Select Sector SPDR ETF (NYSEARCA:XLF), as we believed it was not quite the proper time to be going overweight the banks. The added financial industry exposure, such as the insurers, allowed us to avoid the full force of the pullbacks in the banks, but with the most recent news from the larger banks in recent days, it appears that it may be time to add more exposure to banking stocks.
That is the takeaway we have gotten from quarterly results and forward guidance at the banks who have already reported, and if this holds true for those yet to report, we could see the entire market rally off of this news. Investors have to remember that all of this good news has been accomplished without a steepening yield curve as many had expected, but rather an environment which has taken yields from 3% back to ~2.50% through the first half of the year.
Chart of the Day:
If the banks who still have to report through this week can surprise the market, as many of their peers have already this week, then investors could see the Financial Select Sector SPDR ETF rally through the $23 level.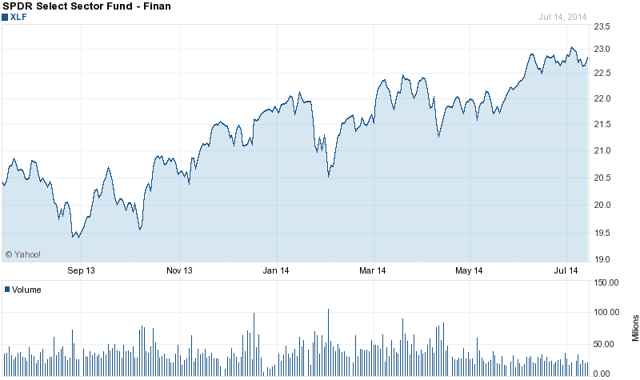 Source: Yahoo Finance
We have economic news today, and it is as follows:
Retail Sales (8:30 a.m. EST): Est: 0.7% Act: 0.2%
Retail Sales - Ex Autos (8:30 a.m. EST): Est: 0.6% Act: 0.4%
Empire Manufacturing (8:30 a.m. EST): Est: 13.2 Act: 25.6
Export Prices - Ex Ag (8:30 a.m. EST): Est: N/A Act: -0.3%
Import Prices - Ex Oil (8:30 a.m. EST): Est: N/A Act: -0.1%
Business Inventories (10:00 a.m. EST): Est: 0.6% Act: 0.5%
The Asian markets are marginally higher today:
All Ordinaries -- down 0.00%
Shanghai Composite -- up 0.18%
Nikkei 225 -- up 0.64%
NZSE 50 -- down 0.24%
Seoul Composite -- up 0.94%
In Europe, the markets are lower this morning:
CAC 40 -- down 0.28%
DAX -- down 0.03%
FTSE 100 -- down 0.02%
OSE -- down 0.36%
Bank Earnings Strong On Trading
Both JPMorgan Chase (NYSE:JPM) and Goldman Sachs (NYSE:GS) beat Wall Street analysts' earnings estimates on the strength, or lack of expected weakness, in the companies' trading units. This was not the only strength during the quarter, but it is the common thread between the two and is important to note, as it could lead to the companies being able to build up their balance sheets faster than Wall Street had anticipated moving forward.
Although we think that the trading revenue is important, we instead would rather focus on JPMorgan Chase's comments that the company saw strength across the board during the latter part of the quarter. They stated that it is unclear whether that strength will carry over into the current quarter, but that the US consumer looks healthier than many currently think.
If this is indeed true, and the strength can carry forward then one would think that the national banks would be ideally situated to take advantage of the change, especially Wells Fargo (NYSE:WFC) and JPMorgan Chase.
Business Banking Remains Strong
Comerica could be a solid performer through the end of the year if their loan growth estimates hold up and if the $50/share support can hold through any market volatility that may be on the horizon.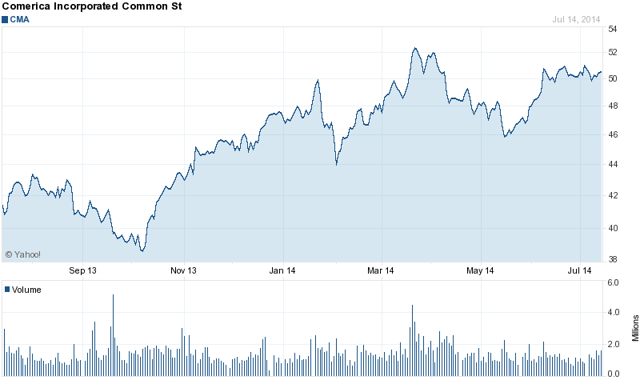 Source: Yahoo Finance
The M&A market has been strong and as such many large banks have been benefiting from lining up the financing for deals, whether that is a bridge loan or new credit facility. With the latest quarter from Comerica (NYSE:CMA), the Dallas based commercial bank points to continued strength in the commercial market with growth in their franchise continuing. Comerica beat by $0.03/share for the quarter as net income grew 10% quarter over quarter. Moving forward the company also believes that it can grow loans by 4-6% through 2014.
Disclosure: The author has no positions in any stocks mentioned, and no plans to initiate any positions within the next 72 hours. The author wrote this article themselves, and it expresses their own opinions. The author is not receiving compensation for it (other than from Seeking Alpha). The author has no business relationship with any company whose stock is mentioned in this article. XLF & JPM have both previously been recommended.