Yesterday, it was announced formally that Questcor (NASDAQ:QCOR) and Mallinckrodt (NYSE:MNK) both issued their definitive proxy statements with regards to the proposed merger between the two companies. The special meeting is slated to be held August 14th for both companies - and the merger is looking more like a reality now, more than ever. Fantastic news for Questcor execs and longs looking for an exit - horrible news for Mallinckrodt, in my opinion.
Golf clap for Questcor. They won the day.
But, that doesn't change any of the underlying fundamentals here. QTR still thinks that someone hasn't done their due diligence correctly at Mallinckrodt. Put simply, actually, I believe Mallinckrodt and their shareholders are likely getting screwed on this deal. Big time. Not only are they taking on massive risk in bringing on a one drug company, but that company's YOY net sales statistics based on insurers that have amended their policies for Acthar are horrifyingly alarming.
My opinions and those of other people skeptical of the company have fallen on deaf ears. That's fine with me, I don't really mind - this litany of red flags is now just simply likely to catch up to Mallinckrodt more than it is Questcor. It's just a matter of time here. Either way, someone is getting the "shizen end of the stick" in this equation. My prediction is this data falls on deaf ears yet again and is looked back upon weeks/months/years from now amidst statements like "how did we not catch this sooner?"
Let me start with six things that this article is not about.
For a moment - let's forget "Red Flag #1" - that Questcor is currently under an active investigation by the United States Government for their promotional practices in selling Acthar.
Check.
Additionally - let's forget "Red Flag #2" - that a world class laboratory found that Questcor's Acthar, as it's being shipped, is a different chemical makeup of the Acthar that's on the label.
Check.
Ignore "Red Flag #3" - that Questcor came out themselves and admitted Citron's results were good and they were selling an amino acid chain with a different sequence that's on the label. Along these lines, ignore that the NY Times has confirmed the FDA is looking into this.
Check.
And - let's forget "Red Flag #4" - the company's questionable relationship with the Chronic Disease Fund.
Check.
I also want you to forget "Red Flag #5" - that in the midst of an ongoing and active government investigation, insiders have cashed out hundreds of millions of dollars in stock.
Check.
Yikes - and what about "Red Flag #6" - two of the biggest insurance companies in the world in Aetna and UnitedHealth have recently claimed that Acthar is not medically necessary for 4 of its 5 top indications? Forget that too - well, for a moment.
Check.
Got it? Forget those six items and let's move on.
Let's take a look at the 8-K that Questcor submitted before filing their proxy on June 12th. You can find the .pdf version of the filing here, for those of you that want to play along at home with QTR.
If you will, I'd like to set the stage by first pointing out page 21.

Questcor acknowledges in its risks that it only uses an extremely small patient population. At $30k a vial, you really only need 8,000 or so patients to generate massive revenues off the backs of third party payers. This lends credence to QTR's belief that the company is being investigated due to potentially coercing doctors to prescribe Acthar when they don't have any specific proof of efficacy versus a synthetic. Those that doubt it, let me remind you. It only takes a couple of hundred dinners and seminars to get enough doctors in your pocket to sell 7,000 prescriptions. It's an astonishingly low number.
Remember the psychiatrist that was accused of writing 100,000 prescriptions a year? Maybe Questcor should have just gone after this one guy - sure would have saved them tons of dinners.
But, let's just take it at face value - Questcor knows they have a small - very volatile - patient population. In a case of a GSK product, a loss of 4,000 or 5,000 patients would be a drop in the bucket. For Acthar, it'd be absolutely crippling. The company has zero margin for error if they want to keep Acthar revenue growing.
And then, this statement on page 22:

"...will continue to put pressure on the usage of Acthar."
Not a big deal, right? Just boilerplate nonsense - it's like not Acthar sales are being phased out by insurance companies actively, right? Aetna is still prescribing Acthar - the drug policy was just a formality, right? Wrong. Acthar is clearly being phased out by Aetna and whittled away to its sole indication, infantile spasms. Cigna and UnitedHealth are coming next.
Also on page 22, we see this:

Which means, in laymen's terms, the more indications Questcor pushes for and the more time that goes by for Acthar, the lower the reimbursement rate goes. This means they're going to have to keep hiking up the price. Straying from IS, the product's primary indication with proven efficacy, there seems to be a reason why confidence behind Acthar wanes. At some point, something is going to have to give.
When you plot those numbers, the trend looks like this.
(click to enlarge - source QCOR 8-K/QTR)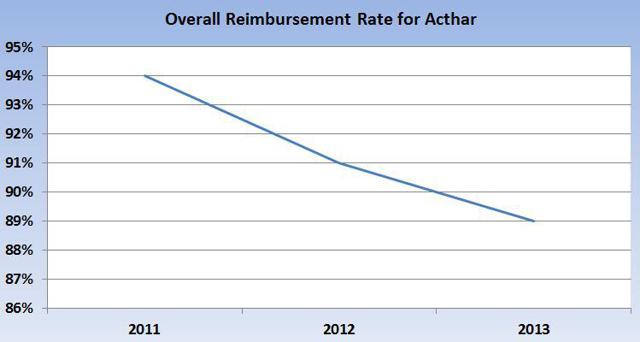 Now, if you will, I want you to take a look at Aetna's policy on Acthar. Starting in late 2012, Aetna stopped covering major indications for Acthar - actually, nearly all of them.
Here's Aetna's coverage policy for Acthar. It shows one indication that's covered by them - infantile spasms - and then over FIFTY indications that are not covered by them. It looks like this: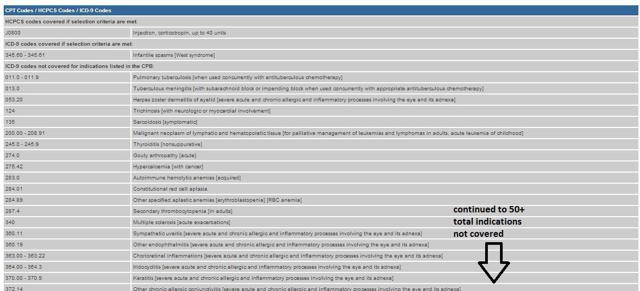 Now, compare that to this Cigna Medical Coverage Policy for Acthar Gel, where the insurer notes that Acthar Gel is "significantly more expensive than conventional corticosteroid and immunosuppressive therapies, but is not clinically superior for such indications."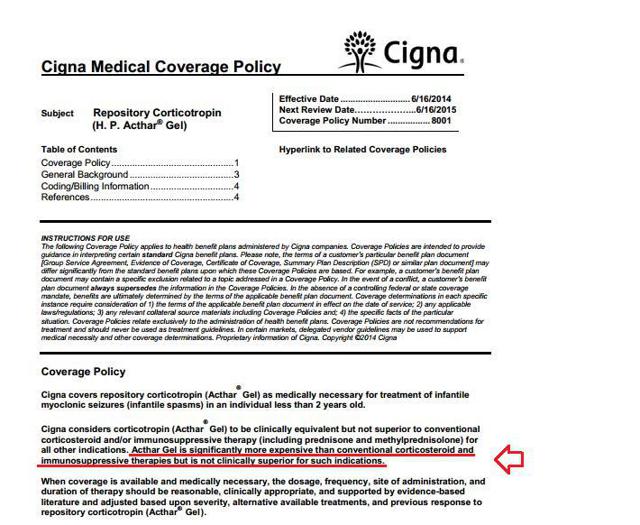 That makes major insurer #2 that wants nothing to do with paying for Acthar (for indications other than IS).
UnitedHealth - one of the world's biggest medical coverage companies, also seems to have decided that at $30,000 a vial - Acthar is not medically necessary for four of its five biggest indications. Not only that, but nephrotic syndrome and MS are two of the company's highest revenue producers, and UnitedHealth found that "statistically robust randomized controlled trials are necessary to establish the safety and efficacy of H.P. Acthar to treat these conditions." As a reminder - here is UNH's policy: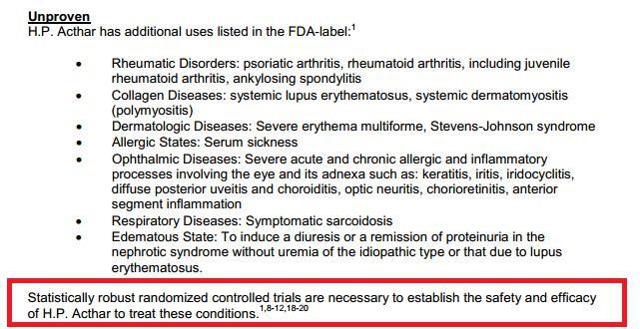 You can read my full piece on this entire policy here:
Hey Mallinckrodt, Pay Close Attention - UnitedHealth Just Slammed Questcor's Acthar
What's my point, you ask? Let's go back to Questcor's latest 8-K and get to the point I'm trying to make. In the 8-K, we're treated to the hidden whopper - look at the data on Aetna, who suspended Acthar for many indications beginning in 2013.

Aetna prescription coverage and attributable net sales are down significantly.
What does that look like when taken out of the gobbledygook context of an SEC filing? Well, it looks like a 31% decline in Aetna's participation in net sales per provider. Like this:

Looking at the filing and making the same simple table for "prescriptions covered" is going to show you similar results.
Aetna: From 4.8% to 3.3% of net sales in the last two years.
That's a 31.3% decline.
Still think Aetna's coverage policy is meaningless?
Cigna: From 4.4% to 3.8% of net sales in the last two years.
That's a 13.6% decline and Cigna got a late start on clamping down.
Still think Cigna's coverage policy is meaningless?
Why is any of this of importance to Mallinckrodt and its shareholders? Let me answer that question by posing another:
What are these 2014 figures going to look like - especially for UnitedHealth, who makes up a much larger portion of Questcor's coverage and sales?
And the remaining prescriptions are likely Medicaid, in addition to IS cases. From this data, you can assume that Medicaid cases backed by major insurers will follow this lead. If they did, Acthar could nearly be phased out in its entirety with the exception of IS.
In QTR's opinion, Mallinckrodt shareholders need to take a damn close look at this publicly available information in conjunction with all the other risks associated with this acquisition.
Best of luck to all investors.
Disclosure: The author is short QCOR. The author wrote this article themselves, and it expresses their own opinions. The author is not receiving compensation for it (other than from Seeking Alpha). The author has no business relationship with any company whose stock is mentioned in this article.
Additional disclosure: Short QCOR and will be short MNK if this merger goes through.