Last month, I wrote this article about why I owned Johnson & Johnson (NYSE:JNJ) in my retirement portfolio. The reasons are now that much more etched in stone for now after today's earnings report. Not only did the company blow away estimates on both the revenue side and the earnings side, but it also raised its forward guidance for the balance of the year.
Johnson & Johnson today announced sales of $19.5 billion for the second quarter of 2014, an increase of 9.1% as compared to the second quarter of 2013. Operational results increased 9.4% and the negative impact of currency was 0.3%. Domestic sales increased 14.9%. International sales increased 4.4%, reflecting operational growth of 5.0% and a negative currency impact of 0.6%......net earnings for the current quarter were $4.8 billion and diluted earnings per share were $1.66, representing increases of 11.3% and 12.2%, respectively, as compared to the same period in 2013....."Our strong second-quarter results reflect the continued success of our new product launches and the progress we have made in achieving our near-term priorities," said Alex Gorsky, Chairman and Chief Executive Officer. "Significant advancements are being made in the treatment options and access to care for patients and customers around the world. Our diversified business model, focus on long-term growth drivers and talented colleagues position us well in this evolving and dynamic global health care market.".......The Company increased its earnings guidance for full-year 2014 to $5.85 - $5.92 per share.
This basically tells me the entire story and just about all I need to know.
This article is not about the fundamentals however. Today is a classic "Buy The Dip" opportunity for JNJ.
Buy The Rumor, Sell The News Is Still The Traders' Mantra
All I can say is that today is a classic sell the rumor display by day traders, hedge funds, and momentum traders. JNJ has dropped at the time of this writing by roughly 2%.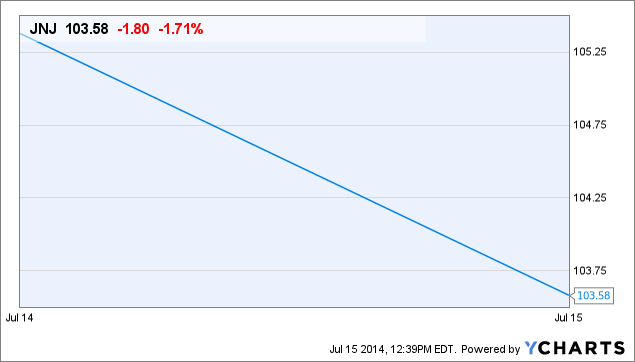 This chart is precisely what long-term dividend investors look for when buying the dips. Not only can you pick up shares of JNJ that are artificially on sale in my opinion, but you can increase your dividend yield in this stock if recently purchased at higher levels, and increase overall income with a must own stock in any dividend investor's portfolio.
The Dividend Yield Is Now Over 2.80%
While I am not endorsing a back up the truck purchase of ANY stock, including JNJ, it just seems to me that given the significant drop in share price, as well as the increase in current yield makes for an opportunity to add shares to an existing position, or even open a new one.
We have been waiting for a market correction that seems to never come, and here we have an opportunity to take advantage of a Wall Street phenomena; "sell the news."
Buyers can pick up 2% from this drop, which I believe to be temporary and very short lived, and add some more income to your retirement portfolio.
The Bottom Line
I know that many folks will point out that today's price drop has not reached my target price which I have outlined in my BTDP chart. You're correct, but keep in mind that a 2% drop in one day, after an earnings report like this do not happen that often with mega cap blue chips, unless there is some sort of real scare in the report.
This particular drop is an opportunity to pick up some shares on sale and make more money right now.
Disclaimer: The opinions of the author are not recommendations to either buy or sell any security. Please remember to do your own research prior to making any investment decisions.
Disclosure: The author is long JNJ. The author wrote this article themselves, and it expresses their own opinions. The author is not receiving compensation for it (other than from Seeking Alpha). The author has no business relationship with any company whose stock is mentioned in this article.