Apple Inc. (NASDAQ:AAPL) posted another great quarter and fiscal year (see earnings call transcript here). It is quite an accomplishment for a company with annual sales of $65.2 billion and a current market cap of $287.5 billion to report such impressive and consistent growth over a five year period as shown below.
click to enlarge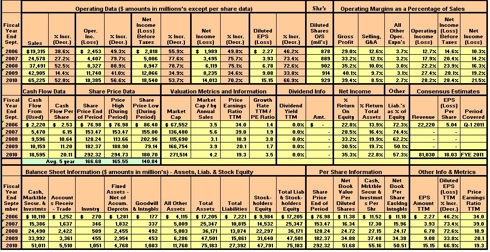 Click to enlarge
Sales grew from $19.3 billion in fiscal 2006 to $65.2 billion in the fiscal year ended September 25, 2010. In just five years, earnings increased more than sevenfold from $2 billion ($2.27 per share) in fiscal 2006 to $14 billion ($15.15 per share) in fiscal 2010. Operating margins (using net income as a percentage of sales) improved each consecutive year from 10.3% in fiscal 2006 to 21.5% in the most recent fiscal year ended September 25, 2010. At the end of fiscal 2006 the stock price closed at $76.98 and has since increased approximately fourfold to just over $300 per share.
Consensus estimates of Revenue ($81.03 billion) and Earnings ($18.03 per share) for the Fiscal Year Ended September 2011 have not yet been revised to reflect the momentum reflected in the most recent quarter ended September 25, 2010, when sales increased by 66.7% ($20.3 billion in Q-4 2010 vs. $12.2 billion in Q-4 2009) and earnings per share were up 67.5% ($4.64 a share in Q-4 2010 vs. $2.77 in Q-4 2009). Based on Apple's strong performance and momentum, I would expect the company to grow its earnings in a range 30% to 35% ($19.70 to $20.45 per share) in the fiscal year ended September 2011 rather than just under 20% (using the current unrevised consensus estimates of $18.03 per share for fiscal 2011).
While everyone seems embroiled in debate over what Apple will do in terms of new products, their impact on competitors and what their future sales and earnings will be (all extremely important and crucial metrics when valuing a public company) I see little attention paid to the Company's growing horde of cash. In the last five fiscal years, operating cash flow increased approximately eightfold from $2.2 billion or $2.53 per diluted share in fiscal 2006 to $18.6 billion or $20.11 per share in the fiscal year ended September 25, 2010. Their cash and equivalents, as well as marketable securities (both long and short-term), have grown from $10.1 billion or $11.52 per diluted share at the end of fiscal 2006 to $51.0 billion or $55.16 per diluted shares outstanding as of September 25, 2010. In the last three fiscal years through September 2010, Apple's annual R&D expenditures were only $1.11 billion, $1.33 billion and $1.78 billion respectively, which shows they don't need to make big investments of cash to generate excellent operating growth.
With AAPL's current cash horde of more than $50+ billion, plus generating annual operating cash flow of approximately $20.00 per diluted share outstanding, is there any prudent reason for Apple not to distribute some of their excess cash to shareholders and also consider paying a regular quarterly dividend? Apple could easily pay shareholders a quarterly dividend of at least $1.50- $2.00 per share and still continue growing their impressive cash horde. I would like to think the Board of Directors of the most successfully operated public companies (such as Apple and Google (NASDAQ:GOOG)) have their shareholders' best interest at heart, rather than letting their egos get in the way of paying cash dividends to the "owners" of their companies.
If anyone out there knows good reasons why cash should not be returned to AAPL shareholders, when taking into account the company's extremely enviable financial position, please share the information with me.
Disclosure: No position in AAPL or GOOG