I had the opportunity to interview Michael Santos, President-International, of ChinaCast Education Corporation (OTCPK:CAST). ChinaCast is the first and currently the only US publicly-listed, post-secondary education company that owns accredited universities in China. They hope to create a Chinese version of the University of Phoenix and University of Devry for-profit, post-secondary education models in the US to address the huge demand for post-secondary education in China. ChinaCast is currently trading at an EV/EBITDA of about 6, which is a significant discount to its PRC education peers, which trade at about an average of 10-12x EV/EBITDA.
Zack: Can you give me some background for the company?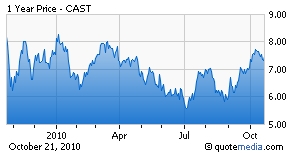 Michael: We are the largest, US publicly-listed, PRC for-profit, post-secondary education company. We have approximately 30,000 on-campus university students studying at our universities located in Chongqing, Guilin, and Wuhan, and 141,000 E-Learning students in partnership with 15 state-owned universities.
China is now the largest post secondary education market in the world with 22 million students and is growing at a much faster rate than the US. But still only 5% of the Chinese population has a four year university degree versus over 25% in the USA and most western countries. By 2020, the Chinese government has announced that it is targeting to have over 40 million university students and thus has opened the sector to private universities and E-Learning to assist in addressing this ambitious growth target. Thus, we believe that our business is a good, visible, long term growth story to track the rise of the consumer spending power in China.
ChinaCast actually started as a VC-funded internet dot com company back in 2000 to provide broadband internet services in China using satellite technology from Hughes Network Systems. We were able to secure a nationwide satellite and internet license from the Ministry of Information Industry (the FCC of China), raised US$17 million in venture capital from Hughes, Intel Capital and Sunevision (Hong Kong) in October 2000 and went into the business of providing broadband internet services to corporate and government customers. As a dot com startup, we needed to focus on getting profitable before we ran out of venture capital so we decided to focus on the E-Learning segment since our broadband satellite technology gave us an advantage over the government-owned fixed line telecom carriers.
At that time, our PRC university customers told us that there were over 100 million students that wanted to go to college but that there were only about 5 million physical seats in the PRC universities, which presented a great growth opportunity. Thus, the Ministry of Education granted these state universities distance learning licenses to recruit students off-campus for the first time to address the supply-demand imbalance and the universities turned to us to provide the hardware, software and telecommunications services to allow them to connect all their remote distance learning centers around the country back to their main campuses located in the major cities. We developed a business model whereas our company would invest in the equipment and software and would get paid by the university by taking a revenue share of each student's tuition, a win-win situation for both the university and our company.
We became profitable after 18 months and did a $30 million IPO on the Singapore Stock Exchange in May 2004. In 2005, a US-listed Special Purpose Acquisition Company (SPAC) called Great Wall Acquisition Corporation [OTC: GWAQ] made a public tender offer for our Singapore listed company. Our Singapore shareholders accepted the tender offer and we completed the reverse merger in December 2006, de-listed from the Singapore Stock Exchange and were the first PRC education company to be listed on NASDAQ in October 2007. After we got on the NASDAQ, we embarked on a strategy to augment our B2B nationwide e-learning platform by acquiring universities so that we could now own our own degree programs and students thus becoming a fully-fledged, B2C for-profit, post-secondary education company.
One strong feature of our business model is that we receive our revenue 100% in cash one year in advance of the service. Thus, we have great visibility in earnings (we provide annual guidance), no bad debt or receivables and strong cash flow. The customer acquisition cost is very low (less than 2% of revenue versus over 20% of revenue for most US for-profit education companies) because of the large supply and demand imbalance and the government currently doesn't tax profits (although we do take a 15% non-cash tax provision) which provide very attractive net profit, EBITDA and free cash flow margins. In addition, we have a strong balance sheet with over 180 acres of land and 6 million square feet in our buildings, which translate to about $4.88 in book value per share.
Zack: Who are your main competitors?
Michael: On the E-Learning services side, we compete mainly with other telecom service providers such as China Telecom (NYSE:CHA), China Netcom and China Satcom and distance learning service providers such as Orient Satellite and ChinaEdu (NASDAQ:CEDU). On the university M&A side, we compete mainly with domestic and international private equity firms and global education players like Apollo (NASDAQ:APOL), Laureate and Raffles Education. Apollo Global has a US$1 billion private equity fund with Carlyle that is actively looking at international education acquisition opportunities. Although the competition is heating up, we still think the profitability in the PRC post-secondary sector will remain reasonably high in comparison to the other education segments like English training, test preparation, after school tutoring or vocational training due to the high barriers to entry. Our goal is to build China's largest network of university campuses and have the largest online learning network before these global education companies can gain traction in the PRC market.
Zack: Where do you see the company in the next 5 years?
Michael: If we can continue to acquire more universities at attractive valuations, 5 years from now we would hope to have 10 universities with 20,000 students each for a total of 200,000 on-campus students. We also are targeting to expand our E-Learning network to over 350,000 students over the next five years. Thus, it's conceivable in five years that ChinaCast could reach about US$400-$500 million in revenue and about $200-$250 million of EBITDA annually, especially if the Ministry of Education allows private universities in China to sell their accredited degree programs online. At an industry average of about 10x EV/EBITDA, ChinaCast could possibly have a $2.5 billion enterprise value.
Zack: Why is the company undervalued?
Michael: I think a lot has to do with the history of how we got listed on the NASDAQ. The other US-listed, PRC education companies all did traditional bulge bracket bank IPOs with the likes of Goldman Sachs, Citibank, Merrill-Lynch, Deutsche Bank, etc., where we did a reverse merger with a SPAC. We didn't have any research or liquidity (we only traded about 10k-20k shares per day) to speak of and our shareholder based looked totally different than these other companies. In addition, the SPAC capital structure left our balance sheet with a huge 9 million warrant overhang that kept investors wary about buying our stock. Luckily, over the past three years, we've managed to transition our shareholder base, increase liquidity (we now trade roughly 400,000 shares a day) and have 5 research analysts covering the company. Although we still have a ways to go, we've surpassed all the other PRC education companies in terms of liquidity and market cap except New Oriental (NYSE:EDU), who currently trade at over 25x EV/EBITDA and has a market cap of $3.5 billion. They are generating about $90 million in EBITDA per year so we're not too far behind.
In addition, we were part of the Russell 2000 Index rebalancing in the second quarter of this year so there was a lot of selling pressure on the stock that had nothing to do with the fundamentals of the company. For instance, at the end of March our stock hit $8.55, close to our historical high of $8.61, and yet 3 months later our stock slumped to $5.65, close to our 52-week low. We had over 5 million shares traded on June 25, the last day of the rebalancing. The Russell 2000 rebalancing probably knocked down our stock price at least 20% over the past quarter.
Regarding valuation, the Street consensus 2010 GAAP EPS for our company is $0.42 but if you back out the non-cash charges amortization of intangibles and stock based compensation, our cash EPS is $0.55, which makes the stock much cheaper. On an EV/EBITDA basis, we are currently trading at 6x FY2010 EV/EBITDA versus the PRC education average of 10x-12x EV/EBITDA. Thus, we believe our stock presents an investor with not only an excellent long term growth story but a great value investment.
In addition, Deloitte Touche has been our auditor for the past ten years. This is a key point in that probably less than 15% of all PRC small-cap companies listed in the US have a big four auditor and there have been some high profile auditing fraud cases from PRC small-cap companies over the past year. Now I'm not saying that just because you don't have a big four auditor you are not a good company or that if you have a big four auditor there won't be any problems, but in most all cases of accounting fraud by PRC small-cap companies, none had a big four auditor. It typically costs a company over $1 million dollars in fees annually for a big four auditor, Sarbanes Oxley and IR communications, but it's the minimum you have to pay to be taken seriously by US investors.
Another important issue to consider is we are a very professionally managed company and have an excellent track record of corporate governance and creating shareholder value. All our key executives and board members have worked for multinational companies, have brought companies public in Hong Kong, Singapore and the USA and communicate frequently and articulately with investors and analysts.
Zack: Why the $43 million raise in Dec. 09?
Michael: When we did the raise we had two strategic university acquisitions in mind and needed the incremental capital. If you look at the very profitable business and strong cash flow generated by the newly acquired university, the significant assets added to our balance sheet, the long term investors added to our shareholder list and the increased liquidity to our stock, then we believe we've created good, long term shareholder value.
With this acquisition, we have provided guidance of up to $47 million in EBITDA this year and will have north of $60 million in EBITDA next year. We are now in as strong a position as ever in the history of the company in terms of cash flow and assets and believe we can organically grow EPS 20%-25% even without acquisitions. In addition, we've now crossed a major strategic inflection point in the company's history that due to our strong balance sheet and cash flow, we believe we can make at least one acquisition a year without ever having to come back to the market and thus accelerate EPS growth.
Zack: What was the price paid for the universities in terms of EBITDA?
Michael: We purchased the university for $66 million, and the expected trailing EBITDA is $7.5 million, so we are paying a bit less than 9x trailing EBITDA or about 7.5x forward EBITDA. You must look at the underlying assets of the universities and the potential for growth in the future. It cannot just be analyzed on an accretion dilution basis only looking at cash in terms of the valuation. For instance, for this university the government has allowed us to rezone 30 acres of the land for commercial purposes and we plan to monetize this which will greatly lower the total acquisition cost. This is what we discuss at the board level constantly, when we look at the whole DCF analysis, the potential for growth makes sense. We do exercise strict financial discipline in approaching our M&A opportunities.
Zack: What type of insider buying has occurred recently?
Michael: The management team and Board of Directors have collectively bought approximately $6.5 million in stock this year. To show our willingness to co-invest with our shareholders and our strong belief in the long term value creation potential of the company, our CEO, CFO and myself bought $5 million worth of stock at $7.22 and two of our board members also recently purchased an additional $1.5 million of stock just last month.
Zack: How do you feel about top tier firm auditors vs. lesser auditors in the China space?
Michael: As mentioned above, for your company to be taken seriously by US investors, having a Big 4 auditor like Deloitte is mandatory, especially in light of some high profile auditing fraud that has happened to some PRC small-cap companies over the past several years. The only reason not to have a Big 4 firm is either a company cannot afford it (as mentioned above it will cost at least $1 million annually) or they are not comfortable having someone fully scrutinize their financials and operations. Since most PRC companies are reporting high profitability, then it is probably the latter in most cases. I would like to suggest to all the research analysts covering PRC small-cap companies that they disclose at their conferences and in their research reports which companies have a Big 4 auditor and which don't - like a ratings agency list. This will protect them as well as the investors.
Zack: How would you avoid fraud as an investor in China?
If a company doesn't have at least a high tier 2 auditor, has had high turnover in their management team or professional firm relationships, has a lot of receivables or if they don't have much in terms of tangible assets, then these should be some red flags to address even before you get into the fundamentals. I would also strongly suggest serious investors to do a company site visit since what you see at investor conferences and read in research reports in some cases have little in common with what you will encounter in China.
Zack: Any companies you think that are interesting in China from an investment standpoint?
Michael: I believe in looking at key long term macroeconomic trends such as the rise in consumer spending power and the appreciation of the Yuan. Health and education are usually the two largest consumer sectors and both are in the early stages of privatization in China, thus companies in those sectors will do well. In addition, travel, hotels, food service providers, advertising also fall within that category. Using the investment guidelines mentioned above, try to find the top 1-2 companies in each of those segments that have strong, predictable cash flow and stable, experienced management teams. Hopefully, ChinaCast Education will be one of your portfolio companies that fit that profile.
Disclosure: Long CAST