Recently, General Electric Co. (NYSE:GE) announced that it has received an order from the U.K. airline EasyJet (OTC:EJTTF).
The $2.6 billion deal will provide EasyJet with 200 jet engines from GE. In addition, GE will be releasing second-quarter earnings (July 18th, before-market) soon after triumphing in a two-month long battle to purchase the power assets from France's Alstom.
Contemporary European History
Since reports of GE's attempt to buy Alstom began circulating in late April, the French government and other industrial competitors to GE showed intense resistance to the possibility of a takeover. This caused a 1 percent decline in GE's share price. During the same period, the S&P 500 index gained 4 percent, and the Dow Jones industrial index gained 2 percent.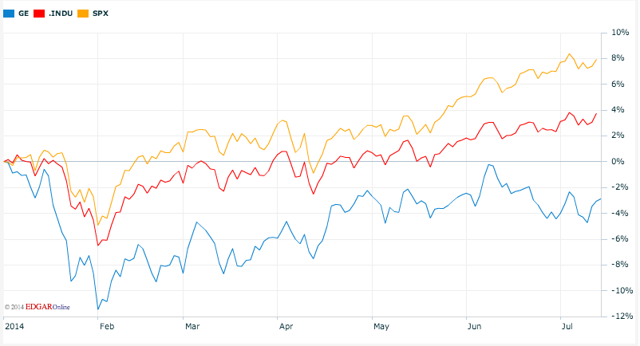 (Nasdaq.com)
GE showed a strong performance in 2013; however, this year its stock has declined about 6 percent, presenting a decent value for those optimistic on GE's future growth.
GE Streamlines To Compete With Svelte Euro Peers
By streamlining its operations through restructuring and divestitures, GE aims to increase its market valuation to be more comparable to its peers in the U.S. As reported by Barclays this week in a thorough analysis, GE stock currently trades at approximately 13 times its 2015 earnings estimates, representing a significant discount to competitors such as 3M Co. (NYSE:MMM) and Honeywell International Inc., (NYSE:HON), which trade at 17 and 15 times earnings, respectively.
Jack Murphy, a portfolio manager at Levin Capital Strategies, stated, "I think they're going to put a lot of that behind them." Currently, Levin Capital Strategies owns approximately 10 million shares of GE stock.
Wall Street analysts will follow the Alstom acquisition and its potential financial benefits; however, GE's commitment to progress towards cost cutting goals and long-term profitability will determine share price.
Moreover, investors will demand that GE continue to post strong quarterly growth in industrial revenue, stage a comeback from lagging equipment order book, and continue to slash expenses to increase its 15 percent industrial profit margin.
As with other stockholders, Murphy likes the company's 3.3 percent dividend, which surpasses many U.S. competitors.
Strategic Changes
Many stockholders and Wall Street analysts agree with Chief Executive Jeffrey Immelt's decisions to trim the finance division of GE and increase the percentage of earnings coming from oil and gas equipment, jet engines and other industrial products. The company expects to increase this percentage from the current 55 percent to 75 percent of total revenue by 2016.
In order to achieve this goal, GE plans to sell off its retail finance operations in North America. GE announced a public offering to sell approximately 20 percent in the current quarter. Furthermore, it expects to sell the remaining portion for a complete separation by next year.
Some analysts on Wall Street and investment firms that own GE shares support the company's decision to divest itself of the finance division. "I think their competitive advantages in the finance space are much weaker than in a lot of their industrial businesses," said Michael Kon, a senior analyst with Golub Group.
The Alstom acquisition will increase GE's global position in energy turbines, giving the company greater acceleration towards reaching its revenue goals. Because the deal will not close until 2015, the purchase will not affect stock prices much until then.
Outlook for GE Investors
Continually building its presence in the EU, GE is very well poised in 2014 and beyond to solidify its global prominence.
In emerging markets, GE has already taken important steps to better understand rapidly evolving business environments and shifting demands.
GE has beat earnings estimates for five out of the past six quarters and reports next earnings July 18th, before-market.
While the recent, expensive Alstom acquisition could put a dent in these results, the payoff should be clear in the quarters to come. It's apparent, via the recent EasyJet deal, that business is building.
GE has paid steady, increasing dividends since 2010. Investors looking for solid income also have a reason to buy GE, along with those looking for a piece of GE's future global growth.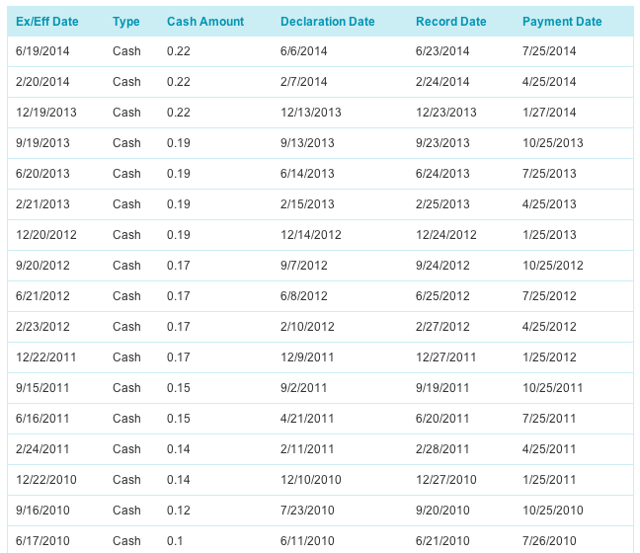 (Nasdaq.com)
We reiterate our stance that GE is a Buy in 2014.
We invite readers wishing to join the discussion on GE to click the +Follow button above the title of this article, and those looking for the latest updates to click +Get real-time alerts.
Disclosure: The author has no positions in any stocks mentioned, and no plans to initiate any positions within the next 72 hours. The author wrote this article themselves, and it expresses their own opinions. The author is not receiving compensation for it (other than from Seeking Alpha). The author has no business relationship with any company whose stock is mentioned in this article.
Editor's Note: This article discusses one or more securities that do not trade on a major U.S. exchange. Please be aware of the risks associated with these stocks.