Introduction
I'm primarily using a dividend growth and value approach, and occasionally taking quick (6 to 9 months) trading opportunities. Recently, I dipped my toes and started small positions in companies which do not pay a dividend; some are growth companies (such as Baidu (NASDAQ:BIDU)), while others are value plays (e.g. Express Scripts (NASDAQ:ESRX)). This article is a quarterly review to see exactly what I did. My hope is that as I continue to do this, I'll learn about myself, my temperament, my habits, and that I will act more rationally and logically in my investing journey towards financial freedom and security.
I hold a stocks-only portfolio and some cash. Continuous learning, tracking, and reflection are essential as a do-it-yourself investor. The quarterly reviews of my portfolio are a part of that process.
Core Holding Changes
Non-core Holding Changes
I bought small positions in:
I sold Baxter International (NYSE:BAX) after I found out about its spin-off. I heard from other investors that if you're patient, value maybe unlocked after the spin-off occurs. The thing is, I bought a small position. Once it spins off, the 2 groups of tiny shares won't be worth selling (because of commissions) unless I don't sell for decades to come or add to the positions. It could also be because I didn't do enough research on the company to have held on to it.
I replaced Baxter with General Electric (NYSE:GE), which had a higher yield and priced at a fair value. In comparison, though, Baxter is still considered undervalued (4-star) by Morningstar.
Quick Trades
1. Celgene (NASDAQ:CELG) ~ 8% gain
Looking back, it seems I should have held on to this growth stock. I started looking at CELG during the biotech pullback when someone mentioned about it in one of my articles. Too bad for me that it announced the split soon after I sold it. It has gone up about 10% since I sold.
2. Silver Wheaton (NYSE:SLW) ~ 20% gain
I've traded this stock a few times for capital gains, and this time it yielded the best result because I tried to play this with as little emotion as I could by setting a buy and sell target price. My bank notified me with an email when it went below my target buy price. I put in the order with the limited funds that I had, captured the targeted gain in 3 weeks. Yes, I didn't earn the full potential, but I also believe it's impossible to capture the bottom and the top.
Core Holdings in the Whistler Income and Growth Portfolio
Currently, core holdings make up about 68.6% of my portfolio.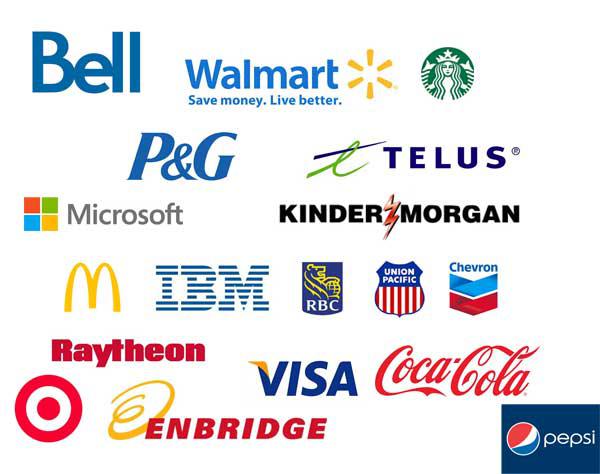 Current Allocation for the Whistler Income and Growth Portfolio
Here's a look at my portfolio, including the core, the non-core, and the speculative.
| Sector | By Value | By Dividend |
| --- | --- | --- |
| Energy | 17.7% | 22.9% |
| Financials | 13.1% | 19% |
| Consumer Discretionary | 26.8% | 18.6% |
| Information Technology | 15.5% | 12.4% |
| Telecommunication Services | 7.8% | 11.2% |
| Consumer Staples | 9.5% | 10.1% |
| Industrials | 6.7% | 4.5% |
| Healthcare | 2.2% | < 1% |
| Materials | < 1% | < 1% |
| Utilities | 0 | 0 |
My biggest sector holdings, whether in terms of value or dividend, land on Energy, IT, Financials, and Consumer Discretionary, the largest in value. I mentioned in my last quarterly portfolio update that my Consumer Discretionary stocks are diversified across at least 6 different industries, so I'm not too concerned about its allocation.
I'm happy to have added Raytheon as a core holding, since it increased my exposure in the Industrials sector. Just like the last quarterly update, I'd like to increase my exposure to the Healthcare sector... which makes me think I should have added to instead of selling Baxter.
35% of my dividends are from Canadian stocks, while 65% are from US stocks. I receive 70% of all dividends in Canadian currency, while receiving 30% in the US currency. In the tax-deferred account, I receive the full US stock dividends, but my bank only allows cash to be in the Canadian currency in that account. Each time currency exchange occurs, my bank takes a haircut of about 2%. Still, it's still more beneficial to buy US dividend stocks in the tax-deferred account compared to other accounts (non-registered, and tax-free savings account).
How are my Speculative Stocks doing?
In my last update, I identified LKQ Corporation (NASDAQ:LKQ) and Baidu as my speculative stocks, because they have higher P/E and are estimated to have higher annual earnings growth (20%+), which may or may not materialize. In addition, they do not pay a dividend.
I'm also adding Priceline to my speculative stocks list, because it has the above characteristics as well.
Since my purchase, LKQ is down by almost 6%, while Baidu is up 20%. A partial reason to why LKQ is down is because of the exchange rate. USD has dropped more than 3% compared to the Canadian dollar since my purchase. For Baidu, it's a 2% drop.
What I learned from this is that it's good to be diversified across several speculative holdings versus one. If I had bought one full position in a company and expected big gains from it soon, it could either be a jolly ride like Baidu, or could be a sad ride with LKQ.
Thankfully, speculative stocks collectively make up 3.7% of my portfolio.
Going Forward
I will continue to take opportunities coming my way as I pick up shares of companies which the market penalizes, expecting those drops to be temporary. I will continue to work on trading less by focusing on adding to core holdings and buying companies which are significantly undervalued (IBM and GM comes to mind).
By trading less and focusing on buying core companies, I will also be keeping my rights to receive my dividends. Having tracked how much dividends I'm collecting each month and quarter, and comparing to my last year's numbers, I'm beginning to see the compounding effect. However tiny it maybe to start with, in time, the growing income can only grow higher. Now I just need to track how much of it is organic growth and how much is from new shares purchased.
I will also look out for opportunities in sectors I have little exposure to, including Consumer Staples, Industrials, and Healthcare.
If you like what you've just read, consider clicking the bolded "Follow" link at the top of the page above the article title to receive an email notification when I publish a new article.
Note: Please use this article as initial research material. Do your own due diligence before buying or selling a stock.
Disclosure: The author is long AMGN, BIDU, BNS, ESRX, GE, IBM, LKQ, PCLN, RTN. The author wrote this article themselves, and it expresses their own opinions. The author is not receiving compensation for it (other than from Seeking Alpha). The author has no business relationship with any company whose stock is mentioned in this article.