Coal producer Patriot Coal Corporation's (PCX) third quarter loss came in at 51 cents per share, better than the Zacks Consensus Estimate of a loss of 56 cents. The company reported earnings of 58 cents in the year-ago quarter.
Operating Highlights
Revenues dropped slightly compared to last year, to $500.7 million, due to lower sales volume partially offset by higher average selling prices. Total revenue was also below the Zacks Consensus Estimate of $513 million. Around $434 million came from the Appalachia Mining Operations, $62.2 million from the Illinois Basin Mining Operations and $4.4 million from Other Appalachia Operations.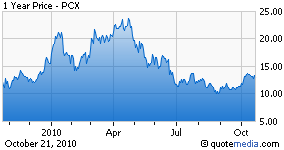 Volume sales in the reported quarter totaled 7.5 million tons (down 3.8% year over year), including 5.9 million tons of thermal and 1.6 million tons of metallurgical coal. Depressed production levels in the quarter resulted from poor performance at Patriot's underground mines due to increased regulatory activities and geological issues. Appalachia Mining Operations' share was 6.0 million tons while Illinois Basin Mining Operations contributed 1.5 million tons.
Revenues per ton rose $3.37 to $66.32 per ton from $62.95 last year. Revenues per ton from Appalachia Mining Operations rose to $72.52 from $69.76 in the year-ago quarter. Similarly, Illinois Basin Mining Operations witnessed revenues per ton rise to $41.54 from $38.55 in the year-ago quarter.
Operating cost per ton totaled $58.35 in the reported quarter, compared with $54.70 in the year-ago quarter. Operating cost per ton rose mainly due to lower production, resulting from regulatory changes and geological challenges at a number of mines and higher operating costs.
Patriot Coal reported a net loss of $46.0 million in the reported quarter compared with a net income of $52.8million in the year-ago period.
Financial Performance
Patriot Coal's liquidity position at quarter-end was sound with cash and cash equivalents of roughly $208.2 million, and no borrowings on its revolving credit facility or its receivables securitization program. Available liquidity summed to about $400 million as of September 30, 2010.
Capital expenditure of $30.9 million for the third quarter included spending at the Black Oak mine, which began producing high-quality metallurgical coal in early September.
Patriot generated $23.0 million of cash for operations for the nine month period ended September 30, 2010 compared with $39.5 million for the same period last year. Long term debt as of the September quarter increased to $449.7 million from $198.0 million as of December 31, 2009.
Guidance
Looking ahead, Patriot expects production levels to spring back in the fourth quarter, resulting in lower per-ton costs and improved margins. The company projects sales volumes in the 8.0-8.4 million tons range for the upcoming quarter, with per-ton cost in the range of $59.00-$61.00 for the Appalachia segment and $41.00-$43.00 for the Illinois Basin segment.
For the fourth quarter, Patriot expects metallurgical coal sales of 1.9-2.1 million tons at an average price of $116 per ton, Appalachia thermal coal sales of 4.3-4.5 million tons at an average price of $57 per ton, and Illinois Basin thermal coal sales of 1.7-1.9 million tons at an average price of $40 per ton.
Currently, Patriot has priced nearly 8.3 million tons and 4.7 million tons of thermal coal for 2011 and 2012, respectively, significantly below current market prices. Going forward, the company has over 4.5 million tons of thermal coal for 2011 delivery available for pricing. On the metallurgical side, the company has more than 5.0 million tons of met coal for 2011 delivery available for pricing in a very tight market.