Silgan Holdings Inc. (NASDAQ:SLGN) delivered adjusted earnings per share (EPS) of 89 cents in the third quarter ended September 30, 2010, missing the Zacks Consensus Estimate of 91 cents and decreasing 7% from 96 cents in the prior-year quarter. The decline was mainly due to the decrease in sales aggravated by increased interest and other debt expenses.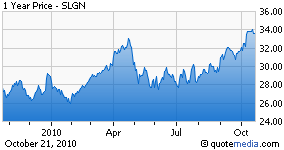 The reported EPS in the quarter includes rationalization charges of 1 cent per share and 4 cents for the loss on early extinguishment of debt related to refinancing of the senior secured credit facility in July 2010. Including these items, the company reported EPS of 84 cents in the quarter, compared with 96 cents in the year-ago quarter.
Total revenue as reported by the company declined 1.4% year-over-year to $1,002.1 million but surpassed Zacks Consensus Estimate of $975 million. The revenue increase in Plastic Container segment was offset by a decline in revenues in the Metal Container and the Closure segments.
Cost and Margins
Cost of sales moderated by 1.2% to $839.7 million in the quarter, but as a percentage of revenues increased 22 basis points to 83.8%. Gross profit declined 3% to $162.4 million and gross margin contracted 22 basis points to 16.21%.
Selling, general and administrative expenses rose 4.7% to $40.4 million in the quarter, and 23 basis points to 4%, as a percentage of revenues. Silgan's adjusted operating income dropped 5% to $121 million and operating margin reduced 40 basis points to 12.2% in the quarter.
Benefits from higher volumes in the Plastic Container and Closures businesses along with effective cost control and manufacturing efficiencies were partially offset by lower unit volumes in the Metal Food Container business coupled with a lag in pass-through of increased resin costs. Interest and Debt expenses also increased due to higher interest rate and outstanding debt balances.
Segment Performance
Plastic Container: The segment posted the highest revenue growth of 12.5% to reach $150 .4 million, driven by higher average selling prices as a result of the pass-through of resin cost increases, surge in unit volumes and favorable foreign currency translation.
The segment posted operating income of $8.2 million and operating margin of 5.5%, up 313 basis points. The increase is primarily attributable to the pass-through of declines in resin costs to customers and higher unit volumes, partially offset by higher rationalization charges.
Closure: The segment's revenues declined 2.1% to $162.8 million owing to the negative impact from unfavorable foreign currency translation, lower average selling prices and an unfavorable mix of products, partially offset by an increase in unit volumes primarily in the domestic single-serve beverage market.
The segment's operating income also decreased 9% to $22 million and operating margin plunged 110 basis points to 13.5%. The decrease was primarily due to the unfavorable comparison to the year-earlier benefit from the delayed pass-through of raw material cost declines in Europe and a negative mix of products sold, partially offset by an increase in unit volumes.
Metal Food Container: The segment registered 3.9% decline in revenues to reach $688.9 million. The decrease can be credited to lower average selling prices as a result of the pass-through of reduced raw material costs and unit volumes.
The segment's operating income followed the same downward trend declining 9% to $95.3 million. Operating margin plummeted 71 basis points to 13.8% due to an unfavorable product mix, lower unit volumes and differences in the timing of pass-through changes in manufacturing costs, partially offset by cost-control measures and continued improvement in manufacturing efficiencies.
Financial Position
As of September 30, 2010, Silgan had cash and cash equivalents of $393.1 million, up from $52.1 million as of June 30, 2010, and $99.2 million as of March 31, 2010. Cash outflow from operating activities for the nine months ended September 30, 2010, was $27.7 million compared with an inflow of $18.7 million in the year-ago comparable period.
As of September 30, 2010, the debt-to-capitalization ratio increased to 58.2% versus 54% as of June 30, 2010 and 55% as of March 31, 2010.
Outlook
The company expects EPS to range between $2.10 and $2.20 for the full year and estimates adjusted net income per diluted share to be in the range of 33–43 cents for the fourth quarter. This excludes the impact of loss on early extinguishment of debt and rationalization charges.
The fiscal 2010 EPS guidance includes interest expense benefits from the redemption of 6 3/4% Senior Subordinated Notes and the estimated impact from the proposed repurchase of $247 million of common stock, partially offset by the negative impact from incremental borrowing and higher interest rates under the recently concluded $1.4 billion senior secured credit facility.
Our Take
Silgan Holdings is a leading player in all three of its core business segments. The company holds approximately 50% share of the U.S. metal food container market, from which it generates a major portion of its revenue.
The economic slowdown affected Silgan's top-line growth as consumers pulled back spending. During the reported quarter, volumes perked up in two of its segments but contracted in its Metal Container segment.
The company is currently undertaking various corporate development activities, including manufacturing efficiencies, which is likely to improve volumes across all of its segments. We expect volumes to gradually recover with the improving economy. We currently have a Zacks #3 Rank (short-term Hold recommendation) on the stock.
Silgan is a leading manufacturer of consumer goods packaging products, operating 66 manufacturing facilities in North and South America, Europe and Asia. In North America, Silgan is the largest supplier of metal containers for food products and a leading supplier of plastic containers for personal care products. In addition, Silgan is a leading worldwide supplier of metal, composite and plastic vacuum closures for food and beverage products.