Applied Materials (NASDAQ:AMAT) dropped from second to third place in the LCD equipment market in 2013 while its acquisition target Tokyo Electron (TEL) dropped to fourth place. This marks the third consecutive year TEL dropped in rankings.
As pointed out in recent Seeking Alpha articles on AMAT, the company dropped in ranking in the solar equipment market and lost market share in the semiconductor industry to every non-Japanese company against which it competed except for European-based ASM International (NASDAQ:ASMI). Japanese-based companies suffered from a weak Yen and since market shares are determined in U.S. dollars, on paper they lost about 20% of revenue due to Yen-Dollar conversion. We won't see a repeat of share loss in 2014 as the Yen has stabilized.
The AMAT tool, sold through the company's AKT subsidiary, is the same PECVD tool sold through AMAT's solar thin film amorphous silicon failure.
Table 1 shows the revenues of the top 10 LCD equipment manufacturers for the period 2012 and 2013. In 2013, equipment suppliers regained previous market position but the weak Yen impacted revenues for Japanese manufacturers. Japanese-based Nikon, ULVAC Technologies and Daifuku were exceptions. Tokyo Electron's revenues dropped by nearly a third between 2011 and 2013.
Table 1
Equipment Revenue of Top 10 Suppliers - 2012-2013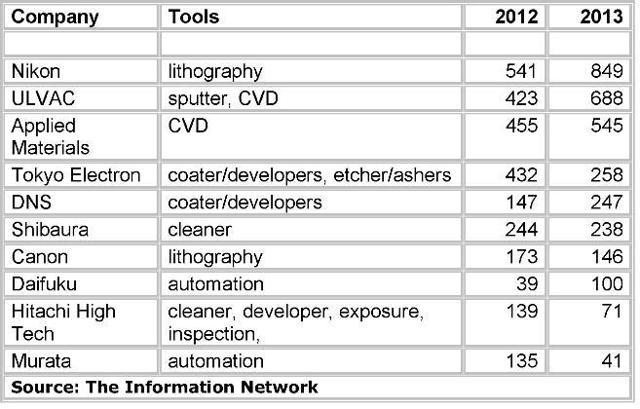 The year 2012 was a down year for the overall LCD equipment industry, illustrated in Figure 1, but we see positive growth over the next several years based on several factors: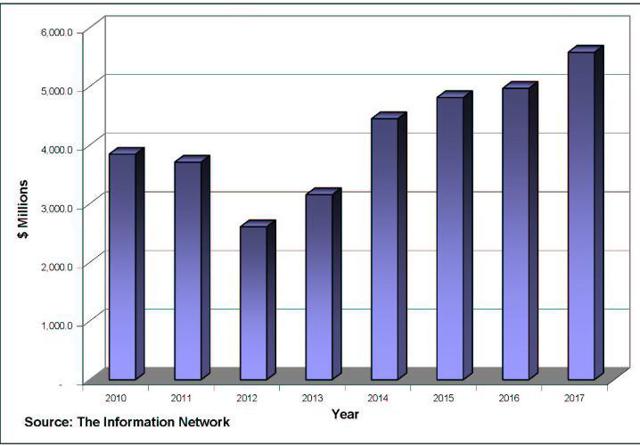 Figure 1 - Worldwide TFT-LCD Equipment Market Growth
Source: The Information Network
Push Towards Larger Panel Sizes
LCDs are made from mother sheets of highly accurately-made glass. The machinery that processes this glass determines the number and size of TFT panels that can be made in one pass down the production line. Since the materials needed to make a TFT panel are costly, and since process time and energy has to be carefully controlled, each manufacturer has machinery that is optimized for the sizes of panels it wants to market.
Table 2 shows the sizes of panels that can be made on different generations of mother sheet.
Table 2
Size Of Panels Cut From Successive Generations Of Glass.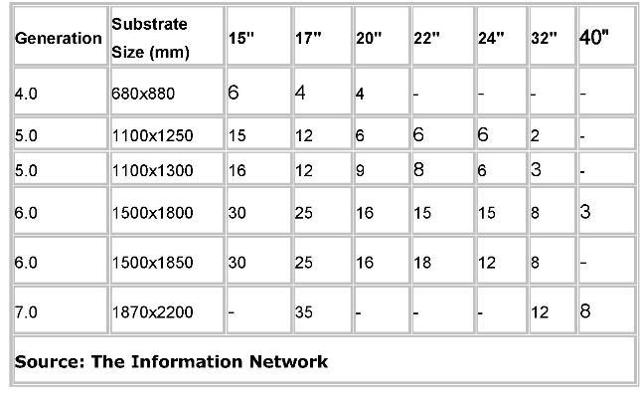 As the major manufacturers push to make larger TV-orientated panels, fewer manufacturers are making smaller sizes like 10.4" and 12.1". This means that consumer choice is reduced, and the normal price decline slows or even reverses. It also encourages smaller manufacturers to fill the gaps with their less sophisticated plant.
Push Toward Higher Resolutions
Television is evolving. 4K Ultra HD is rewriting the rulebook when it comes to image quality, and in the process is beginning to fundamentally change everything from program production to distribution technology.
4K TV sets are now available from most of the major TV manufacturers, but they're merely the tip of a very cool technology iceberg.
4K Ultra HD TVs (also known as UHD TVs) deliver four times the picture resolution of 1080p Full HD that's eight million pixels compared to two million pixels.
What that means in terms of potential image clarity is more fine detail, greater texture and an almost photographic emulsion of smoothness.
Small- to medium-size panel market lifted by new applications
With the market for high-end smartphones having matured, it is critical to distinguish high-resolution panels from high-end smartphones. Although unit growth might decelerate for the overall smartphone market, resolution upgrades trend continues at a fast pace, driven by a full-scale migration in China for mid-end smartphone segments. We expect a meaningful shift to HD720 and above resolution for smartphone panels.
By the end of 2014, over half of the smartphone panels will carry 300ppi above resolution. Apple (NASDAQ:AAPL) might push for higher resolution in iPads and a shift from a-Si to LTPS (low temperature polysilicon)/Oxide panels for its upcoming models.
Japan Display, Sharp and LG Display (NYSE:LPL) are expanding or converting existing lines to LTPS/Oxide, which will benefit the equipment market.
THE LCD MARKET
This year's hot issue in the TFT LCD industry is the mobile display market, and a clear driver for the demand surge in high resolution small and medium LCDs, which grew 52% mainly due to the increasing demand in tablets.
The large panel market (above 9 inches) grew from 664.7 million panels in 2010 to 804.1 million in 2017, a Compound Annual Growth Rate of 2.8% between 2010 and 2017, as shown in Figure 2.
For 2013, 698.4 million units shipped, down 8.9% from 760.1 million units shipped in 2012. Figure 2 shows the market figures for LCD monitors, TVs and Notebooks.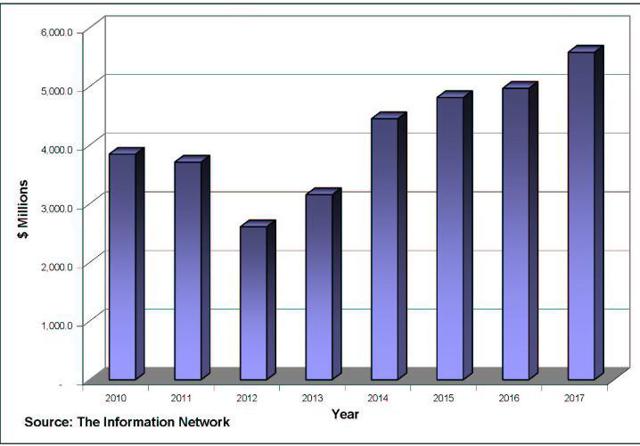 Figure 2 - Worldwide Large Panel Display Market Forecast
Source: The Information Network
Shipments of large-size LCDs by region are shown in Figure 3. Japan has been losing market share to Taiwan and Korea.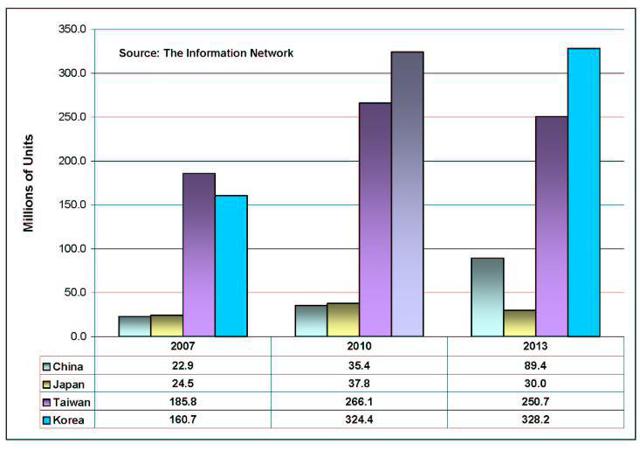 Figure 3 - Worldwide Large-Size LCD Shipments By Region
Source: The Information Network
South Korean companies accounted for 47 percent of the market in 2013, down from 51.9 percent in 2011 and 50.9 percent in 2012.
Chinese players, in contrast, extended their market with 12.8 percent in 2013, up from 10.4 percent in 2012. Taiwanese and Japanese firms also improved their market shares to 35.9 percent and 4.3 percent.
The industry's current capacity will not be sufficient for future supply. Therefore Taiwan panel makers must invest in such next-generation fabs as 8G lines in order to meet the mid- and long-term demand for TFT LCD.
Emerging markets will be another driving force for the LCD industry. It is expected that China and the Asia-Pacific region will overtake Europe and the U.S. as the biggest market for LCD TVs worldwide.
Market Share
Market share by supplier on an OEM basis for the top suppliers is shown in Table 3. Shipments increased from 527.6 million units in 2009 to 664.7 million units in 2010 to 702.1 million units in 2011 The combined global shipment of large-sized LCD panels came to 698.4 million units in 2013, down 7.8 percent from a year earlier, a fall in demand that market watchers say reflects weak sales of traditional TVs and personal computers amid soaring popularity of smartphones and tablet PCs around the world. Market leaders are LG Display, Samsung, CMI - now Innolux, and AU Optronics (NYSE:AUO).
Table 3
Major Large-Area LCD Panel Makers Market Share 2006-2013: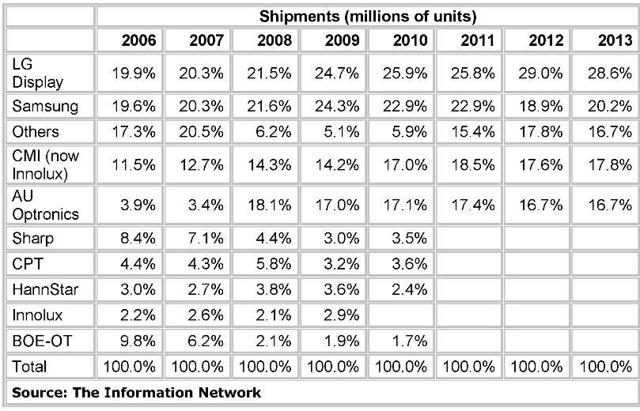 LCD ALTERNATIVES FACE FORMIDABLE BARRIERS
OLED Advantages
OLED (Organic Light Emitting Diodes) is a flat light emitting technology made by placing a series of organic thin films between two conductors. When electrical current is applied, a bright light is emitted. OLEDs can be used to make displays and lighting. Because OLEDs emit light they do not require a backlight and so are thinner and more efficient than LCD displays (which do require a white backlight).
OLED displays have the following advantages over LCD displays:
Lower power consumption
Faster refresh rate and better contrast
Greater brightness and fuller viewing angle
Ultra-thin, flexible or transparent displays
Better durability and operational in a broader temperature range
These features open up a plethora of possibilities:
Curved OLED displays, placed on non-flat surfaces
Wearable OLEDs
Transparent OLEDs embedded in windows
OLEDs in car windshields
Samsung is the clear leader in both production and adoption of OLEDs. Samsung is using OLED panels in all of its flagship devices, including the Galaxy S4 and the Galaxy Note 3. OLEDs are also used in digital cameras, car audio systems, A/V players and other mobile devices. Companies adopting OLEDs in their devices include Samsung, Sony (NYSE:SNE), Nokia (NYSE:NOK), LG Electronics, Dell, Olympus, HTC, ASUS, Panasonic (OTCMKTS:OTCPK:OTCPK:PCRFY) and Microsoft (NASDAQ:MSFT).
OLEDs are used in mobile devices today because they are thin, efficient and bright. Obviously OLEDs carry a price premium over LCDs, but companies are using these displays more and more.
OLED disadvantages
OLEDs costs more to produce an OLED than it does to produce an LCD - although this should hopefully change in the future, as OLEDs have a potential to be even cheaper than LCDs because of their simple design.
OLEDs have limited lifetime (like any display), but there has been constant progress, and today this is almost a non-issue. Today OLEDs last long enough to be used in mobile devices and TVs. While OLEDs can also be problematic in direct sunlight, companies are working to make it better such as Samsung's Super AMOLED and Super AMOLED Plus and Nokia's CBD displays.
Conclusion
Applied Materials and TEL continue to disappoint and both lost market share and market position in 2013 in every sector. The pushout of 450mm wafers, the subject of my next Seeking Alpha article, as well as pushouts in 3D chips, will further dampen AMAT's position in 2014 and 2015.
Disclosure: The author has no positions in any stocks mentioned, and no plans to initiate any positions within the next 72 hours. The author wrote this article themselves, and it expresses their own opinions. The author is not receiving compensation for it (other than from Seeking Alpha). The author has no business relationship with any company whose stock is mentioned in this article.
Editor's Note: This article discusses one or more securities that do not trade on a major U.S. exchange. Please be aware of the risks associated with these stocks.