June auto sales surprised most economists by hitting an annualized rate of nearly 17 million units, a new recovery high, with light trucks, SUVs and crossovers stealing the show from conventional models.
And if you're looking for earnings growth here outside of the manufacturers, I suggest the auto dealer groups who keep finding ways to streamline their marketing and sales machinery as they win repeat customers with great service.
That's why the Retail/Wholesale-Auto/Truck industry group is No. 1 in the Zacks Industry Rank, with names like Lithia Motors (NYSE:LAD), AutoNation (NYSE:AN), Penske (NYSE:PAG) and today's feature Group 1 Automotive (NYSE:GPI) consistently receiving the top rank for their earnings momentum.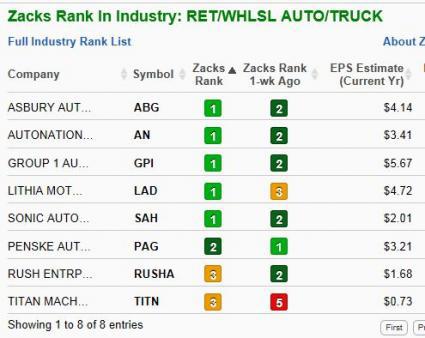 Here's what I wrote for Zacks Confidential members in late June when I first recommended shares of GPI...
I started looking at the group again in May, waiting for a good entry in Lithia Motors after it made all-time highs above $75. Lithia, which operates 100 stores in the Western US, has consistently been a Zacks No. 1 or No. 2 Rank stock for the past two years since it was trading at $25.
But my buying opportunity was short-lived. Last Monday Lithia announced it was buying DCH Auto Group, one of the 10 largest dealer groups in the country with 27 stores, for an estimated price of $340 mln in cash and $22.5 mln, or roughly 300,000 shares of Lithia common stock. Lithia shares gapped higher and rallied all week to close above $92.
Friday (June 20) also gave us more confirmation that it's not too late to capture some of the auto sales earnings momentum. CarMax (NYSE:KMX) reported another strong quarter where revenues rose 13.3% and gross profits were up 12%. Shares rallied 16.5% on Friday.
Then Goldman Sachs upgraded AutoNation to a Buy with a $65 price target, implying 15% upside from the stock's Thursday close of $56.50. Of course, shares finished up 5% on this double-play of news.
But I'm here to tell you it's still not too late to participate in dealer profits. In addition to strong earnings momentum - which puts the industry group in the top 10% of the Zacks Industry Rank - the industry remains highly fragmented, providing growth in excess of the market through acquisitions.
Many analysts see the Lithia acquisition, the largest thus far in the industry, as the beginning of a consolidation trend. Even if the dealer group you buy isn't the one targeted for M&A, they will likely all have a little of that premium built into their shares.
My top pick here is Group 1 Automotive for the following four reasons:
1. Top of the heap but under-appreciated: Ranked third in new car sales volume with 155,000 units in 2013, behind AutoNation at 293k and Penske at 200k, Group 1 did $8.9 billion in sales last year, more than double Lithia's revenues. Yet LAD's market cap is $2.4 billion vs. GPI at $2 billion. And GPI's valuation is cheaper too.
2. Refining the machine: While Lithia has built its business in the Western US over several decades on customer service and local loyalty, GPI is learning to get more efficient with marketing, sales and service in its 150 stores. Here is a recent note from analysts at Stifel Nicolaus...
"GPI is also working on several key initiatives to help distance itself from the peer group, not the least of which is the multi-year advantage management has created with the launch of centralized back office operations and an inbound service call center in Houston, Texas. After nearly seven years of investment, trial and error testing and perfecting/pioneering new technologies/systems methods hand-in-hand with key vendors, GPI's facility has been up and running since late 2013 and helping to drive further operating leverage. We also believe GPI is returning to its roots, in a sense, by focusing more on the parts and service business as of late. The inbound call center helps to maximize customer service and data collection, which together should help improve customer retention and spend through service lanes."
3. Price wants higher: The chart seems to imply a likely breakout to new highs above $82. For the past two weeks, the stock has been consolidating right beneath the all-time high set in September 2013 after a six-month test of support in the low $60s.
4. Institutional buying: This is an area I always pay attention to and it drives the price action we seek. In Q1, Eminence Capital, with a $6.2 billion AUM, added 300k shares to its 1.5 million.
Since this June 23 report, Group 1 shares rallied to new all-time highs above $87 on July 3. They have since pulled back to test the $82.50 level. I think that's a good place to pick up some shares if you want exposure to the auto dealer group.
PENSKE AUTO GRP (PAG): Free Stock Analysis Report (email registration required)
LITHIA MOTORS (LAD): Free Stock Analysis Report (email registration required)
CARMAX GP (NYSE:CC) (KMX): Free Stock Analysis Report (email registration required)
GROUP 1 AUTO (GPI): Free Stock Analysis Report (email registration required)
AUTONATION INC (AN): Free Stock Analysis Report (email registration required)
Disclosure: No position at time of publication.