By Omar Venerio
In this article, let's take a look at the world's premier measurement company and technology leader in chemical analysis, life sciences, diagnostics, electronics and communications, Agilent Technologies, Inc. (NYSE:A) and try to explain to investors the reasons this is an apparently appealing investment opportunity.
The Largest Deal
In 2012, Agilent completed the acquisition of Denmark-based Dako. This company provides antibodies, reagents, scientific instruments and software primarily to pathology laboratories for cancer diagnostics. In a rapidly growing diagnostics market, Dako manages to provide new offerings. It recently announced the addition of two new antibodies, Anti-CK 8/18 and Anti-TdT.
Other Notable Advances
Days ago, and with the aim of leading the technology exploration of next-generation wireless communication systems, Agilent made an agreement to collaborate with China Mobile Communications Co. Ltd. Research Institute (CMRI) on the next-generation 5G wireless communication systems.
Over the current month, it introduced a family of basic AC power sources that deliver stable, reliable power for testing electronic devices during design and manufacturing. The new Agilent AC6800 Series includes four models from 500 to 4,000 VA output power, all with the quality and capability required for basic testing. Additionally, it announced the M9099 Waveform Creator 2.0, providing new capabilities for engineers working on the development of radars, satellite communications, military radios and the next generation of DOCSIS 3.1 cable modems.
Spin-Off
Last year, Agilent said it will spin off its electronic measurement (EM) business as a separate publicly traded company to be named Keysight Technologies. The separation is expected to occur through a tax-free pro rata spin-off of the EM company to shareholders. The spin-off, subject to necessary approvals, is expected to be completed by November 2014. But why is it important? Several benefits can be highlighted, such as greater focus on the business and the reduction of exposure to the cyclical EM industry. "Agilent has evolved into two distinct investment and business opportunities, and we are creating two separate and strategically focused enterprises to allow each to maximize its growth and success," said William (Bill) Sullivan, Agilent president and CEO.
Relative Valuation, Earnings and ROE
Agilent's stock had its "Hold" rating, but continues to be one of the best investments from a valuation standpoint, trading at a 25 P/E. That's a discount compared to the industry mean (36x), which indicates that other companies operating in the same sub-industry are much more richly valued. Some of its major competitors include Thermo Fisher Scientific, Inc. (NYSE:TMO), Waters Corporation (NYSE:WAT), PerkinElmer Inc. (NYSE:PKI), Bruker Corporation (NASDAQ:BRKR), Bio-Rad Laboratories, Inc. (NYSE:BIO), Illumina Inc. (NASDAQ:ILMN), National Instruments (NASDAQ:NATI), Pall Corp (NYSE:PLL), Haemonetics (NYSE:HAE) and Trimble Navigation (NASDAQ:TRMB).
The following table compares the current valuations:
| | | |
| --- | --- | --- |
| Ticker | Name | P/E Ratio |
| A | AGILENT TECHNOLOGIES INC. | 25 |
| TMO | THERMO FISHER SCIENTIFIC INC. | 33 |
| WAT | WATERS CORP. | 21 |
| PKI | PERKINELMER INC. | 29 |
| BRKR | BRUKER CORP | 40 |
| BIO | BIO-RAD LABORATORIES-A | 46 |
| ILMN | ILLUMINA INC. | 118 |
| NATI | NATIONAL INSTRUMENTS CORP. | 49 |
| MTD | METTLER-TOLEDO INTERNATIONAL | 24 |
| PLL | PALL CORP. | 26 |
| HAE | HAEMONETICS CORP./MASS | 21 |
| ROK | ROCKWELL AUTOMATION INC. | 22 |
| TRMB | TRIMBLE NAVIGATION LTD. | 36 |
| | Average | 36 |
The company looks attractively valued, looking back at the trailing ratio. With respect to earnings per share (EPS), Agilent has decreased them by 14.5% in the second quarter compared to the same quarter a year ago. Agilent President and CEO Bill Sullivan said, "We delivered on our commitments this past quarter with solid order growth, and revenues and earnings in the mid-range of our forecast guidance. Looking ahead, we are well positioned as we move into the second half." With respect to future revenues, third-quarter 2014 revenues are expected to be in the range of $1.74 billion to $1.76 billion, a billion more than the past quarter. The consensus for EPS is $73.59 for the third quarter and $93.85 for the fourth quarter.
In the next table, we can appreciate Agilent's earnings estimates based on Wall Street analysts' analysis. These estimates are used as a benchmark to measure a firm's performance relative to how experts expected it would do. A good candidate for investment might be a company with five years of solid earnings growth and strong earnings growth estimates for the coming years (at least two years).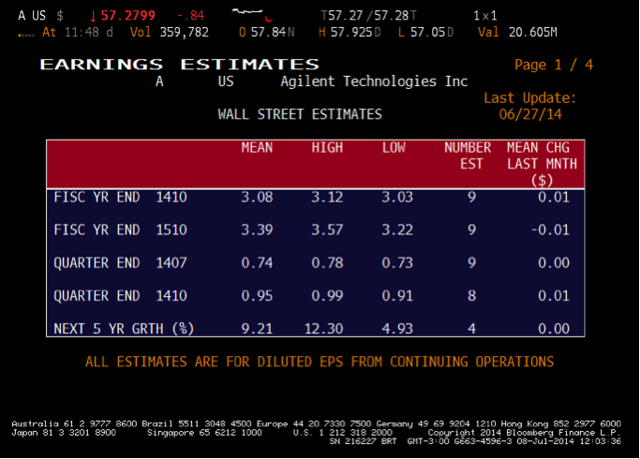 Comparing actual earnings to analyst estimates is also helpful. An earnings surprise can move a company's stock price.
| | | | | |
| --- | --- | --- | --- | --- |
| Earnings History | Jul '13 | Oct '13 | Jan '14 | Apr '14 |
| EPS Est. | 0.62 | 0.76 | 0.66 | 0.73 |
| EPS Actual | 0.68 | 0.81 | 0.67 | 0.72 |
| Difference | 0.06 | 0.05 | 0.01 | -0.01 |
| Surprise % | 9.70% | 6.60% | 1.50% | -1.40% |
In the next chart, we can appreciate a very interesting upward trend in the last five years. Year-to-date, Agilent's stock has a very nice gain in the past year of 35%.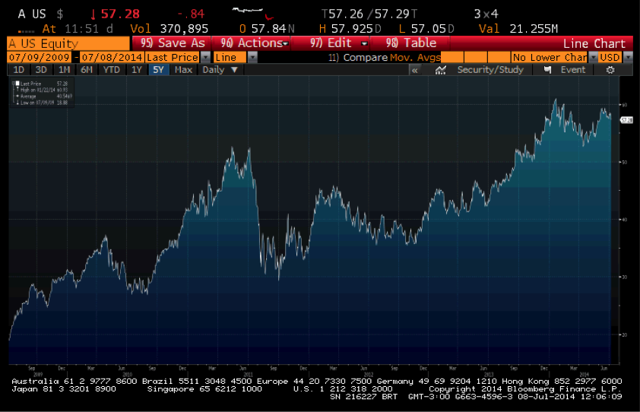 Furthermore, we can see that Agilent has the best price performance among peers during a five-year period.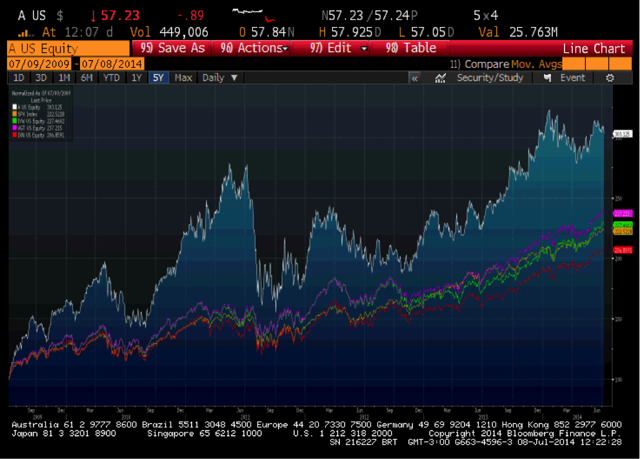 Finally, I always like to see one of the most important financial ratios applying to stockholders, the best measure of performance for a firm's management: the return on equity. The ratio has decreased from the same quarter one year prior. This is a clear sign of weaknesses within the company.
Let's compare the current ratio with the peer group in the next table:
| | | |
| --- | --- | --- |
| Ticker | Name | ROE (%) |
| A | AGILENT TECHNOLOGIES INC. | 13 |
| TMO | THERMO FISHER SCIENTIFIC INC. | 8,22 |
| WAT | WATERS CORP. | 24,2 |
| PKI | PERKINELMER INC. | 8,63 |
| BRKR | BRUKER CORP. | 10,7 |
| BIO | BIO-RAD LABORATORIES-A | 3,02 |
| ILMN | ILLUMINA INC. | 14,4 |
| NATI | NATIONAL INSTRUMENTS CORP. | 8,08 |
| MTD | METTLER-TOLEDO INTERNATIONAL | 36,2 |
| PLL | PALL CORP. | 18,5 |
| CPHD | CEPHEID INC. | -9 |
| HAE | HAEMONETICS CORP./MASS | 4,37 |
| ROK | ROCKWELL AUTOMATION INC. | 33,4 |
| TRMB | TRIMBLE NAVIGATION LTD. | 11,1 |
| | Average | 12,7 |
Agilent has a ratio of 13%, which is higher than the industry mean. The ROE has averaged about 14% during the past 13 years. We believe that a ROE greater than 30% is quite enough to provide dividends to owners and have enough funds for future growth of the company. So, for investors looking for this level of ROE, Mettler Toledo International (NYSE:MTD) and Rockwell (NYSE:ROK) could be options.
Final Comment
The separation into two industry-leading public companies and the acquisition of attractive Dako's products, which complement Agilent's existing diagnostics offerings, are all reasons that make me feel bullish on this stock in an industry with a positive outlook due to technology advances and sophisticated research. According to the P/E ratio and the mean comparison, it is better for investors, as there are chances of higher appreciation. Because the stock market is forward-looking, stock prices are established based on the expectations that investors have for the future earnings power of the firm. A proxy for the market's expectations is analysts' consensus earnings estimates, which we see are starting to increase their predictions in the upcoming future.
Its stock price performance growth over the past five years was the highest among peers, and actual price levels may be indicating a good buy at this moment. According to The Financial Times, the share price forecast is based on 10 analysts offering 12-month price targets. They have a median target of $64.50, with a high estimate of $67.00 and a low estimate of $58.00. The median estimate represents a 13.36% increase from the last price of $56.90. Additionally, the majority of analysts rate Agilent as a buy, which makes me feel more comfortable.
I would recommend investors to consider adding the stock for their long-term portfolios. Hedge fund gurus have also been active in the company in the first quarter of 2014. Gurus like Paul Tudor Jones, David Dreman, Steven Cohen and Signature Select Canadian Fund have taken long positions on it.
Disclosure: The author has no positions in any stocks mentioned, and no plans to initiate any positions within the next 72 hours. The author wrote this article themselves, and it expresses their own opinions. The author is not receiving compensation for it (other than from Seeking Alpha). The author has no business relationship with any company whose stock is mentioned in this article.