I was asked by one of my investors about Telstra (OTCPK:TLSYY). Apparently the name was on a list in an investment magazine among stocks that offer outsized, or "over the top" dividend payouts. I happen to be familiar with the company from my former life at Citigroup, but I have not owned the stock directly, though I do have the Australian ETF whose ticker is EWA and Telstra is a small holding within what is largely a financial and resource company filled ETF.
First, for those who are unfamiliar with Telstra, it is an Australian based telecommunications company that provides telecom and information services to Australian and international customers across several market segments including consumers, business and government. In their fiscal year ended June 2010, they had sales revenues of A$24.8Bn and net income of just under A$4Bn. I'd recommend a look at their annual report for detail on their various business segments and financial performance.
The point of this article is solely to share some information and thoughts that I have regarding this company. It is not meant to be personalized financial advice, but rather some food for thought in each investor's own assessment of whether this stock is appropriate for his/her unique portfolio needs, risk tolerances and financial profiles.
To start with, it is understandable why one would investigate a stock that pays a 9%+ dividend. It's also reasonable, in my opinion, to like Australia overall given the country's strong economic growth, the quality of their banking system and their "natural resource" industries that are seeing big demand in this era of global infrastructure buildup.
What I found somewhat difficult about exploring this company as an investment possibility was the lack of full blown coverage by many US based research services. That said, there are still plenty from which one can access adequate information specific to this company, but this stock takes a bit of extra digging in order to feel more fully informed about 'local' news within Australia, in particular, political news, that could affect Telstra's valuation.
By using a search engine such as InfoNgen, you can get access to a variety of news and information sources from all over the world that cover the company, the country and the politics quite well. Much of what I'm summarizing in this article comes from reading a good number of sources accessed from InfoNgen.
For example, one of the most important issues facing Telstra currently has to do with the Australian government's plan to create a National Broadband Network (NBN) that would effectively "connect" all parts of the country to high speed data and information transmission technology. Some countries are embarking on this kind of project at the national level because the costs of building out the necessary cables, fiber optics, towers, etc that would be necessary to access relatively low population density areas would be too economically onerous for private industry to undertake. So national governments are at times either offering incentives to the private sector or actually undertaking the effort on their own to be sure that the entire country is connected in this high tech world.
In the case of Telstra, the Australian government had come to an agreement with the company back in June, 2010, where the government would pay Telstra A$11Bn for the company's infrastructure that is already in place across vast parts of the country (rather than go to the trouble and cost of replicating what is already there). For the deal to go through, legislation is required, that, like most political issues, has encountered political wrangling within the government. One side is arguing that this is in the national interest and that the agreed terms of the deal with Telstra are mutually beneficial, vs the other side that says that this is a big 'give away' from the taxpayers to the shareholders and management of Telstra. A good summary of this was provided by TeleGeography.com, accessed via InfoNgen:
Long-delayed legislation designed to enhance competition, force Australian fixed line incumbent Telstra to structurally separate, increase the powers of the Australian Competition and Consumer Commission (ACCC), and provide a framework for the country's upcoming National Broadband Network (NBN) has been reintroduced to parliament, Reuters is reporting. The legislative proposals have been raised in the lower house by Infrastructure Minister Anthony Albanese, with the politician claiming that the regulations would give Telstra more legislative certainty as the telco looks toward the split of its wholesale and retail operations…Passage of the new proposals looks to be far from smooth either however, with reports that the Opposition had announced its intention to support a private members bill aimed at forcing a business plan and cost-benefit analysis of the NBN which would require NBN Co to publish a ten-year business plan for the project.
When global equity markets fell earlier this week, it was coincident with this rise in the political jousting in which an opponent of the plan raised the specter of postponing the deal until further valuation studies could be performed. The stock fell close to 4% that day and traded below $13. To that, the company issued a press release yesterday in which they stated:
Telstra supports prompt passage of NBN legislation:
20 October 2010 - Telstra today supported the prompt passage of legislation that will implement a regulatory framework for the National Broadband Network.

The Telecommunications Legislation Amendment (Competition and Consumer Safeguards) Bill 2010 was introduced in Parliament today.

"On balance we support the passage of the Bill," Chief Executive Officer David Thodey said today.

"We also strongly recommend that consideration be given to further amendments that guarantee appropriate checks on regulatory decision making and bring telecommunications into line with other industries."

"We believe the interests of Telstra shareholders would be best served by the Bill being passed this year so that a definitive agreement on our involvement in the NBN can be reached quickly."

Telstra is confident the Bill now provides the mechanisms needed to secure agreements with the Government and NBN Co regarding Telstra's participation in the NBN and provides much greater certainty on access to fourth generation wireless spectrum.

Telstra has consistently made clear that its shareholders will have the final approval on these agreements.
While much of what I read on Telstra spoke to the benefits of the NBN project, both the country and to the company, there were also some 'bloggers' who protested not only about the deal itself, but also about the company's performance in recent years. The following stock price history chart gives some understanding to their views:
(Source: ChartFacts.com)
click to enlarge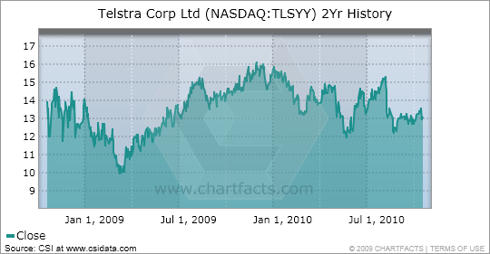 Click to enlarge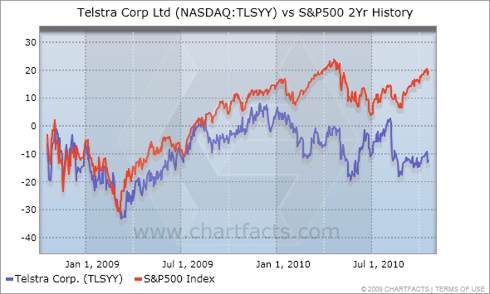 Click to enlarge
The bloggers spoke to the disappointing stock price performance, but also criticized the company for its hefty dividend payout and compensation expenses. In addition, they critiqued management's latest plans to grow market share and to streamline the company as yet another attempt by Telstra to "recreate itself".
To those issues, management spoke directly in a recent Investor Day briefing (on September 29) in which they unveiled what is being called "Project New", an upgraded and sharpened focus on client service, customer satisfaction, improved productivity, lower transaction costs and market share and revenue growth. The full slide show of that presentation is available on the company's website.
In addition, that Investor Day presentation also addressed concerns about the company's ability to continue to pay such a large dividend. This and other issues discussed that day were reported on September 29 by The Sydney Morning Herald:
…The company has seen a sharp slide in earnings and market share over the past few years, which has led to speculation among analysts that its dividend - a key attraction for retail shareholders in particular - would have to be cut.

Mr. Thodey (CEO) said the company could comfortably continue to pay an annual dividend at the current level of 28 cents should the board choose to do so.

"Telstra's board has always been acutely aware of the importance of dividends to shareholders," Mr. Thodey said.
So, as stated earlier on in this article, the point of this note was to raise thought-provoking issues that investors need to consider when investing in Telstra. Simply seeing the company name on a list of high-dividend-paying stocks is hardly a thorough enough investigation of the risks associated with investing in this asset. It is clear that the degree of uncertainty as to Telstra's future structure is still very much a function of political debate. It's also apparent that despite the CEO's assurances of the viability of the large dividend, the political uncertainty coupled with the earnings and market share histories do raise valid questions, if not risks, as to Mr. Thodey's assertion.
In my case, the query from my investor client reignited the Telstra light on my radar screen. I will be following the evolution of the NBN deal as well as the company's execution of Project New before deciding on whether to step in or not. Other readers of the investment magazine in which Telstra was listed among high-dividend-paying stocks should probably do the same.
Look for follow up articles as events unfold.
Disclaimer: Soos Global Capital Advisors, LLC ("Soos Global") is a New York state registered investment adviser located in Harrison, New York. Soos Global may only transact business in those states in which it is registered, or qualifies for an exemption or exclusion from registration requirements. The publication of Soos Global's opinions on the Internet should not be construed by any consumer and/or prospective client as Soos Global's solicitation to effect, or attempt to effect transactions in securities, or the rendering of personalized investment advice for compensation, over the Internet. Any subsequent, direct communication by Soos Global with a prospective client shall be conducted by a representative that is either registered or qualifies for an exemption or exclusion from registration in the state where the prospective client resides. For information pertaining to the registration status of Soos Global, please contact the state securities regulators for those states in which Soos Global maintains a registration filing. A copy of Soos Global's current written disclosure statement discussing Soos Global's business operations, services, and fees is available from Soos Global upon written request. Soos Global does not make any representations or warranties as to the accuracy, timeliness, suitability, completeness, or relevance of any information prepared by any unaffiliated third party, whether linked to Soos Global's opinions or incorporated herein, and takes no responsibility therefor. All such information is provided solely for convenience purposes only and all users thereof should be guided accordingly. Past performance may not be indicative of future results. Therefore, no current or prospective client should assume that future performance of any specific investment or investment strategy (including the investments and/or investment strategies recommended or undertaken by Soos Global) made reference to directly or indirectly by Soos Global in its opinion, or indirectly via a link to an unaffiliated third party web site, will be profitable or equal the corresponding indicated performance level(s). Different types of investments involve varying degrees of risk, and there can be no assurance that any specific investment will either be suitable or profitable for a client or prospective client's investment portfolio. Historical performance results for investment indices and/or categories generally do not reflect the deduction of transaction and/or custodial charges, the deduction of an investment management fee, nor the impact of taxes, the incurrence of which would have the effect of decreasing historical performance results. Please remember that different types of investments involve varying degrees of risk, and there can be no assurance that the future performance of any specific investment or investment strategy (including those undertaken or recommended by Soos Global), will be profitable or equal any historical performance level(s).
Disclosure: Not long TLSYY, but could be any time without notice. Long EWA.