DAL just reported good earnings. At least they were good by industry standards lately. Delta managed to pull off two straight quarters of profit, which for most large international companies would not be all that impressive. According to yahoo finance and some reading of the SEC reporting, DAL has a mile high P/E and the profit is dependant on several factors that appear to be up in the air. Perhaps one of the biggest factors in keeping DAL from falling is an upcoming union vote by flight attendants and ground crew. While the pilots are unionized most of the other staff are not. It is expected that in the next 60 days over 50,000 workers will be voting in separate votes to unionize or not. Unlike public employees, company employee unions have seen their ranks continuously shrink over the past few decades. This makes this vote all that more important to unions in general to show they still are a force for labor.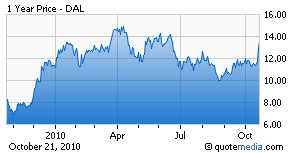 With airlines now back in the black and making a profit the wages and more pointedly, the airlines' bottom line, is at the center of the target. Indeed, Delta is spending money to try to demonstrate the disadvantages of joining a union to the workers. Delta, which took over Northwest Air (which is mostly union) not long ago, clearly must understand that if the vote goes in favor it will hurt profits.
I would expect that a vote in favor of one or more unions (ground crew and or flight attendants) may cause a revision of guidance and at the least going into the vote should increase volatility of the stock.
Several of the airlines said that the key going forward was not to increase the amount of capacity so that every seat mile will generate the maximum amount of revenue and keep the nose of the profit moving higher. Unfortunately the memo did not get to the CEO of JetBlue (NASDAQ:JBLU) who on CNBC yesterday stated that they expect to increase capacity. While JetBlue may not be the biggest airline, it's a good example that even if the super majors are holding back on growth that others who fly cheaper with younger crews and newer jets will not. Even so, Delta is adding flights and calling back some staff which makes one wonder how much they really are going to limit the amount of capacity. The airlines surely do not have a good history of keeping capacity lower than demand. Taking a look at the largest airline that serves only the domestic market, Southwest Airlines (NYSE:LUV), it appears based on statements by CEO Gary Kelly that they will be adding more destinations in 2011 and that they are on track to once again set another company record.
Delta continues to expend effort to integrate NWA into the company. As someone who has flown around 500,000 miles with NWA there is a reason why many frequent fliers called NWA NorthWORST air. So, in my opinion, Delta did not get some crown jewel of an airline that would add customer service / satisfaction standards for Delta. I would imagine a lot of retraining is going on. While they are at it, I would also guess a lot of retrofitting and updating of the fleet is keeping the ground crews very busy.
Lastly, and why I don't care for the airlines much in general, is the event risk that this industry is subject to. There are so many world events that can damage the value of airline companies - from volcanoes going off in Europe, oil/energy related strikes and disruptions to conflicts between nations that are impossible to fully evaluate and are almost always underestimated (think Black Swan). With the dollar moving lower and gold reaching new highs, it would appear that oil could really take off and just blast any hopes of profits for the airline industry. If Delta was served a one-two punch of unionization, higher fuel prices and facing an increase of discount airlines going after international routes like several are talking about, it could be a long ride in the middle seat of coach for Delta. As a result, I am selling Delta short into the recent strength, looking for a pullback in-line with a gap fill in the 11.80 price range.
Disclosure: Short DAL