Short-Term Financial Problems
Hibbett Sports, Inc. (NASDAQ:HIBB) has grown substantially over the last 5 years.
| | | | | | |
| --- | --- | --- | --- | --- | --- |
| Growth Rate | 2009 | 2010 | 2011 | 2012 | 2013 |
| Net Sales | 5.8% | 17.4% | 13.9% | 13.9% | 3.5% |
| Comparable | 0.7% | 9.8% | 6.8% | 6.9% | 1.8% |
Sales growth has been driven by two major factors. The company has rapidly expanded their retail network and comparable sales have grown mid-single digits. Due to these two factors, net sales has increased 43.6% or at a CAGR of 5.3%, since 2009. EPS has grown even faster at a CAGR of 25% and a total of 140%.
However, the company's net sales growth rate slowed dramatically, in 2013. As a result, Hibbett's EPS contracted 1.4%. The contraction has resulted in a significant decline in their company's stock.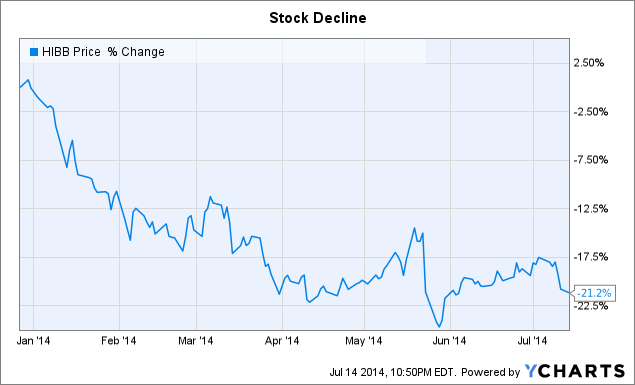 The recent stock decline has been an overreaction. Investors fear the slow growth will be the new normal. However, Hibbett's recent quarterly results should demonstrate the company still has the ability to grow rapidly.
In Q1 2014, sales grew 9.1% y/y. Hibbett reported EPS of $1.09 which was a 9% y/y growth. Comparable sales started to strengthen by growing at 4.1% y/y. Store count grew at an annualized rate of 5.3%. Hibbett's great first quarter demonstrates the company still can grow rapidly.
Operating Performance
Since 2009, Hibbett has been able to maintain and even increase profit margins. Hibbett's operating margin increased 9% and net profit margin increased 33%. Operating margin decreased only 4.5%, during the period.
| | | | | | |
| --- | --- | --- | --- | --- | --- |
| Margins | 2009 | 2010 | 2011 | 2012 | 2013 |
| Gross | 33% | 35% | 36% | 37% | 36% |
| Operating | 22% | 22% | 21% | 21% | 21% |
| Net | 6% | 7% | 8% | 9% | 8% |
Hibbett's ability to maintain profit margins is made more impressive given their ranking amongst their peers.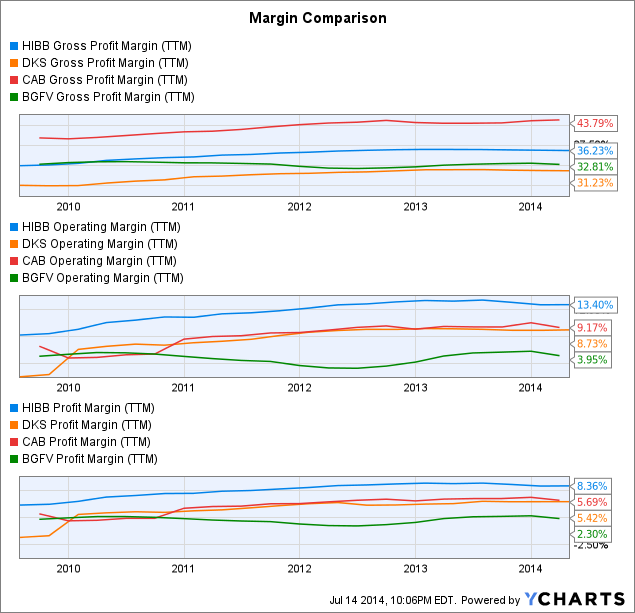 HIBB Gross Profit Margin (NYSE:((NYSE:TTM)) data by YCharts
As seen above, Hibbett has better operating and profit margin than Dick's Sporting Goods Inc. (NYSE:DKS), Cabela's Inc. (NYSE:CAB), and Big 5 Sporting Goods (NASDAQ:BGFV). Hibbett's gross profit margin is only bested by Cabela's.
Hibbett's already superb profit margins should improve even more, over the coming years. The company has invested in a large distribution center, which will soon become fully operational. During the Q1 2014 conference call, Scott Bowman, CFO, talked about the distribution centers "in general after we get the new facility up to full speed and get that product warehouse in that facility we certainly will see some benefits from the sales and a margin standpoint."
The distribution center will improve efficiency and also be able to support their rapid growth. The distribution center can support up to 1500 stores, according to management's 2014 annual report. This will allow management to direct operational cash flows into new store growth rather than building supply facilities.
The company's superior operating efficiency has led to an above average return of equity.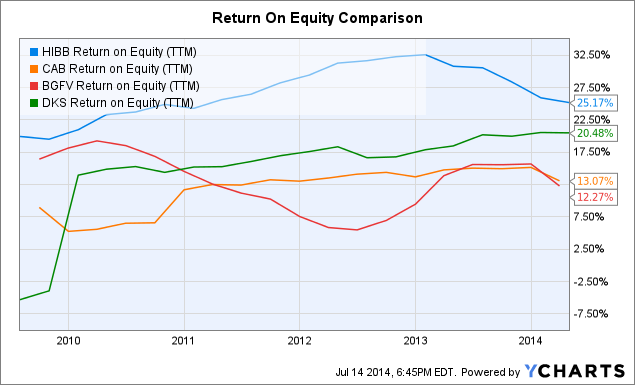 HIBB Return on Equity ((TTM)) data by YCharts
Management has been able to deliver near 20% ROE, since 2010. Management's future growth plans should continue this impressive performance.
Focusing On Small To Midsized Markets
Dick's Sporting Goods operates stores ranging from 35,000 square feet to 80,000 square feet. These stores require significant customer bases to support them. Hibbett Sports' average store size is 5,000 square feet. These stores require a smaller customer base. This allows Hibbett to better serve small and midsized markets better than big box stores.
Hibbett Sports has 80% of their stores located in strip centers and 20% are located in enclosed malls. Hibbett's strategy of targeting small and midsized markets has reduced competitive pressure. During the Q4 conference call, Scott Bowman, CFO, talked about overlap with big box stores "...it's about 15% if you go in the five-mile radius." Additionally, Scott Bowman stated there was a 25% overlap in the 10-mile range and 38%-40% within the 15-mile range. Due to their smaller market focus, Hibbett operates in a less competitive environment, which has resulted in exceptional profit margins and growth.
Successfully Growing
| | | | | | |
| --- | --- | --- | --- | --- | --- |
| Retail Space | 2009 | 2010 | 2011 | 2012 | 2013 |
| Net Store | 767 | 798 | 832 | 873 | 927 |
| Retail Square Footage(000s) | 4,399 | 4,558 | 4,755 | 5,003 | 5,331 |
Hibbett manages a large network of small retail stores. As of Q1 2014, they operate 939 stores. Management has a plan to increase this to 1300, by 2018. Hibbett's management is constantly closing and opening new stores. Since 2009, Hibbett has opened 265 new stores, expanded 74 stores, and closed 83 stores. Even with management's heavy involvement, revenue per store has increased every year except, in 2013. Revenue per store should continue to grow in 2014 especially after their impressive sales growth in the first quarter.
Reasonable Valuation
Hibbett is set to grow in the mid-single to low double digits. However, the company would be considered over valued based on P/S ratio and would be fairly valued base on P/E ratio, compared to their peer group. This makes the EV/EBITDA ratio a little more important. The company is closer to the low end and is being priced more like Dick's, which is growing a little slower.
HIBB PE Ratio ((TTM)) data by YCharts
Ultimately, Hibbett's current valuation is mixed based on these multiples. The shares appear to be slightly undervalued or fairly valued based on their peers. This wasn't the case a few months ago when Hibbett was trading at much higher multiples. This is why Hibbett represents such a great opportunity. The stock has come significantly down from overvalued territory. With management's aggressive expansion plan, increased efficiency, and less competitive markets, Hibbett's shares are poised to continue to outperform their competitors.
Management's Growth Strategy Will Deliver For Investors
Hibbett's Sporting Goods operates small retail stores. These stores allow them to operate in small to mid-sized markets. These markets are less competitive due to the absence of large big box competitors. The less competitive environment has allowed Hibbett to grow fast and maintain superior profit margins. The company is in the midst of rapidly expanding their retail network.
Management wants to increase their store count 40%, by 2017. Hibbett's new distribution center should help maintain and improve margin. The distribution center will allow management to focus their attention and resources on opening new stores and closing underperforming ones. The company's shares are slightly unvalued or fairly valued based on peer multiples. Hibbett's management has a proven track record of growth. Hibbett management has setup the company for growth and should deliver returns for investors over the next couple of years.
Disclosure: The author has no positions in any stocks mentioned, and no plans to initiate any positions within the next 72 hours. The author wrote this article themselves, and it expresses their own opinions. The author is not receiving compensation for it (other than from Seeking Alpha). The author has no business relationship with any company whose stock is mentioned in this article.