Today, Intel (NASDAQ:INTC) reported better-than-expected earnings. Much of the recent improvement for Intel came from a surge of PC upgrades tied to the fact that Windows XP lost support from Microsoft (NASDAQ:MSFT).
Now, for the most part, the Intel ship has already sailed and we can't profit from it. The Microsoft ship seems to have gone a long way as well. One wonders, though, if there's another way to take advantage of this Windows XP upgrade cycle that's not yet been discounted by the market.
You can see where this is going. I am going to put forward NCR Corp. (NYSE:NCR) as a chance to bank on that upgrade cycle.
Business
The reason why I believe NCR is poised to take advantage from the Windows XP upgrade cycle has to do with NCR's business. NCR is the U.S. leader in providing ATM machines, and 74% of its revenues are tied to hardware or hardware-related maintenance revenues (Source: Company presentation).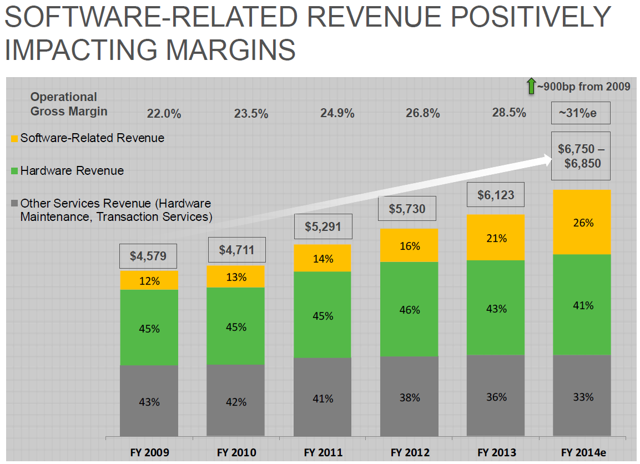 While the company is expected to see greater growth from software, it's obvious that the hardware segment is still extremely important.
ATMs
It is in this hardware/ATM segment that there might be a chance to generate a favorable story and perhaps some upside for NCR's earnings estimates. In the last 90 days, these haven't moved favorably - indeed, they have taken a beating at the last earnings report (Source: Yahoo Finance)

Why would this segment now provide a surprise? It turns out that 95% of the world's ATMs (as well as the American ATMs) still run Windows XP. While some of these might be software-upgradeable to Windows 7, many won't have the hardware for it and will need either hardware upgrades or straight-down substitution. This obviously favors ATM suppliers, and NCR is the prime supplier standing ready to benefit.
As we saw from Intel's earnings, the main impact of the Windows XP upgrade started taking place in this very quarter, along with the end of Microsoft's support. It seems most institutions delayed the cycle to the very end. Yet, as we saw from NCR's earnings consensus, there has not yet been any upward move on those estimates. As such, there's a good likelihood that NCR will surprise on the upside.
Conclusion
Intel saw increased demand due to an upgrade cycle brought about by the Windows XP loss of support. Intel has already sailed, but NCR has not, yet the ATM market is overwhelmingly running Windows XP, and a lot of those machines will likely have to be substituted or upgrades. NCR seems likely to benefit in the short term.
Disclosure: The author has no positions in any stocks mentioned, but may initiate a long position in NCR over the next 72 hours. The author wrote this article themselves, and it expresses their own opinions. The author is not receiving compensation for it (other than from Seeking Alpha). The author has no business relationship with any company whose stock is mentioned in this article.