On May 29th Gran Tierra Energy (NYSEMKT:GTE) agreed to sell its Argentina operations to Madalena Energy (OTCPK:OTCQX:MDLNF) for $69 million. The deal comprised of $49 million in cash, $14 million worth of Madalena shares, and $6 million worth of working capital adjustments. While discussing the deal with other shareholders, many seemed disappointed that it was not more. Dana Coffield, Gran Tierra's President and Chief Executive Officer had this to say about the sale:
"As a result of our recent significant exploration success in Peru, ongoing success in Colombia and ongoing evaluations in Brazil, we are focusing Gran Tierra Energy's human and capital resources in areas that we believe will provide the greatest return for our shareholders and drive growth in the future."
This is great to hear. Regardless as to if it was enough or not, in my opinion, I would rather see the company focus more in Colombia and Peru.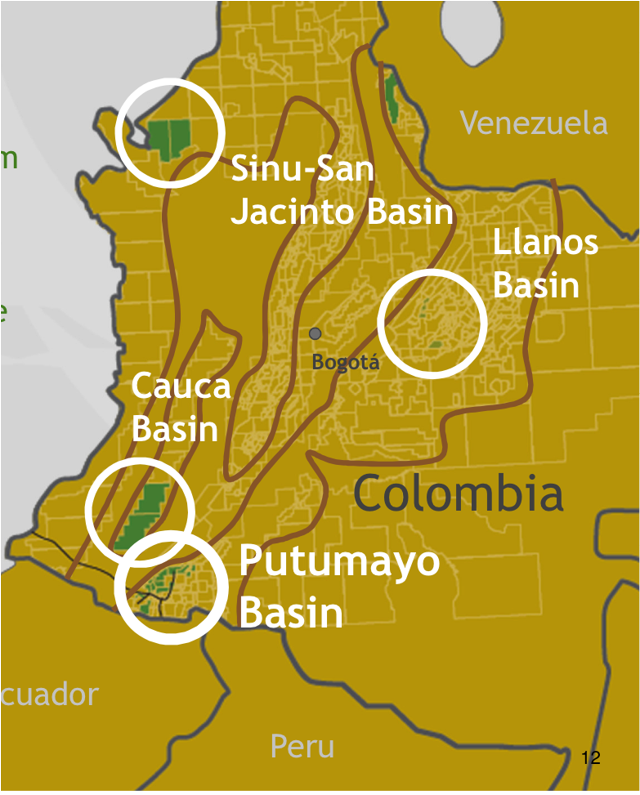 Colombia is the core of the business right now. Including the Argentina operations, Colombia makes up about 80% of total production and without it the number is about 90%. The company has about 4.3 million gross acres (22 blocks) in Colombia. The proved reserves in Colombia are 36.0 MMBOE. Its main holdings are located in the Putumayo Basin where it is the #1 landholder, producer, and reserve holder. While the prospects in Colombia are great and production should be sustained and continue to grow for a long time, this is where an investment in Gran Tierra is not for the faint of heart. Ongoing political turmoil has been a big issue in Colombia for years now. But before investing in Gran Tierra I did research into how big of an issue the FARC and other militant movements in the country were. My research concluded that these groups pose a very small threat, and that the threat is at an all-time low. Peace talks continue and the Colombian government is doing everything in its power to protect companies like Gran Tierra. While the threat posed is small it does not mean there is not one. In January of this year, two of Gran Tierra's trucks were stopped on a rural road and set alight by the FARC. The presidential election this past May has put out any remaining fears I had as Juan Santos was re-elected. He was the defense minister for a time and has a strong stance to use force against the FARC if necessary. All in all I am not concerned that any operations by militants or changes in politics will in any large way affect production and operations anytime soon.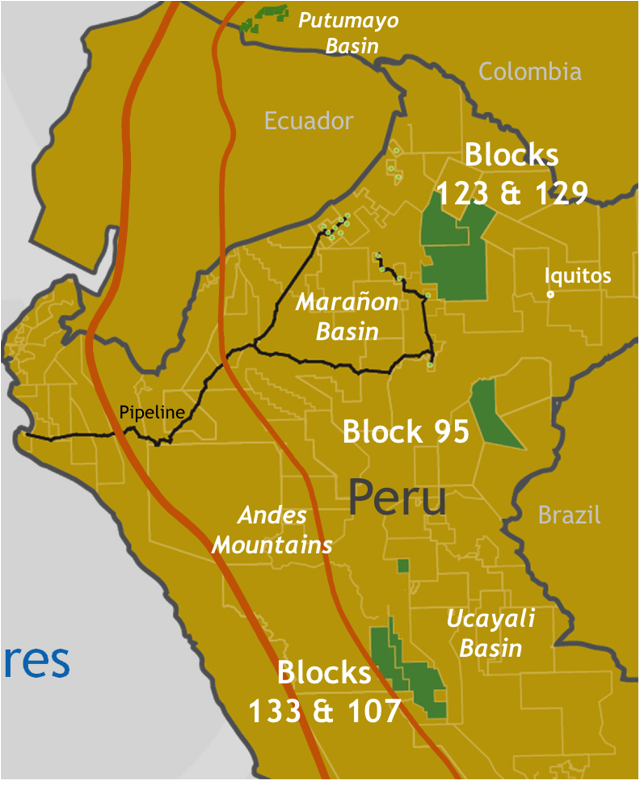 While Colombia has the bulk of production currently, its land in Peru has the most potential. The company currently has 5.8 million acres and is expected to be producing 2,500 boe/d in Peru by the fourth quarter. Gran Tierra has a 100% working interest in block 95 where it made one of the largest onshore discoveries in Latin America in 2013. This discovery, the Bretaña field, will be where most of the capital plan for 2014 in Peru will be focused. In total $148 million is the planned capital program in Peru for this year, but I wouldn't be surprised if that number is increased with the sale of the Argentina business. The original 2014 capital program called for $44 million in Argentina of which only $6.5 million was spent before the sale. On June 5th Bloomberg posted an article that Gran Tierra actually expects to have production in Peru much quicker because of permitting changes in Peru. The plan was to be producing 6,000 boe/d by 2017 in Peru but with the permitting changes it expects to beat this target by a year. To quote the piece and Dana Coffield, "Peru's push to achieve oil self-sufficiency by streamlining rules and boosting output should make it possible for Gran Tierra to accelerate a 2021 Bretana production target of 20,000 to 40,000 barrels a day by 'a couple of years,' Coffield said." This is huge news. This target is only for block 95 and that alone would be doubling current production.
Estimated reserves for Block 95: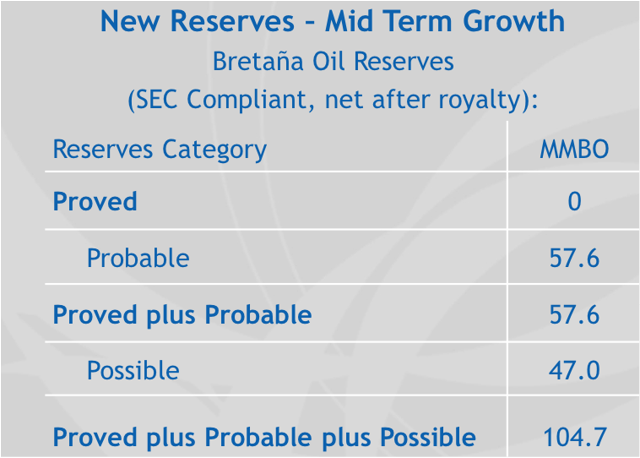 (click to enlarge)
Along with the potential at Block 95 the company also has 4 other Blocks in Peru, 107,123,129 and 133, for which development is expected to begin in 2015/16. As the development progresses I would expect next year's capital program for Peru to be much more (especially with the Argentina sale). I wouldn't be surprised if drilling begins later this year, maybe in the fourth quarter. According to that same Bloomberg article, Gran Tierra expects to make even larger discoveries in Peru other than block 95 based on seismic data for the other blocks.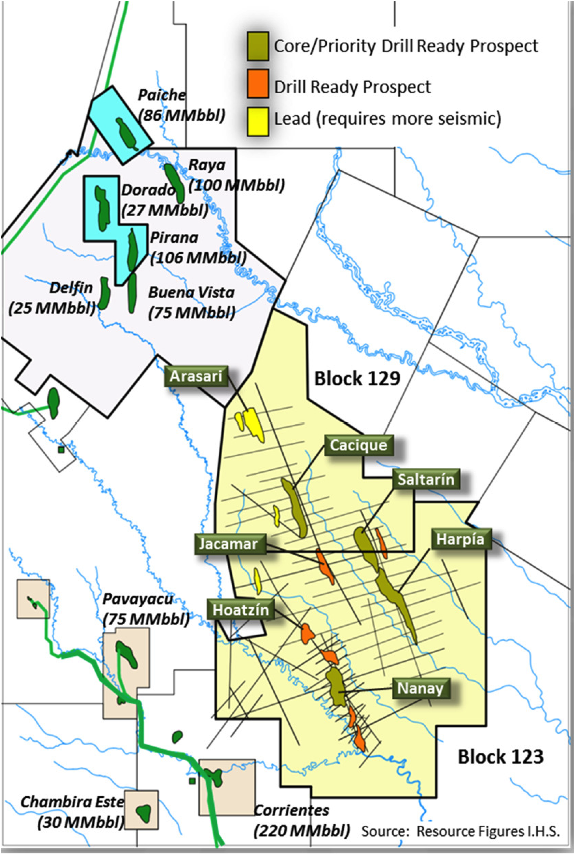 Gran Tierra also holds about 48,000 acres in Brazil where it just recently got a foothold. It has 7 blocks in the Reconcavo Basin where over 1.5 billion BO have been produced to date. I won't go into detail here because its position in Brazil is so small compared to Colombia and Peru.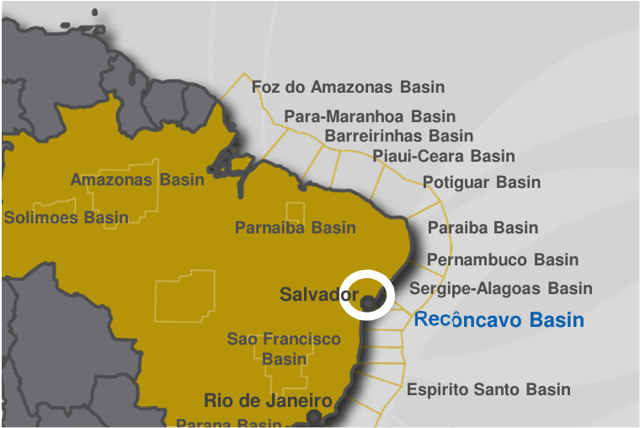 Financially Gran Tierra is in a great position. The company's balance sheet is very pretty. One thing that really stands out is the fact that it has no debt. At the end of March the company had about $400M in cash and of course it has added $50M to that with the sale. The company is expected to make about 15 cents a share for Q2 and Q3, and 63 cents a share for FY14. Analysts have an average price target of $9.90 which points to an upside of almost 40%. 18 analysts have it as a buy rating and 2 have it as a hold currently.
In conclusion, Gran Tierra has several very promising years ahead of it. As production continues to grow steadily in Colombia, and development in Peru is ongoing, the company looks very well positioned for great mid-term and long-term growth. With the sale of the Argentina operations it can better focus on Colombia and Peru where the potential is huge.
Disclosure: The author is long GTE. The author wrote this article themselves, and it expresses their own opinions. The author is not receiving compensation for it (other than from Seeking Alpha). The author has no business relationship with any company whose stock is mentioned in this article.
Additional disclosure: Always do your own research before investing.