Scanning Seeking Alpha on Wednesday, I came across two intelligent takes on market direction: Charles Hugh Smith's article "The Stock Market's Long Decline Has Begun", and Insider Monkey's article "Roubini Popularity Index Sends Market Buy Signal". Both offered authoritative charts backing up their views. Smith's article included this chart showing that the S&P was looking "toppy and vulnerable":
click to enlarge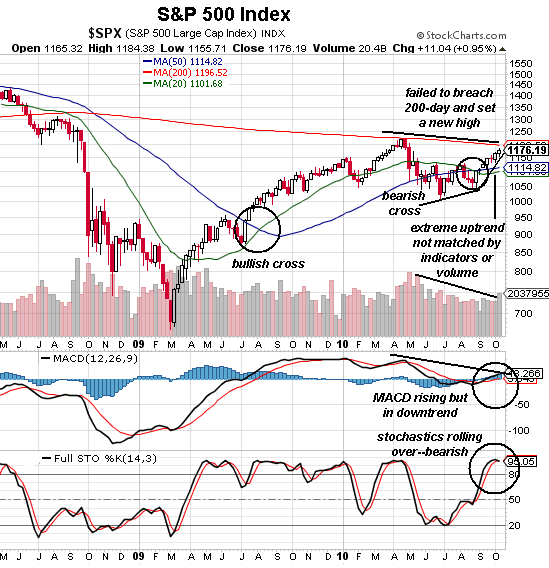 And Insider Monkey offered this chart showing that declines in Google searches of Nouriel Roubini have been a bullish indicator for stocks: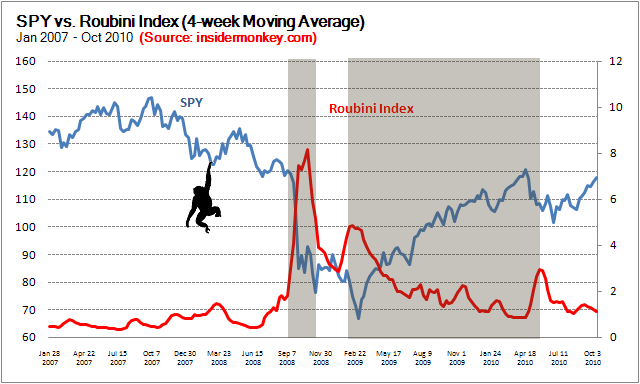 Which one is right? My gut feeling is to lean toward the bearish side, but my gut hasn't been that good at market timing. So when I wanted to put some cash to work on Thursday, I decided to place a pairs trade. By shorting one stock (Applied Micro Circuits - AMCC) while buying an equal dollar amount of another stock (MIPS Technologies - MIPS) in the same industry, I'm able to cancel out most market (and industry) risk. I'll be interested to see whether Charles Hugh Smith's or Insider Monkey's take on market direction proves prescient, but whether I make money on my pairs trade won't be dependent on the answer.
I found the short half of this trade, AMCC, using Short Screen's screener. Short Screen's screener uses the Altman Z-Score model to rank the manufacturing stocks in its database, and the modified version of that model, the Altman Z"-Score model, to rank the non-manufacturing stocks. This is the Altman Z-Score Model:
The Altman Z-Score Model: Z = 1.2X1 + 1.4X2 + 3.3X3 + .6X4 + 1X5

Where,

X1 = Working Capital / Total Assets
X2 = Retained Earnings / Total Assets
X3 = Earnings Before Interest and Taxes / Total Assets
X4 = Market Value of Equity / Total Liabilities
X5 = Sales/ Total Assets

Scores below 1.81 indicate risk of bankruptcy within the next two years; scores from 1.81 to 2.99 are a gray area; and scores of 3 or higher indicate an absence of financial distress.
In its initial test, the Altman Z-Score was found to be 72% accurate in predicting bankruptcy two years prior to the event, with a Type II error (predicting bankruptcy for a firm when the firm does not go bankrupt) of 6%. In a series of subsequent tests covering three different time periods over the next 31 years (up until 1999), the model was found to be approximately 80-90% accurate in predicting bankruptcy one year prior to the event, with a Type II error of approximately 15-20%.1
Every trading day, Short Screen ranks all of the manufacturing stocks in its database according to their scores on the Altman Z-score model, and all the non-manufacturing stocks in its database according to their scores on the Altman Z"-score model. Because each model has a different threshold score to indicate distress, in order to combine the results of the screening of manufacturing and non-manufacturing stocks into one ranking list, the app ranks each company by its distance from its respective threshold, with distance below either threshold represented by a negative sign. On the screener, AMCC showed a distance from distress of about –14.8, consistent with the Altman Z-Score Short Screen's calculator gave it of about -13.
It may seem counter-intuitive that a company such as AMCC, which has no long-term debt and a high current asset ratio, could be at risk of bankruptcy within the next two years. The Altman Z-score model wasn't developed by intuition though. It was developed empirically, using multiple discriminant analysis to determine which financial ratios to include and which coefficients to assign to them. In the case of AMCC, its negative trailing four quarters EBIT (Earnings Before Interest And Taxes) and its negative retained earnings contribute to its negative Z-score.
After finding AMCC on Short Screen's screener, I took a look at a couple of basic technical indicators on its chart, and saw it was trading below its 50 and 200 day moving averages:
In general, I try to short companies that look technically weak in addition to being financially distressed.
For the other half of this pairs trade, I scanned other semi conductor companies looking for one that was stronger technically and had a healthier Z-score. I found MIPS, which was trading above its 50 and 200 day moving averages,
Checking Short Screen's calculator, MIPS had an Altman Z-score of about 5.88. During market hours Friday, I plan to buy MIPS and short an equal dollar amount of AMCC.
1This accuracy data comes from academic research papers, links to which can be found on the Short Screen app's About page.
Disclosure: Planning on being long MIPS and short AMCC by the close Friday