Now that we're finding ourselves in the thick of yet another earnings season, I wanted to take a closer look at the upcoming earnings for one particular company in the tobacco sector and share my thoughts on what needs to happen in order for Philip Morris (NYSE:PM) to meet and potentially surpass analysts expectations.
Recent Trend Behavior
On Monday, shares of PM, which currently possess a market cap of $135.19 billion, a forward P/E ratio of 15.38, and a dividend yield of 4.37% ($3.76), settled at a price of $85.95/share. Based on a closing price of $85.95/share, shares of PM are trading 1.20% below their 20-day simple moving average, 0.45% below their 50-day simple moving average, and 3.37% above their 200-day simple moving average.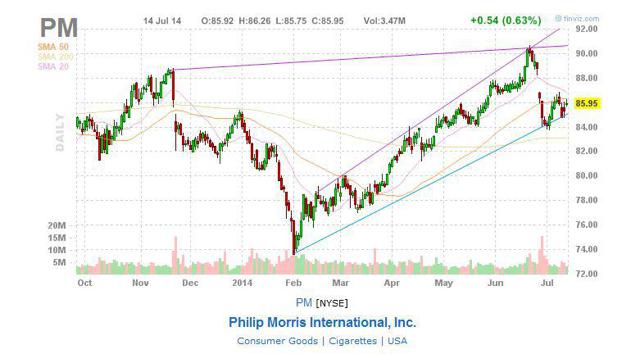 It should be noted that these numbers indicate a short-term downtrend and long-term uptrend for the stock, which generally translates into a selling mode for most near-term traders and a buying mode many long-term investors. If the company can demonstrate a stronger-than-expected earnings performance when it announces Q2 results on July 17, there's a very good chance the company's trend behavior will continue to move in a very positive direction.
Upcoming Earnings Outlook
When it comes to the company's upcoming Q2 earnings, there are a number of things potential investors should consider. For example, analysts are currently calling for PM to earn $1.24/share in terms of EPS (which is $0.05/share higher than what the company had reported during Q1 2014, and $0.06/share lower than what the company had reported during the year-ago period) and $7.52 billion in terms of revenue when its latest earnings are released on July 17.
One thing to keep in mind before I breakdown what I think needs to be done in order Philip Morris to meet and/or exceed estimates is the fact that currency issues are once again going to play a factor in the company's quarterly performance.
By taking the currency issue into consideration, I strongly believe that in order to meet and/or exceed its quarterly EPS estimates, a 2%-to-3% increase in the company's cigarette shipment volume versus the 4.4% decline that was demonstrated during Q1, a 1%-to-2% increase in the company's net revenues versus the 8.8% decline that was demonstrated during Q1, and lastly, a 1.1%-to-1.5% increase in the company's operating income versus the 13% decline that was demonstrated during Q1 would all need to occur.
Should investors be concerned with Philip Morris' currency related issues? Clearly they should, especially since such issues have caused the company to lower its full-year earnings estimates from $5.09/share-to-$5.19/share to $4.87/share-to-$4.97/share and subsequent earnings reports will include the verbiage "excluding unfavorable currency this segment actually did..." .
With that said, I still think full-year earnings have a slight chance of coming in at the higher end of that range ($4.93/share-to-$4.97/share) given the fact that Philip Morris made an key acquisition within the e-cigarette market that will clearly strengthen its presence in the U.K.
The acquisition of Nicocigs, is clearly an attempt to stay ahead of the game in the fast growing e-cig market. Nicocigs is Britain's largest electronic cigarette maker, and dominates over 27% of the U.K. Marketplace, which in my opinion could help boost both full-year earnings and revenues.
A Look At Big Tobacco's Latest Mega-Merger
After noting Philip Morris' most recent acquisition, I think its best that we briefly discuss the $27.4 billion dollar mega-merger between Reynolds American (NYSE:RAI) and Lorillard (NYSE:LO) and how the transaction will impact the landscape and market share of the industry as well as potential for regulatory intervention.
Landscape: The landscape of the remaining U.S.-based "Big Tobacco" players shrinks from three (Altria Group (NYSE:MO), Reynolds American, and Lorillard) to just two (Altria Group and Reynolds American).

Market Share: Once the deal is approved, the market share of U.S. cigarette sector will clearly change. Upon its completion, Altria Group will control about 51% of the market share, the new Reynolds entity will control about 42%, and the remaining 7% will consists of a combination of small name brands and foreign-based entities.

Regulatory Intervention: The one thing a transaction of this size does is increase the potential for regulatory scrutiny. Although none of us can be certain whether or not the FDA will step-in, we do know that menthol cigarettes are both a hot-button issue for the FDA and one of the leading catalysts behind Lorillard's annual sales growth.

With that said, Charles Lewis Sizemore recently mentioned that he thinks, "Reynolds is effectively making a $27.4 billion bet that the FDA will leave menthol cigarettes alone. That seems reckless to me; it's a bet with modest upside and a potentially disastrous downside".

In this instance, I'll need to agree with Mr. Sizemore and say that regulatory intervention is almost inevitable, and that plays such as Philip Morris are more attractive considering the fact that they are far less exposed to menthol cigarettes.
Conclusion
For those of you who may be considering a position in Philip Morris, I'd actually look to keep a closer eye on the company's currency concerns and their impact on overall performance over the next 6-12 months as any improvement in this area could positively impact the company's long-term earnings growth.
In terms of the company's upcoming quarter, steady increases of at least 2%-to-3% in terms of the company's cigarette shipping volumes as well as a 2%-3% increase in net revenues could help Philip Morris stay on course to meet or even surpass analysts' expectations when it announces earnings on July 17.
Disclosure: The author has no positions in any stocks mentioned, and no plans to initiate any positions within the next 72 hours. The author wrote this article themselves, and it expresses their own opinions. The author is not receiving compensation for it (other than from Seeking Alpha). The author has no business relationship with any company whose stock is mentioned in this article.