The docket of economic data got off to a poor start Tuesday morning, with a weaker than expected retail sales report. While economists were expecting month/month (m/m) growth of 0.6%, the actual reading came in at just a third of expectations (0.2%). While the headline number was disappointing, digging a little deeper into the report was somewhat more encouraging. Ex Autos and Ex Autos and Gas, growth was only 0.1% below the consensus forecast of 0.5%.
Looking at retail sales growth across the different sectors also showed positive breadth. Of the 13 sectors, only four showed a m/m decline, led lower by Building Materials which declined 1%. To the positive, General Merchandise grew 1.14%, while non-store retailers (online) saw growth of 0.89%. Rounding out the top four, Health and Personal Care and Clothing both also saw growth of more than 0.8%.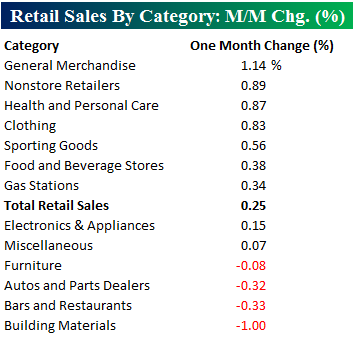 The table below shows each sector's share of total retail sales and how it has changed over the last year. Autos and Auto parts dealers have the largest share of total retail sales at just under 20% (19.9%). The two other groups that have seen the biggest increase in their total share of retail sales (green text) are Nonstore retailers (online) and Health and Personal Care. On the downside, the three groups that have seen the largest decline in their total share of retail sales (red text) over the last year are General Merchandise, Food and Beverage Stores, and Gas Stations.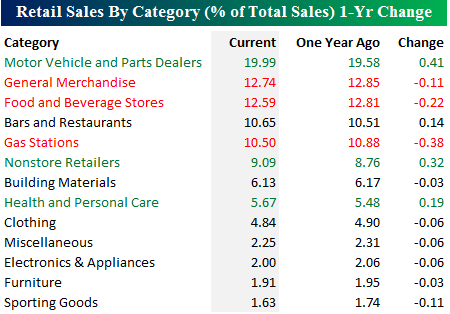 In the case of online retail, its share of total sales has been on a steady increase for several years now. For more than ten years its share of total sales has been on a nearly uninterrupted increase as it continues to steal share from just about every other sector. At 9.1% of total sales, online retailers' share is at a record high.