Shares of SanDisk Corp. (SNDK), an Israeli-American producer of flash memory have been on fire in recent years. The steady rise in the stock price can largely be attributed to consistent and robust growth in the company's financial fundamentals.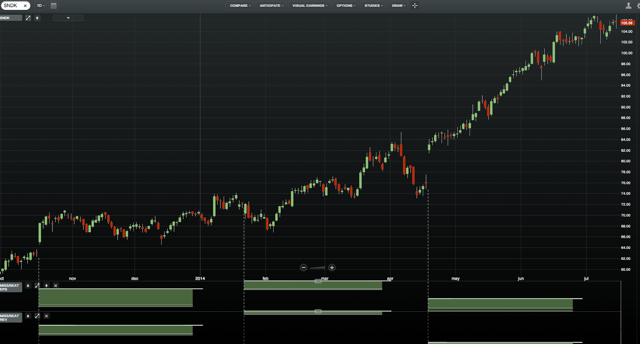 Click to enlarge
The graph above from ChartIQ Visual Earnings shows the movement in the stock price alongside earnings reports dates marked by dotted vertical lines. The past 3 earnings reports have been positive catalysts for SanDisk, particularly the last quarter. SanDisk is set to report FQ2 2014 earnings after the market closes on Wednesday, July 16th. Here's what investors are expecting.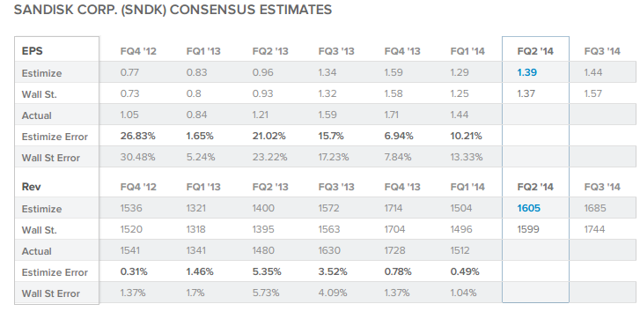 Click to enlarge
Source: Estimize.com
This quarter 27 contributing analysts on Estimize.com have come to a consensus earnings expectation of $1.39 EPS and $1.605B in revenue compared to a consensus of $1.37 EPS and $1.599B from Wall Street. Over the previous 6 quarters, crowdsourced forward looking financial estimates platform Estimize.com has been more accurate than Wall Street in forecasting SanDisk's earnings per share and revenue in each quarter.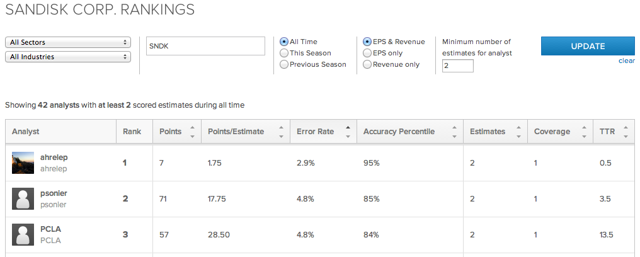 Click to enlarge
Source: Estimize.com
Estimize.com ranks and allows the sorting of analysts by accuracy, the analyst with the lowest error rate on SanDisk with at least 2 estimates scored is an anonymous independent financial professional who goes by the username ahrelep. Over 2 previously scored estimates ahrelep has averaged an error rate of 2.9%. Estimize is completely open and free for anyone to contribute, and the base of contributing analysts on the platform includes hedge fund analysts, asset managers, independent research shops, nonprofessional investors, and students.
The Estimize consensus was more accurate than the Wall Street consensus 65% of the time last quarter on the coverage of nearly 1000 stocks. A combination of algorithms ensures that the data is not only clean and free from people attempting to game the system, but also weighs past performance and many other factors to gauge future accuracy.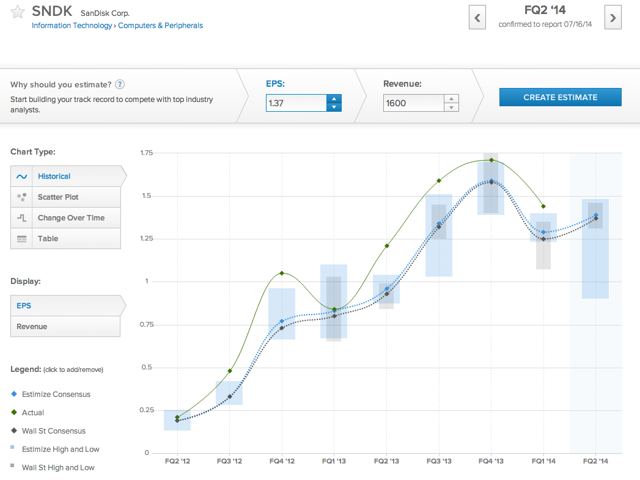 Click to enlarge
Source: Estimize.com
SanDisk has built a clear track record of outperforming the Wall Street consensus by a fairly wide margin over the past 2 years. This quarter contributing analysts on the Estimize.com platform are expecting SanDisk to maintain its streak and come in a few cents per share ahead of the Street's consensus, despite having a track record of much larger beats. Interestingly, there is a wide range of estimates submitted for SanDisk this quarter, with a large portion of the distribution well below the Wall Street consensus. A wider range of estimates can indicate less certainly among investors, which may lead to higher volatility post earnings.
Disclosure: None