By Chris McKhann
Shares of Amylin Pharmaceuticals (AMLN) lost 50 percent this week after the Food and Drug Administration rejected one of the company's drugs, and option traders appear poised for more downside.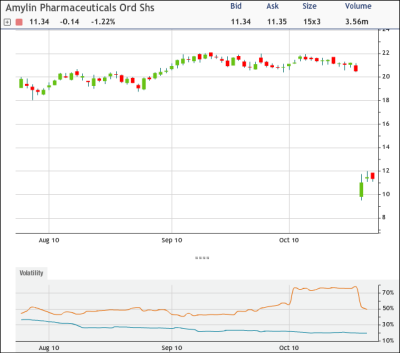 AMLN trades at $11.36 this morning, down 1.05 percent on the day. It fell as low as $9.51 on Wednesday after closing the previous session at $20.49. The stock hasn't been that low since March 2009, but it did trade at $5.50 in November 2008.
At least one institutional trader seems to think that Wednesday's low wasn't the bottom. The November 10 puts are leading this morning's option activity with 3,175 changing hands, almost all of them bought. The largest block of 2,167 puts was picked up for $0.25 as the trader paid the asking price.
This put buying isn't tied to any stock trading today. It could still be a protective hedge on a long position, but that would certainly seem to be too little too late. So it appears that this is an outright bet that AMLN will break back down below that $9.51 Wednesday low and continue to fall.
Playing these types of moves in the options markets can make sense for those with a very strong conviction, because stocks can bounce sharply higher in such circumstances even if they do eventually fall farther.
Disclosure: No position