By Jeff Bailey
CarMax (NYSE:KMX) shares have more than quadrupled over the last decade as the used car super store chain spread across much of the U.S. with its no-haggle sales policy and wide selection of vehicles.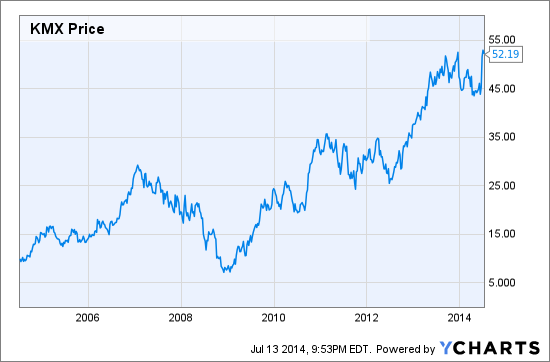 Remarkably, during a period when Internet data and sales of many items has pressured margins - think books and big screen TVs thanks Amazon (NASDAQ:AMZN) and airline tickets thanks to Expedia (NASDAQ:EXPE) and others - CarMax's margins have widened. By a lot.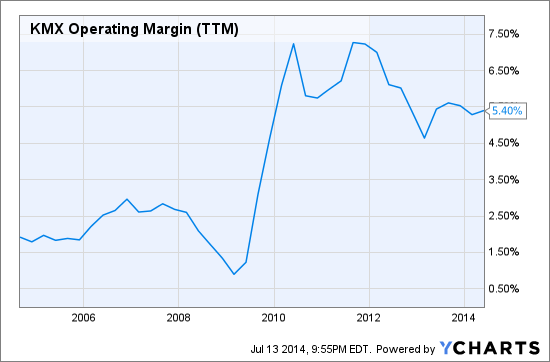 KMX Operating Margin (TTM) data by YCharts
Sharon Zackfia, an analyst at William Blair & Co. in Chicago, points out in a recent report on CarMax - she rates the stock outperform - that gross profit per vehicle at the chain has exceeded $2,100 each of the last four years after being between $1,600 and $1,900 per vehicle for years. "We believe the fast-depreciating, non-commodity nature of used cars creates strong insulation against the traditional impact of Internet transparency," Zackfia writes. "Mileage, physical condition, history, and accessory packages vary and used cars must be bought and priced for sale individually."
Every seller wishes for an opaque market. Every buyer would like price transparency.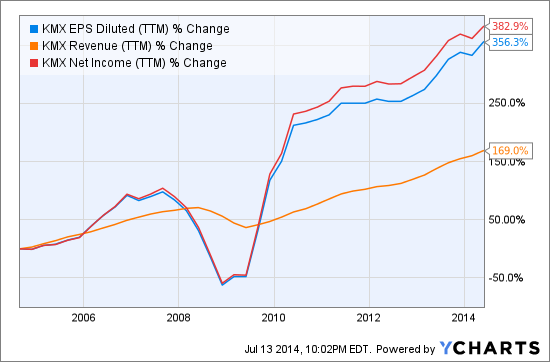 KMX EPS Diluted (TTM) data by YCharts
The company's growth and its operating leverage - note profits rising a lot faster than sales - have given it a forward PE ratio of about 20. Zackfia is excited about the potential to widen operating margins further by CarMax getting into the direct sub-prime lending business, as opposed to paying third-party lenders to arrange loans for less-credit-worthy car buyers. Done judiciously, of course, sub-prime lending can be fabulously profitable. The rough-on-the-customer loan origination and collection process, however, has often led to big regrets.
For now, the sub-prime program appears to be a small part of the CarMax strategy, and the bigger growth engine is opening new stores. Zackfia says the company, which has about 140 stores now, could add 10 to 15 a year, and also open smaller-format stores to penetrate markets that won't support a super store.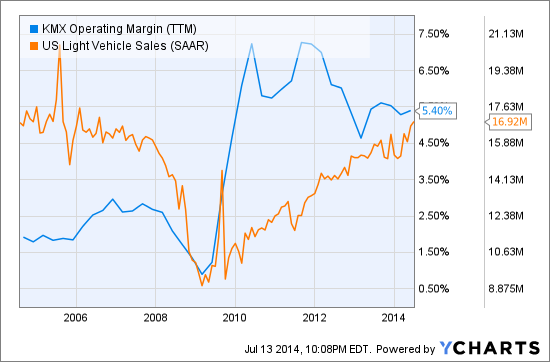 KMX Operating Margin (TTM) data by YCharts
We see at least one item to worry about. Used cars, of course, were once new cars and the supply of used cars depends on the level of new car sales. The deep recession caused U.S. light vehicle sales to plunge beginning in 2008, and used cars have been in shorter supply since. Could the used car market be functioning better than Zackfia suggests, and the wider margins be a result of a favorable supply-and-demand situation that won't last? Ford (NYSE:F), General Motors (NYSE:GM) and other car makers, after all, are back to selling lots of new cars.
Disclosure: None