I'll be the first to admit that as a BlackBerry (NASDAQ:BBRY) long I was definitely sitting up in my chair when I saw the news that Apple (NASDAQ:AAPL) and IBM (NYSE:IBM) had announced a major partnership. After all, BlackBerry's bastion is the enterprise, and anything that helps Apple become more relevant to corporate IT - even on paper - might be of concern.
But as I scanned the numerous headlines, my concern quickly evaporated. Why? The headlines! Just a few included:
"BlackBerry slides after Apple, IBM partner on mobile enterprise"
"Apple, IBM Rising on Enterprise Deal for iPhone, iPad; MobileIron, BBRY Drop"
"Apple, IBM deal not good news for Blackberry: Pro"
You see, just a few months ago Reuters put out a story that I credited with causing the last great buying opportunity for BBRY shares, when they convinced half the world and their siblings that BlackBerry was basically going out of business. The stock was down to below-book value of $7. Once a few savvy investors realized that BBRY was not in fact going anywhere, the stock managed to price itself just above bankruptcy territory in the $11.30 range as of yesterday, with a still-paltry price-to-book ratio of 1.6 (I discuss Blackberry's gross undervaluation here). But even yesterday the focus was still very much on BlackBerry's admittedly anemic marketshare in handsets, and whether or not the new Passport and other phones can rescue it, as the Z3 is now doing.
So what could be a better development for BlackBerry than the equivalent of an Oscar or Super Bowl ad for its still thriving MDM (mobile device management) business than a bevy of headlines essentially proclaiming that:
"The Global Leader In Mobile Device Management Might Want To Be Worried That Two Gargantuan Technology Companies Made An Announcement That MIGHT Even Tangentially Impact That Leadership Position."
Finally! You have a stock priced near book value and now an opportunity to remind the investing public that Blackberry still has more MDM customers than all of their top competitors combined, including 10 of the 10 largest companies in the world and 16 of the G20 governments. BlackBerry's MDM business has actually been benefiting significantly from the EZ Pass program, but nobody has noticed.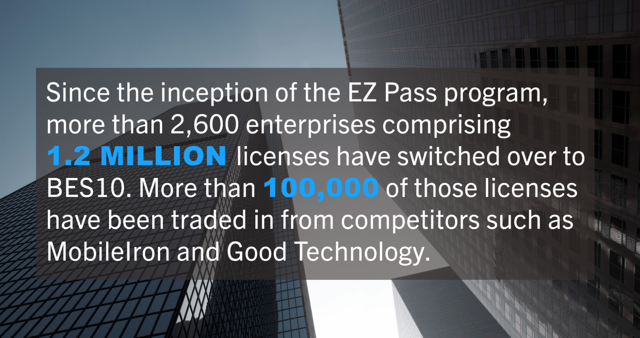 Click to enlarge
Source: BlackBerry
If it means a chance to point the spotlight on the excellent fundamentals of BlackBerry's business - and perhaps pick up some discounted call options at the misfortune of some weak-handed long share holders - I'll take this kind of news any day. By the way, Gonzalo Carrasco provides an outstanding and detailed analysis of BlackBerry's MDM business and the huge opportunity here.
What do we really know about IBM MobileFirst Supply & Management?
Before anyone dumps their BlackBerry shares or decides to go short, they ought to ask themselves some tough questions about what the partnership actually delivers, especially in the area of mobile device management. We know from the press release that:
"IBM is introducing IBM MobileFirst Supply & Management for device supply, activation and management services for iPhone and iPad."
And we also know that IBM has existing offerings for managing mobile devices that pre-dated the announcement. But does this new solution provide fully-integrated support for other device manufacturers? Or does it require separate, non-integrated modules to manage other devices and non-IBM applications? How important is seamlessly-integrated x-device support you ask? So important that BlackBerry finally had to put it into its own MDM offering. I would love to have been a fly on the wall during the meeting when that decision was finally made!
All of the big data and cloud apps sound really cool actually, but if they only run on Apple devices, what would be the realistic appeal to the largest enterprises, those that BlackBerry would be the most concerned about losing?
The partnership is clearly a sound strategy to penetrate the mid-market with specialized apps, I just don't have enough information yet to say BlackBerry's large enterprise and government bastion is in the cross hairs of this partnership. I may be wrong, and will admit to it if/when more data is made available that convincingly challenges my assumptions.
What does IBM do for Apple in the area of Security?
I don't think a lot of people noticed when German Chancellor Andrea Merkel moved from iPhone to BlackBerry last month after it was revealed that she was being spied on. Would her administration's decision have been any different if they waited until after yesterday's announcement? I'm not a mid-level German bureaucrat in the Republic's IT department, but my guess would be... no.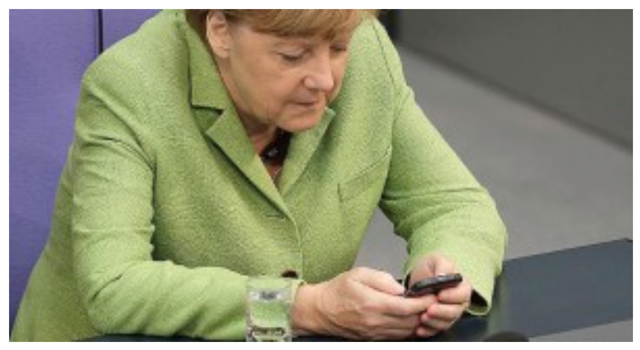 Click to enlarge
So again, until I see what IBM can do to plug the security holes that the largest companies and most secretive governments clearly still observe in Apple AND other non-BlackBerry phones, I'm not going to run to sell my shares. In fact, it's news headlines like the Merkel story that keep reminding me of BlackBerry's relevance and unique position in the market, and keep me buying more BBRY on any dips (like this). I Just don't see how the Apple/IBM news changes this narrative in any way. I'm open to opposing views.
The Bottom Line
I am typing this article on a Mac and my little boy is playing on his iPad as I write this. And I'm sure an IBM server or software will somehow touch the transaction when I click "submit" on this article. Point is, I am fans of Apple and IBM (I'm long AAPL) and greatly admire both companies. But I just don't see this partnership as threatening to BlackBerry on anything but paper. It's going to go down as just another great BBRY buying opportunity, just like the Reuters debacle. If anything, more investors will hear the BBRY story and realize the turnaround is just now underway. Nothing wrong with that.
Please do your own due diligence prior to investing. This article contains my opinions only, which should not form the basis of an investment decision.
Disclosure: The author is long BBRY, AAPL. The author wrote this article themselves, and it expresses their own opinions. The author is not receiving compensation for it (other than from Seeking Alpha). The author has no business relationship with any company whose stock is mentioned in this article.