What Is It?
The dividend yield expresses dividends paid over the last year as a percentage of a company's share price. It is calculated by dividing dividends paid over the prior 12 months by the company's current share price.
Why Does It Matter?
Firstly, it matters to income-seeking investors. That's because they want to maximize their income, and a relatively high dividend yield should help them to do so. Secondly, it provides an indication of the relative value of a company's shares. For example, if shares in a company have a dividend yield that is higher than the market average (or their historical average), it may indicate that shares are cheap and offer good value at current price levels.
What About GE?
As highlighted in the chart below, GE's (NYSE:GE) dividend yield currently stands at 3.3%. This is 73% higher than the yield of the S&P 500, which shows that GE is a relatively attractive income play when compared to the wider index. Indeed, GE's yield is also considerably higher than the industrial goods sector (in which GE sits), with it having a yield of 1.69% and meaning that GE's yield is 95% higher than that of its sector peers. In addition, being above 3%, GE's yield is among the higher end of S&P 500 yields at a time when interest rates are at historic lows and look set to be for the foreseeable future. As a result, GE could be viewed as a relatively attractive income play at current price levels.
Furthermore, GE's significantly higher yield relative to its sector and index could present an alpha opportunity due to the scope for share price rises. That's because, as mentioned, a higher yield could indicate superior value and, in GE's case, we believe it does.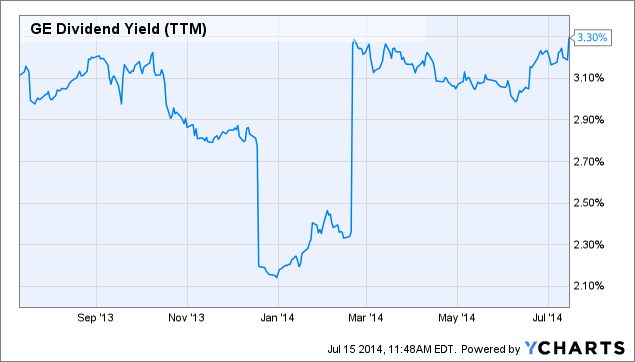 GE Dividend Yield (TTM) data by YCharts
As the above chart shows, GE's yield has fluctuated significantly over the last year. It has been as low as 2.15% at the start of 2014, while the current level of 3.3% is equal to its one-year high. The reason for the fluctuation in dividend yield appears to be share price movements, as shown in the chart below.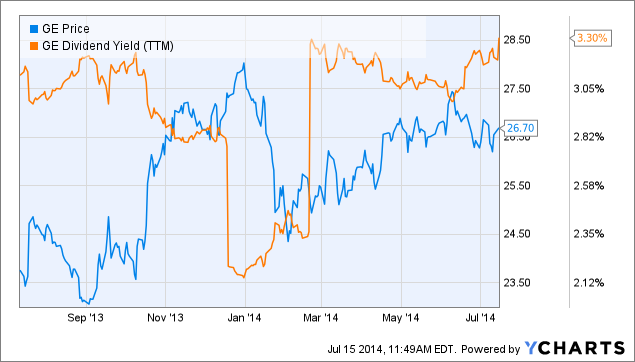 The change in GE's share price has an inverse relationship to the company's dividend yield, with periods of share price strength causing the yield to fall and vice versa. Indeed, when looking at a longer time period (5 years), we can see that GE's yield has not remained consistently above the 3.3% level for long periods.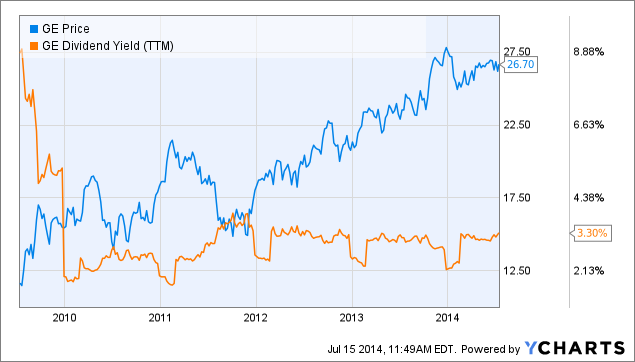 As the above chart shows, since 2010, GE's yield has only briefly been above the 3.3% level. That occurred in the latter part of 2011 and lasted for only a few months, before shares in the company moved upwards from $15.56 to around $20 in a matter of months. Although GE's yield is not at the 3.50% level at present, we believe it is at a level where there is the scope for shares in the company to move higher so as to suppress the yield below 3%. As such, we feel there could be an opportunity for share price gains as a result of a yield that is toward the top end of its medium-term range.
What Does This Mean For Investors?
We believe that with interest rates set to remain low until many months after the end of the Fed's monthly asset repurchase program, there could be an increased demand for higher-yielding stocks. Clearly, GE falls into this category, both on an absolute and a relative basis. In addition, GE's historical yield chart indicates that periods where the company's yield is at 3.3% or above are soon followed by upward movements in the share price. In the meantime, investors can pick up a great yield in a company that has upside potential.
Conclusion
GE's yield of 3.3% offers investors a relatively high level of income but, perhaps more importantly, offers the scope for alpha. We feel that the market will not allow the yield to go too much higher and may demand stock so as to keep GE's yield suppressed at or below the 3.3% level. As such, we think that GE could deliver gains going forward.
Feedback request: What do you think of GE? Would you buy, sell or hold right now? Please comment below!
Disclosure: The author has no positions in any stocks mentioned, and no plans to initiate any positions within the next 72 hours. The author wrote this article themselves, and it expresses their own opinions. The author is not receiving compensation for it (other than from Seeking Alpha). The author has no business relationship with any company whose stock is mentioned in this article.