TerraForm Power, Inc. (Pending:TERP), a yield play formed by SunEdison (NYSE:SUNE) to own and operate clean energy assets, plans to raise $401.3 million in its upcoming IPO.
The Beltsville, Massachusetts-based firm will offer 20.1 million shares at an expected price range of $19-$21 per share. If the IPO can find the midpoint of that range at $20 per share, TERP will command a market value of $2.0 billion.
Strong Underwriting
TERP filed on May 29, 2014.
Lead Underwriters: Barclays Capital Inc.; Citigroup Global Markets Inc.; Goldman, Sachs & Co.
Underwriters: FBR Capital Markets & Co; J.P. Morgan Securities LLC; Macquarie Capital (USA) Inc.; Santander Securities Corp.
Summary of Clean Power Assets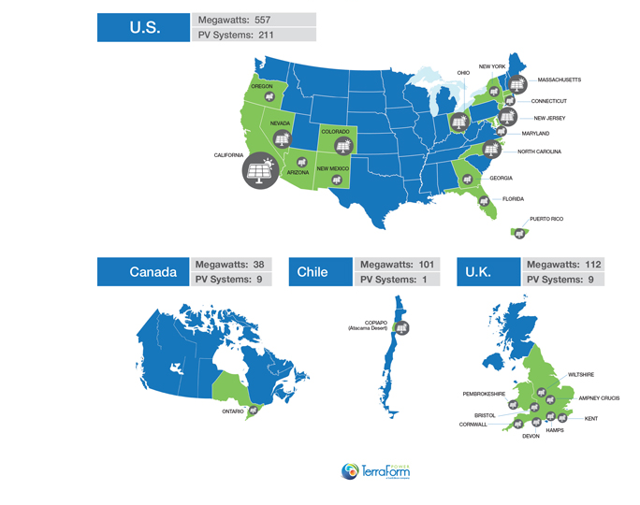 Click to enlarge
(Source)
TERP is a dividend firm spun off of SunEdison to own and operate clean power assets.
The firm hopes to secure contracted cash flows through the ownership of solar generation assets, and to eventually add other clean power assets to its portfolio.
TERP will attempt to position itself to take advantage of markets experiencing so-called "grid parity," a condition in which electricity generated through renewable sources is equally or less expensive than current prices. Grid parity should continue to emerge in more markets as the prices of fossil fuels continue to rise and renewable energy sources become more technologically advanced and efficient.
TERP's portfolio at the completion of this IPO will include solar projects in the United States, Canada, the U.K., and Chile. Total nameplate capacity of these projects will be 807.7 MW. The projects will be backed by long-term power purchase agreements with a weighted average remaining period of 20 years.
TERP notes in its S-1 filing that it plans to enter an agreement with SunEdison prior to the completion of its IPO that will require SunEdison to offer TERP projects from its development pipeline that will generate a total of no less than $175 million of cash available for distribution in the year following the projects' commercial operation dates by the end of 2016.
Valuation
TERP offers the following figures in its S-1 balance sheet for the three months ended March 31, 2014:
Revenue: $11,880,000.00
Net Loss: ($1,081,000.00)
Total Assets: $1,018,118,000.00
Total Liabilities: $967,673,000.00
Stockholders' Equity: $50,445,000.00
TERP plans to pay an initial quarterly dividend of $0.2257 per share, which annualizes to $0.9028 per share. At the midpoint of the expected IPO price range at $20 per share, TERP's dividends would be equivalent to a strong annual yield of 4.51%.
Increasingly Competitive Renewables Sector
TERP will face competition from various parties for the acquisition of desirable solar projects. Though it will likely be able to acquire projects from SunEdison, and has right of first offer on some of SunEdison's projects, competitors with access to greater financial resources than TERP may be able to outbid TERP for some projects.
Competitors may include utilities, solar developers, independent power producers, and financial investors.
Experienced Management
Carlos Domenech Zornoza serves as the CEO and a director of TERP.
Mr. Domenech previously served as the executive vice president and president of SunEdison Capital and as the CFO and COO of SunEdison.
Before he joined SunEdison, Mr. Domenech worked in various roles for General Electric (NYSE:GE), including serving as the CFO of Universal Pictures International Entertainment.
Conclusion: A Clean Pick For Investors
We like this IPO within or below its expected price range, given its extremely attractive yields at such prices.
Even outside the strength of its yields, we believe that TERP has a good chance to grow once it hits the market. The firm is backed by the reputation and expertise of SunEdison, as well as the opportunity to acquire more projects from its parent firm on favorable terms.
The increasing popularity of renewable energy and the ballooning expense of generating power through fossil fuels should also play in TERP's favor in the long term.
The market has proven receptive to yield company IPOs, such as last month's Abengoa Yield plc. (NASDAQ:ABY) IPO and NRG Yield's (NYSE:NYLD) exceptional 2013 debut and subsequent performance.
We suggest investors strongly consider buying into this IPO. We hear the deal is many times over-subscribed and continuing to build.
We invite readers wishing to join the discussion on IPOs to click the +FOLLOW button above the title of this article -- and those looking for the latest development to click +Get real time alerts.
Note: As a large sample of information sources does not yet exist for TERP, we have taken much of the information for this article directly from TERP's S-1 filing.
Disclosure: The author has no positions in any stocks mentioned, but may initiate a long position in TERP over the next 72 hours. The author wrote this article themselves, and it expresses their own opinions. The author is not receiving compensation for it (other than from Seeking Alpha). The author has no business relationship with any company whose stock is mentioned in this article.