By Mike Yamamoto
Mead Johnson Nutrition (NYSE:MJN) has run to all-time highs amid buyout speculation but is drawing put action ahead of its earnings report next week.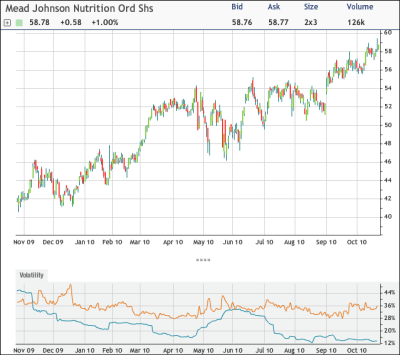 MJN does not usually see much option activity, trading an average of only 2,839 total contracts a day. But the name already has seen 2,600 trade at a single strike, the December 55 puts, in less than a minute this morning. Most of the puts, including one print of 2,200, went for $1.48.
Shares of the company, which sells infant formulas and nutritional products, are up another 1 percent to $58.72 today after hitting an all-time high yesterday at $59.46. The stock has risen some 40 percent in the last year.
The December 55 puts did not appear linked to any trading of MJN shares, though it could still be a hedge on an existing long position. The trade could also be a straight bet that the stock is ready to pull back by year's end after its scorching run.
For the puts to turn a profit, Mead Johnson's stock would need to fall at least 9 percent by the time the options expire on Dec. 17.
The company's expanding market shares has made it an attractive takeover target, according to a recent note from Goldman Sachs. The company's next earnings release is scheduled for Oct. 28 before the market opens.

Disclosure: No position