Background: Apple Inc. (NASDAQ:AAPL), is a multinational corporation that develops and sells consumer electronics, computer software and personal computers. The market cap is $583 billion, and the company trades an average of 43.5 million shares per day, making it one of the most heavily traded stocks and the largest company based on total market cap.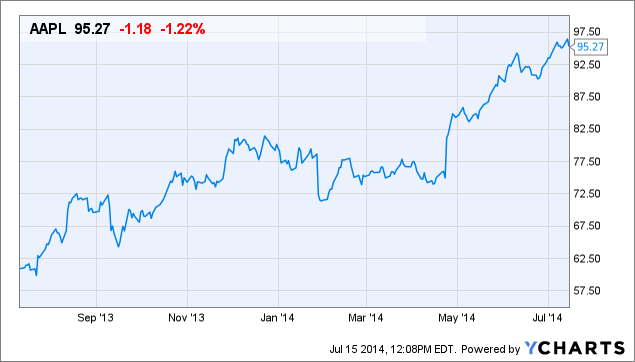 AAPL data by YCharts
Strong third-quarter earnings growth is expected by Wall Street after the market closes on July 22, 2014. The consensus mean is $1.22 a share, a gain of 15 cents (14%) from $1.07 during the corresponding quarter last year. Analysts' estimates this quarter range from $1.14 to a high of $1.36 per share.
The whisper numbers I've read range from $1.28 to $1.34. That means, Apple will have to generate a significant beat in order to impress the market. With a below average Beta of 0.74, you're not going to see much for price movement on any given day with its low level of volatility. Apple's primary competitors include Microsoft (NASDAQ:MSFT), Google (NASDAQ:GOOG) (NASDAQ:GOOGL), Amazon (NASDAQ:AMZN), BlackBerry (NASDAQ:BBRY), and Samsung (OTC:SSNLF).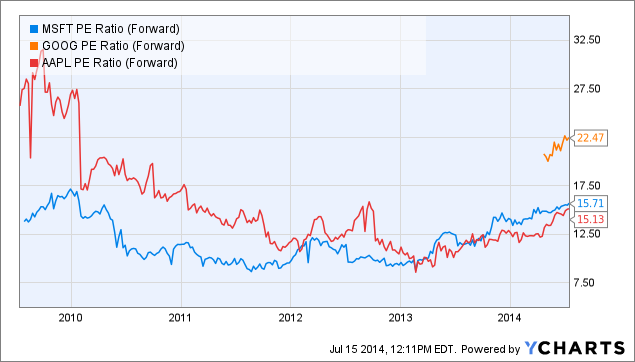 MSFT PE Ratio (Forward) data by YCharts
Analysts as a whole, including me, like this company. Currently, Apple has 40 buy recommendations out of 53 analysts covering the company, along with 12 holds, and one has given it a sell rating. 14 out of 53 analysts now rate Apple a strong buy down from 15 analysts a month ago. Investors are grinning from ear to ear, and analysts are too. The shares have rocketed higher 56% over the last 52 weeks.
Analysts on average have a price target of $98.00. The price target is a floating one though because at least once a week one or more analysts adjust their price. Here are some recent examples:
Susquehanna raised its price target from $104 to $115 on July 15th, 2014.
Citigroup

"upgraded" Apple to Overweight, albeit lowered the target from $110 to $99 on July 14th, 2014.

Morgan Stanley raised its price target from $99 to $110 on July 14th, 2014.
Shareholders can gain valuable information through the options market. The price of calls and puts indicates the level of expected price volatility. The greater the premium, the farther investors believe the shares may change in price.
Based on current option premium, investors and traders are pricing in a 6% or about $5.60 move in the next 11 days.
$89.62 to $100.82 is the expected range for the at the money contract expiring first after the earnings update. Make sure you're ready for it.
After last quarter's results, the shares rose a modest 8.2% or $43.02 from the close before the earnings release to the closing after. The closing trade before the release was a pre-reverse split $524.75 and ended at $567.77 the following day.
Shares are slowly but steadily appreciating in the last 30 days. Shares are now 2.7% higher than last month. The 200 day moving average (MA) is climbing, and Apple is in a classic bull trend. It's most evident in the monthly chart.
The monthly chart has the fast moving averages in a steady climb and above the 200MA. Trend followers love this pattern and will hold their long position until a technical break results in a signal to exit. Microsoft, Amazon and Google also share the same bullish pattern.
I'm a big fan of Microsoft. Microsoft allowed Google and Apple to steal market share away, but contrary to a great deal of wrong information, Microsoft's revenue and earnings continue to climb. Apple's market share increased about 29% in 2013 year-over-year according to Apple Insider to reach 14% of the consumer PC market.
That means Microsoft continued to command about 75% of the operating systems of the computers sold. Google's Android-based Chromebooks, and other Linux-based operating systems are gaining popularity, but for 2013, I'm estimating less than 10% market penetration.
Microsoft generates enormous amounts of cash flow through consumer-grade operating systems, but it's the enterprise software sales that really bring home the cheesecake. It's a market that Apple has left to Microsoft, Oracle (NYSE:ORCL), IBM (NYSE:IBM), Redhat (NYSE:RHT), and others.
I'm not sure leaving the most profitable space in software to others is the best choice, but I also understand the grass isn't always as green as it may appear. Microsoft does it well, but it also enjoys first-mover advantage.
The iWatch talk and rumors has yet to convince me it will be successful. I can picture some sales, but from my seat, it all comes down to screen size. If it can pull a star wars 3D image above the watch to offer a much larger viewing area I think it may sell well, otherwise, as long as it fits in your pocket, the screen is never big enough for power users (the ones geeky enough to wear a gadget watch).
In other words, if you're expecting iWatch sales to blast the stock to $150 because demand is overwhelming, maybe think again. Women's watches are generally smaller in size also, leaving half the population an even harder sell than an already tough market.
I've more or less beat around the bush with the iWatch, but here's how I really feel. I think with current technology, it's going to be a small niche market with lackluster sales.
I have no doubt the iPhone 6(x) will sell great. Maybe not super great if Amazon's new phone takes hold, but I don't see a mass migration from iPhone fans to a pseudo-Android based phone happening soon. Microsoft appears to be making a comeback attempt through low or free Windows Mobile software, but it's too early to gauge the success.
This stock currently has an annualized dividend of $1.88, yielding 2.1%. For dividend seekers, Apple makes a compelling thesis. But if technology dividends are what you're after, Microsoft's 2.7% yield may have a greater attraction for many investors.
Disclosure: The author has no positions in any stocks mentioned, and no plans to initiate any positions within the next 72 hours. The author wrote this article themselves, and it expresses their own opinions. The author is not receiving compensation for it (other than from Seeking Alpha). The author has no business relationship with any company whose stock is mentioned in this article.