Uni-Pixel Uses The Term "Pilot Production" Very Loosely
Uni-Pixel (NASDAQ:UNXL) is a testing stage company looking to create a type of metal mesh touch sensor. It has a very shady past, and still exaggerates its progress in order to gain investors' dollars, but in reality it will take years and might never reach commercial production.
After UNXL's latest operational update, the stock rallied and is still relatively high compared to where it was trading in early June, at around $5. Investors were excited that UNXL said they are starting pilot production. But the term "pilot production" can be used broadly among cutting edge technology manufacturers.
Credible companies use the term "production" very sparingly. For example, Ambarella (NASDAQ:AMBA) produces video encoder chips, and will only use the word "production" when they have first made a sizeable shipment of the new model to customers.
From the operational update conference call, Uni-Pixel's CEO said:
Resolving the yield issues will involve understanding how the process equipment and process vary over longer periods of time such as weeks and months.
This statement means Uni-Pixel has no clue how to resolve the yield issues because he didn't give a specific amount of time. These weeks and months of study could easily turn into quarters or years. Uni-Pixel might never come up with a product suitable to be sold commercially.
Uni-Pixel can freely use the term "pilot production" at any stage of the lab testing. If the product isn't ready to be sold to customers, then it's a meaningless buzz word in order to get investors excited.
Look at how long it took Atmel to sell its XSense metal mesh sensor. It took two years to finally start selling it even after acquiring the "successful" technology. From this article:
"In December 2010 Carclo licensed CIT's technology exclusively to American semiconductor firm Atmel on a 10-year deal worth $10m, and now the labours of that partnership look set to bear fruit."
From then, Atmel didn't ship until late 2012 (into an Asus tablet). It didn't get a meaningful win until late 2013 with HP. And even now its Xsense sales are minimal.
As Uni-Pixel has less touch-sensor experience and resources than Atmel, it will have a harder time than even Atmel has had.
Uni-Pixel Is Far Behind The Competition
As I explained in my last article on UNXL, Atmel (NASDAQ:ATML), a multi-billion dollar US company that creates capacitive touch sensors, failed to reach even the minimal sales targets of XSense, its metal mesh touch sensor. Its XSense yields are speculated to be 40%, which means only 40% of its produced batch are sellable. XSense uses a traditional etching to create the metal mesh pattern, and even THEN it has yield problems. Uni-Pixel's InTouch is a new, unproven approach, so imagine what kinds of yield problems it has and will have.
O-Film, a touch sensor manufacturer from China, is the third largest touch-module creator in the world. O-Film is described on page 79 of this extensive report from Intel on the capacitive touch technology industry. O-film has been able to create metal lines of less than 2 um (microns) of width. Compare that to UNXL's 6um line width. Why would touch screen manufacturers go with UNXL's wider and more visible metal lines, when they can go with O-Film's? O-Film has been in the touch sensor game since 2001, while UNXL has been in it since 2012. UNXL needs another 5-10 years to learn how to make a competitive metal mesh touch sensor. But I think even after that long it's unlikely that UNXL will be able to compete. It is already too far behind.
Uni-Pixel's Recent History
UNXL has been through this rodeo before. In 2013, UNXL's share price blasted off on hype, but came crashing down hard. Here is a recent history review.
12/7/12: Announced preferred pricing and capacity license agreement with major PC maker (Dell) for UniBoss
4/8/13: Signed preferred price and capacity license with major ecosystem partner (Intel) for UniBoss
4/16/13: Kodak to manufacture and supply UniBoss touch sensors for Uni-Pixel
4/18/13: Announced pricing of $38.2m public offering of common stock
8/13/13: On 2Q13 earnings call CEO says "we're on track to meet production-level revenue in Q4... For us, the drop-dead date to shift product would be in October 1" to put products on the shelf for the holidays.
11/7/13: On 3Q13 earnings call CEO says "[w]e expect to ship an initial commercial run of InTouch Sensors in the fourth quarter of 2013."
11/22/13: SEC started investigation of Uni-Pixel's agreements
12/30/13: CEO Reed Killion was fired
12/31/13: COO Seong Shin resigned
1/7/14: Announced start of manufacturing ramp for InTouch Sensors has been delayed to 2H14
2/28/14: On 4Q13 earnings call company says "we experienced a number of setbacks in 2013, including management transitions and a delayed start to roll-to-roll manufacturing of our touch sensors." "[T]he scaling from our laboratory-based volumes, the fully automated roll-to-roll production of touch sensor films has proven to take longer than the company initially planned."
Stock Grants Galore For Insiders
And even with the abject failure, Uni-Pixel executives have become rich men through stock grants and immediately selling. Stocks like Uni-Pixel exist because there are investors out there happy to pay executives millions of dollars just to have a sense of hope. Even if the executives in reality doubt that their product will reach the market, all they have to do is project confidence, much like a motivational speaker or get rich quick scheme, in order to make their millions.
The following stock grants add up to $8.27M:

Click to enlarge
The following insider sales add up to $7.5M: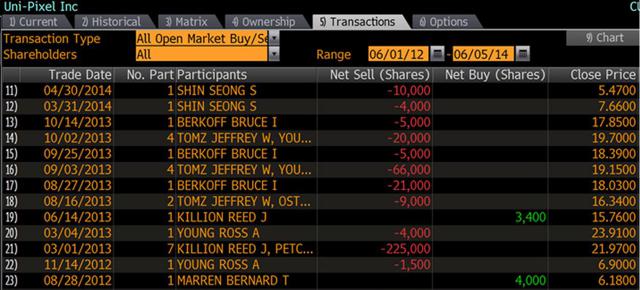 Click to enlarge
Uni-Pixel's Similarities To Gevo
The similarities are strong between UNXL and Gevo (NASDAQ:GEVO), a stock I've written about. In fact, investors who like UNXL should take a look at GEVO for a possible investment, if they get enjoyment from this kind of stock. It's near an all-time low right now. It's the same idea as UNXL: executives getting huge salaries and stock grants while spinning their wheels and going nowhere and doing and saying things to keep investors' hope alive. Gevo has spent over three years trying to create Isobutanol from an ethanol plant, and to this day the company is still in the learning stage. Like UNXL, they also made lots of empty promises and projections. They told investors they'd be able to commercially sell Isobutanol within the first year. If you invested in GEVO three years ago at $20 and held on, you would be down over 95% today.
Conclusion
There will always be investments like UNXL out there, because there are many gullible retail investors out there who love a good story. It is what it is. But this article was written to educate the many new UNXL investors out there who don't know what they're getting into. If you find it fun to invest in stocks like this, then that's your prerogative, but don't be surprised when the company doesn't make the progress that you hoped it would, and the stock falls as a result.
Disclosure: The author is short UNXL. The author wrote this article themselves, and it expresses their own opinions. The author is not receiving compensation for it (other than from Seeking Alpha). The author has no business relationship with any company whose stock is mentioned in this article.
Editor's Note: This article covers one or more stocks trading at less than $1 per share and/or with less than a $100 million market cap. Please be aware of the risks associated with these stocks.