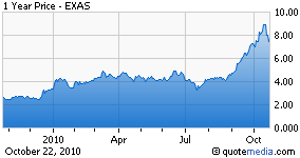 With shares of EXACT Sciences (NASDAQ:EXAS) pulling back from multi-year highs in the low $9s back to the low-mid $7s as I write this article, I am adding to my long stock position ahead of the validation study results to be presented next week. (Click here for my recent article on the merger of my site with BioRunUp.com, providing investors and traders with more resources to profit from FDA and clinical trial binary events.)
Next-Generation (V3), Stool DNA (sDNA) Based Colorectal Cancer ((NYSEMKT:CRC)) Diagnostic Test Kit
Pre-Clinical External Validation Studies (3) >> aiming to detect pre-cancerous adenomas (50% sensitivity target) and early-stage CRC (85% sensitivity target) to be widely adopted and commercially acceptable, already included in American Cancer Society screening guidelines with screening interval and role as potential mass screening test for CRC to be determined based on the pending validation study results and pivotal FDA study.
Specificity Study - to establish normal range with approx. 1,000 normal samples, conducted by EXAS
Training Set - to establish cut-off and sensitivity based on cancer and advanced adenoma samples with approx. 200 normal samples + 250 cancer / advanced adenoma samples, conducted by EXAS
Test Set - independent data used to validate cutoff and establish test performance with approx. 100 cancer / advanced adenoma + 100 normal samples by external lab
On 7/28/10, EXAS reported preliminary results which demonstrated that a combination of DNA methylation markers detected 100%of colorectal cancers / pre-cancers at specificity cut-off of 100% and announced that it will report the results of three pre-clinical validation studies at AACR on 10/28/10 at 1pm ((NYSE:ET)) followed by a 4pm (ET) conference call. A pivotal FDA study is expected to start during 2-3Q11 to support a potential FDA filing in 2012.
Only 24% of an estimated 90 million individuals in the US are currently compliant with CRC screening recommendations, which results in an estimated 68 million people who are non-compliant. The early detection of CRC saves both lives and money by avoiding the high costs of dealing with late-stage disease through expensive anti-cancer drugs and/or palliative care. Late stage (III/IV) CRC accounts for 60% of diagnoses, but the five-year survival rates for Stage III CRC is 60% and just 11% for Stage IV disease. Compare those statistics to early stage disease, which includes a 90% five-year survival rate for Stage I CRC and 70% for Stage II.
In March 2009, EXAS conducted a management overhaul (with the share price increasing from $1 to $8 in the interim) that included Mr. Conroy and CFO Maneesh Arora, following their successful tenure at Third Wave Technologies, which was sold to Hologic (NASDAQ:HOLX) in 2008 for $582 million following the successful clinical development and FDA clearance of screening tests for cervical cancer
In August 2009, EXAS announced the appointment of Graham P. Lidgard, Ph.D., as Chief Scientific Officer, who has over three decades of clinical / molecular diagnostics experience and a successful track record at Gen-Probe (NASDAQ:GPRO). Other key collaborations include the Mayo Clinic (Dr. David Ahlquist), Johns Hopkins (Dr. Bert Vogelstein), Genzyme (GENZ), Case Western Reserve (Dr. Sandy Markowitz).
EXAS enjoys a strong patent estate for CRC screening, including the following:
platform technology: exclusive licenses to digital PCR and BEAMing technology (both stool + peripheral blood detection) from Johns Hopkins University (JHU) for the detection of CRC;
content: APC (adenomatous polyposis coli)and p53 (these are two common genetic mutations associated with CRC) licensed from GENZ with diagnostic testing kit rights + exclusive licenses to key tumor biomarkers such as Vimentin gene;
methods: broad IP for stool sample processing.
In August 2008, research was published in which a total of 25 sDNA samples from CRC patients were analyzed and a next generation sDNA technology (V3) correctly identified 23 (92%) of the cancers. In the 16 of 25 cases where there were paired stool and plasma DNA samples, the sDNA technology detected mutated DNA in stool in 14 cases (88%) while only 8 (50%) corresponding plasma DNA samples had detectable levels of mutated DNA.
Financial model for EXAS / colorectal cancer (CRC) screening market in US:
Approx. 40 million (M) shares of common stock outstanding, 47M on fully diluted basis, $37.3M in cash / equivalents as of 6/30/10, no debt and $150M shelf registration effective
Estimated 100M Americans over age of 50 in 2013, which is potentially first year of commercialization in US for EXAS test for CRC screening
With a five-year screening interval (20M people over age 50 per year), 10% market adoption rate (2M of the 20M people in US over age 50 using the sDNA CRS screening test), and $300 price per test estimate => yields projected market opportunity in US alone of $600M
Assume the $600M revenue and 10% market adoption rate achieved in Year-5 of US commercialization (2017 estimate) with 65% gross profits ($390M), operating expenses (admin / sales / marketing / research) (SG&A, R&D) of $40M (one-half comprised of R&D), and 60M shares on fully diluted basis in five years
>> Gross profits ($390M) minus Operating Expenses ($40M) minus 35% tax rate
=> approx. $228M net income / 60M shares outstanding = nearly $4 per share in earnings power ($3.79) * 20 price / earnings multiple
=> $76 per share discounted back four years @30% to account for risk of validation study results, pending FDA pivotal study
=> yields 12-18 month price target estimate of $18 per share.
Disclosure: Author long EXAS