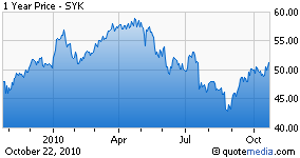 Stryker (NYSE:SYK) is a medical device company, focused on the orthopedic market (knees and hips implants amongst others). SYK made it to my idea pipeline as part of my first source of ideas to analyze: 5-star wide moat companies according to Morningstar. The stock is currently trading between $48-$50.
Business Performance Risk (+) and Intrinsic Returns (+)
Metric

Status

FCF / Sales

Last twelve months ("LTM"): 21%, has been improving over the last 5 years from 12% to 20% last year. Before 2005, SYK's FCF/sales generation was between 10 and 13%

ROE

LTM: 18.4%, below the 5 year average of 20.9% and at the low end of historical performance over the last 10 years, between 18% and 29%

ROA

LTM: 13.0%, below the 5-year average of 14.7% but in line with ranges experienced over the last 10 years, between 9% and 15%

Revenue Growth

Except for 2009, revenue growth has been consistently between 10 and 15%+ year over year. Given a flat 2009, the 5-year average growth of SYK is 9.5%

Cash distribution to shareholders

SYK pays a low 1.2% yield on a payout of ~15%.

Over the last 5 years, SYK has bought back only 3% of its shares.
SYK seems to be a strong business with high FCF generation, and good ROE/ROA's. Grwoth has been consistent outside of 2009 with an average of 9% over the last 5 years. Looking at uses of cash I am a bit concerned that SYK's management has not been more aggressive in either paying a dividend or buying back shares versus its habit of adding cash to the balance sheet.
In terms of intrinsic returns, SYK's performance could break down as follows in the futures:
Dividend yield: 1.2%, using 15% of earnings

Growth: 7% (lower than historical performance and in line with LTM performance). At a ROE of 18%, this growth level would use 40% of earnings

Buybacks: at the current earnings yield of 5.9%, SYK could use the 45% of its earnings left to buy about 2.4% of its shares back

Total: 10% - 11% which is ok, not great
Balance Sheet Risk (+)
| | |
| --- | --- |
| Metric | Status |
| LT Debt/Equity | .15x |
| Current Ratio | 5.3x |
Almost no debt and very high current ratio; no Balance sheet risk.
Valuation Risk (=)
| | |
| --- | --- |
| Metric | Status |
| Cash Return | 8.7% |
| P/E | 17.0x, higher than the S&P at 13.7x and lower than SYK's 5 year average of 24.1x |
While the company does not appear to be overvalued from a cash return and P/E perspective, the current valuation levels probably do not leave an investor with a good margin of safety.
Conclusion
Stryker is a strong business whom I'd like to see redistribute a bit more cash. It currently trades at valuation levels which probably do not create a margin of safety. I will for now not perform a company analysis but will be re-considering my position if the stock was to go to $45.
Disclosure: No position