Ares Capital (NASDAQ:ARCC) announced an equity offering of 13.5 million shares to raise approximately $230 million in additional growth capital. As discussed in my recent "Portfolio Growth Potential" article, ARCC had enough capital to grow its portfolio by another 10% as of March 31, 2014 but used a portion of that in the most recent quarter and disclosed "as of June 30, 2014, we had an investment backlog and pipeline of approximately $755 million and $730 million, respectively. Investment backlog includes transactions approved by our investment adviser's investment committee and/or for which a formal mandate, letter of intent or a signed commitment has been issued, and therefore we believe are likely to close."
BDCs have been climbing higher over the last 10 weeks and currently ARCC is trading at a 6% premium to its net asset value ("NAV") per share. The recent SEC documents filed by the company also disclosed some preliminary results for the quarter ended June 30, 2014 including the following:
EPS of $0.44 to $0.53
Core EPS of $0.34 to $0.35
Increased NAV of $16.49 to $16.57
$250 million in portfolio growth - 3.2% of FMV
Increased focus on safer first lien loans
Increased amounts of floating rate investments
Reduced the amount of loans on non-accrual
All of those are good news and the only thing that concerns me is the Core EPS of $0.34 to $0.35. This is lower than previous quarters but could due to many things including less non-recurring income or higher onetime expenses. ARCC calculates its Core EPS (a non-GAAP measure) as the "increase in stockholders' equity resulting from operations less realized and unrealized gains and losses, any incentive fees attributable to such realized and unrealized gains and losses and any income taxes related to such realized gains." This is similar to my core net investment income ("NII") except that I do not include excise taxes paid. BDCs are required to distribute 98% of income and capital gains to avoid paying a 4% excise tax.
Some of the other interesting information that was included in the recent offering documents was regarding new and exited investments during the quarter ended June 30, 2014.
New Investments:
$1 billion
51% first lien senior secured loans
28% second lien senior secured loans
20% SSLP (co-investments with GE)
96% floating rates
9.2% weighted average yield
Exited Investments:
$767 million
58% first lien senior secured loans
28% second lien senior secured loans
7% SSLP (co-investments with GE)
83% floating rates
8.5% weighted average yield
13% were on non-accrual
$48 million in net realized losses recognized
As discussed in my "ARCC Articles" the company has recently seen its portfolio yield decline from 11.1% to 10.2% but these declines are leveling off and lower than the average BDC closer to 11.5%. The declines in yield are due to the company's continued focus on higher quality investments as well as general trends in the industry. The charts below show the portfolio mix and yield. As of March 31, 2014 ARCC had 45% of its investments in first lien positions compared to new commitments at 51% indicating a continued improvement in portfolio quality.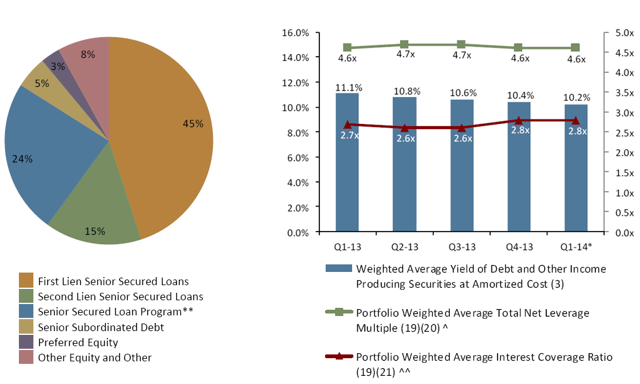 Click to enlarge
Yield compression has reduced the amount of income that BDCs earn from investments and this will be important to watch in the coming quarters. I believe ARCC's dividend is sustainable as discussed in "BDC Dividend Coverage Part 1". The company will report earnings for the quarter ended June 30, 2014 on August 5, 2014 and I will be looking for continued signs of adequate dividend coverage. Investors should only use this information as a starting point for due diligence and please see my frequently updated "Index to BDC Articles" for more information.
Disclosure: The author is long ARCC. The author wrote this article themselves, and it expresses their own opinions. The author is not receiving compensation for it (other than from Seeking Alpha). The author has no business relationship with any company whose stock is mentioned in this article.