Today, some US investors point to a high level of bearishness amongst individuals as a reason to be bullish on stocks. But how bearish can households be when 45% of them own equities? That's not far off of the all-time peak, according to Investment Company Institute. Below we show an indicator that displays the continued adoration of US shares by "professionals." Before the bear market is over, individuals' and professionals' portfolios will instead likely resemble those of the Japanese who substantially underweight stocks.
The May 2001 Elliott Wave Financial Forecast cited a subscriber who noted that only 10% of Japanese households owned shares of stock. He asked, "Can things get any worse?" EWI wrote that despite this individual disdain for equities, the Nikkei's bear market was ongoing. But with such low individual ownership, who was left to sell? Japanese institutions were. Institutions are notoriously slow to catch on to trends, and in fact, Japanese pension funds went from a 55% equity allocation in 1998 to a 36% allocation today. (EWFF's 2001 forecast was for the Nikkei to fall at least another 50% towards 6850 - it broke 7000 in October 2008.)
An interesting Citigroup report titled, "The End of a Cult," describes why US investors are going to favor bonds, and why stocks should provide "uninspiring, but not disastrous" returns. We disagree with their stock market outlook but do see a compelling story in two of their charts.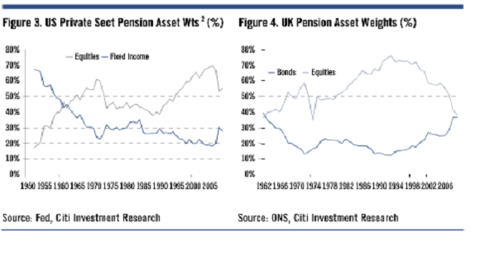 (Click to enlarge)
The first shows the last 60 years worth of pension funds' asset allocations in the US and UK. In short, these guys buy tops and sell bottoms. You'll notice that in the early 1950s US pensions held more than three times as many bonds as stocks. Also, despite a major equity peak in 1966, pension funds continued to add to their stock positions until 1972. Then, despite major equity bottoms in 1974 and 1982, pensions continued to shed stocks until the late 1980s. Lastly, despite a major equity top in 2000 pensions continued to add equities to the point where they outnumbered bonds by 3.5-to-1.
Notice how UK funds went from an extreme equity overweight to equal weight? Now realize that there's nothing to prevent the same from happening here. The second chart shows a snapshot of various countries' pension fund allocations. Do you see the extreme overweight in bonds that Japanese pensions hold, in addition to the overweight in the Netherlands and Switzerland?
These examples of pensions maintaining an overweight position in bonds despite the fact that global yields are miniscule means that bonds could become a favored asset class here too. The takeaway from these charts is that US pensions have overweighted bonds in the past, and it's conceivable that they could do so again.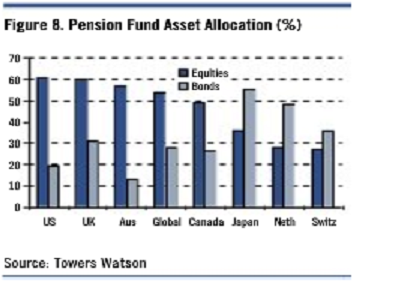 We'd go so far as to say that it's highly likely that both individuals and professionals will eventually shed equity exposure in favor of more stable, income producing assets like bonds and cash. By the time the equity bear market is over, we should see Japanese like equity ownership statistics in the US. Once we get there, here at EWI we will undoubtedly go against the grain, again, and become a lone bullish voice for equities. Just not today.
Disclosure: No positions