At 7am this morning, Bank of America (NYSE:BAC) handily beat earnings estimates. Analysts were projecting $21.62 billion in revenue with $0.29 in earnings per share. BAC reported $21.96 billion in revenue resulting in $0.41 per share in earnings, beating estimates by $0.12 a share and revenue by $340 million. Compared to the same quarter last year, revenue declined 4%, but the company became more profitable as eps was $0.32 in that same period.
Worth mentioning is that litigation expenses temporarily held down results and after-tax eps was reduced by $4 billion or $0.22 per share. Therefore, actually eps for the quarter was $0.19 per share.

Click to enlarge Source: BAC Earnings Release
Key Takeaways
The company announced that it reached a settlement with AIG for $650 million to resolve residential mortgage-backed securities claims. This announcement marks the end of all outstanding RMBS litigation with AIG.
Capital and liquidity levels increased over the quarter and will allow the company to begin returning more money to shareholders after the debacle with miscalculations in March.
Long-term debt declined $5 billion from the same quarter last year.
Tangible book value per share increased to $14.24 from $13.32 in Q2 of 2013. Book value per share rose from $20.18 to $21.16 y/y.
During the quarter, approximately 14 million shares were repurchased reducing total shares outstanding to 10.52 billion from 10.74 billion a year ago.
Quarterly New BAC costs savings of $2 billion is now expected to be achieved by Q4 of 2014.
Segment Highlights
Consumer and Business Banking performed well over the quarter. Average deposit balances increased $21.3 billion or 4% y/y and although total revenue decreased, provisions for credit losses fell precipitously and expenses also declined which improved net income 29% y/y. This resulted in the average return on allocated capital increased from 18.6% to 24.3%.
Consumer Real Estate continues to be a drag on operating results, losing $2 billion in the quarter. Net revenue declined $725 million from Q2 of 2013 to $1.4 billion as a result of fewer loan originations and lower servicing income. The reason for the tremendous loss in this quarter was due to a temporary increase in litigation expense of $3.6 billion. BAC is facing the same headwinds in this segment as all other banks, so this result should not be too worrying. As interest rates rise, net interest margins will expand, which will result in higher profitability.
Global Wealth and Investment Management saw a slight reduction in net income y/y. Expenses increased and the modest revenue expansion was not enough to offset it. The heightened expenses were as a result of additional investments in technology to support the business as well as higher incentive compensation. On a positive note, the segment saw client balances rise 11% y/y.
Global Banking improved modestly with net income rising slightly from $1.3 billion in Q2 of 2013 to $1.4 billion in Q2 of 2014.
Global Markets was another bright spot in the quarter. Net income increased 14% y/y to $1.1 billion as a result of sales and trading revenue increasing.
Credit Quality Improving
Credit quality continued to improve greatly in the second quarter of 2014. Provisions for credit losses and net charge-offs shrunk which decreased the net charge-off ratio to .48%, which is the lowest level it has been in a decade.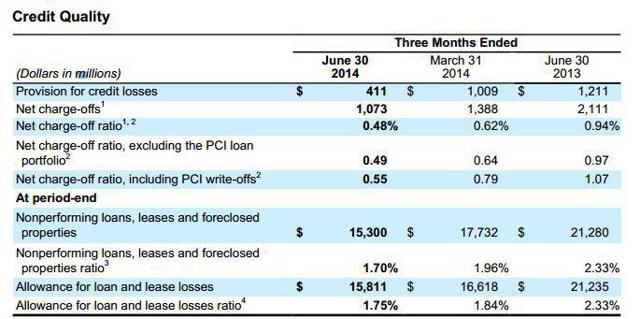 Click to enlarge
Source: BAC Earnings Release
Concluding Remarks
Bank of America reported an excellent quarter overall. It has been slashing expenses, growing its asset base and liquidity, and hasn't seen net charge-offs this low in a decade. Even with the real estate segment being a headwind, which is the case for the entire industry, BAC was still able to perform well. As interest rates rise in the coming quarters, this segment will improve along with it, as net interest margin will expand. The lean, "New BAC" is certainly here and buying it at a significant discount to book value is a prudent investment.
Disclosure: The author is long BAC. The author wrote this article themselves, and it expresses their own opinions. The author is not receiving compensation for it (other than from Seeking Alpha). The author has no business relationship with any company whose stock is mentioned in this article.