One of the early themes early in this quarterly earnings period is how solid earnings from the financial sector are coming in. Firms like Goldman Sachs (NYSE:GS) and Blackrock (NYSE:BLK) have reported earnings that have beat top and bottom line estimates and seen their stocks shoot higher.
All the major banks seem to be besting the consensus as well. Yesterday, both Citigroup (NYSE:C) and JP Morgan (NYSE:JPM) easily bested estimates and saw their shares rise nicely even in a down market on Tuesday. Wells Fargo (NYSE:WFC) also reported very solid results last Friday.
That leaves Bank of America (NYSE:BAC) among major banks to report. It did so this morning. The report was mixed but does show that the bank is starting to get back on track despite the headline litigation & regulatory costs in the quarter.
Revenue came in at just under $22B for the quarter, more than $400 million above the consensus.
Earnings also came in better than expected once litigation expenses are taken out.
Tangible book value per share of $14.24 rose from $13.81 quarter-over-quarter, and from $13.32 a share one year ago.
Mobile banking continues to show good growth and 10% of deposits come via online. Correspondingly the number of banking centers the company runs dropped over 1% for the quarter as the company continues to cut operational costs. Noninterest expense of $14.6B declined 6% Y/Y excluding litigation expenses.
The bank showed a surprise rise in its fixed income, currencies and commodities trading revenue, bucking a trend reported by rivals in recent days. Overall trading revenue was up 5% year-over-year to $2.4B. Citigroup, JP Morgan and Goldman Sachs saw their trading revenue slump 8% to 15 year-over-year in their reports.
Earnings Challenges:
There are three current challenges the bank faces right now, all of which should improve in the second half of the year.
Litigation expenses continue to be a major headwind and this quarter contain some $4B in litigation costs. I would look for Bank of America to settle their remaining mortgage litigation with the government in this quarter, much like Citigroup did last week. This will remove a major overhang on the stock.
Net interest income of $10.226B fell 5% Y/Y in the latest quarter mainly due to falling interest rates. With the economy accelerating in the second half of the year and the Federal Reserve done with their easing programs in October, interest rates should be heading higher in the back half of 2014. This will turn net interest income from a headwind to a tailwind.
Finally, mortgage originations fell almost 60% year-over-year. Now that the horrid winter is behind the country, mortgage interest rates remain historically very low and job growth is starting to pick up; I would expect the housing market to pick up again. This should benefit the bank over the next few quarters.
Summary:
The shares are down around two percent in early trading today mainly due to continuing litigation expenses. The stock has underperformed the S&P 500 by just over 10% in the first half of the year (See Chart).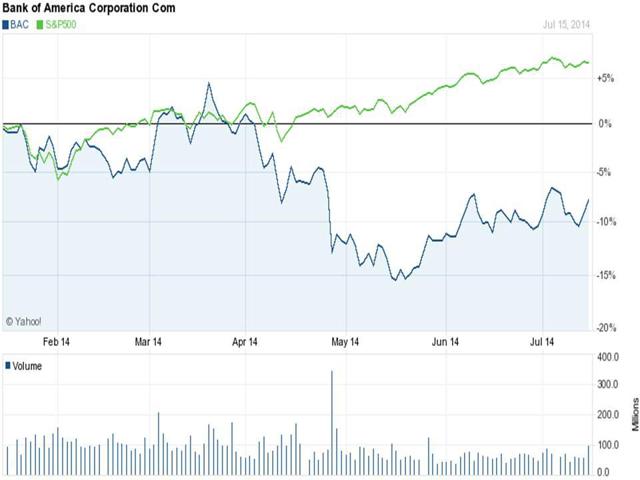 However, the bank should have a much stronger second half of the year for the reasons noted above. It is projected to have the steepest earnings growth of any major bank in FY2015. The stock sells for less than intangible book value, about 10% above tangible book value and the shares go for around 10 times next time's projected earnings per share. For patient investors this bank stock is offering a solid long term entry point. ACCUMULATE
Disclosure: The author is long BAC, JPM, C, GS. The author wrote this article themselves, and it expresses their own opinions. The author is not receiving compensation for it (other than from Seeking Alpha). The author has no business relationship with any company whose stock is mentioned in this article.