Look for Janet Yellen to take a bit of heat today for her comments yesterday and the market action which followed. The financial media will surely discuss this, but we would not be surprised if politicians have something to say as she returns to Capitol Hill today for further testimony.
There was a lot of tech news that came out in the last 24 hours and as such we are seeing some big moves in tech names this morning. The landscape is changing in the fast moving tech industry and as an investor we appreciate the big names continuing to make moves to remain relevant. One should not be surprised that those companies which are making the moves are benefiting while those who are sitting idle have seen their businesses stagnate.
Chart of the Day:
This five-day chart shows just how quickly the market reacted to the Fed Chair's comments yesterday. We are seeing a bounce-back early in Twitter (NYSE:TWTR), but not for Celgene (NASDAQ:CELG) - something we find surprising.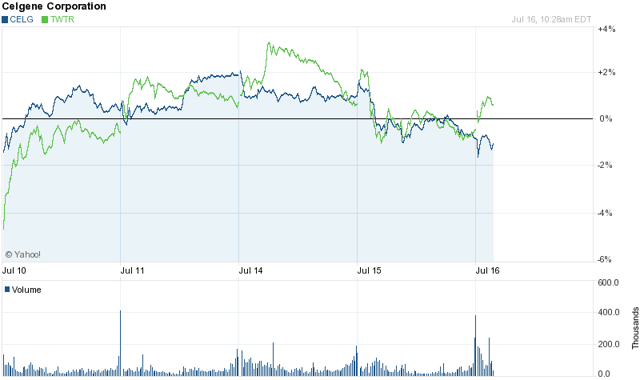 Source: Yahoo Finance
We have economic news today, and it is as follows:
MBA Mortgage Index (7:00 a.m. EST): Est: N/A Act: -3.6%
PPI (8:30 a.m. EST): Est: 0.2% Act: 0.4%
Core PPI (8:30 a.m. EST): Est: 0.2% Act: 0.2%
Net L-T TIC Flows (9:00 a.m. EST): Est: N/A Act: $19.4 B
Industrial Production (9:15 a.m. EST): Est: 0.4% Act: 0.2%
Capacity Utilization (9:15 a.m. EST): Est: 79.2% Act: 79.1%
NAHB Housing Mrkt Ind (10:00 a.m. EST): Est: 50 Act: 52
Crude Inventories (10:30 a.m. EST): Est: N/A
Fed's Beige Book (2:00 p.m. EST): Est: N/A
The Asian markets are mixed today:
All Ordinaries -- up 0.14%
Shanghai Composite -- down 0.15%
Nikkei 225 -- down 0.10%
NZSE 50 -- down 0.02%
Seoul Composite -- up 0.04%
In Europe, the markets are higher this morning:
CAC 40 -- up 1.39%
DAX -- up 1.38%
FTSE 100 -- up 1.07%
OSE -- up 1.29%
Yellen On Valuations
When Fed Chairmen, and that is what Janet Yellen has said she wants to be called, speak the market listens; every word is analyzed and put beneath a microscope as the Fed has the power to move markets. In the past, those who have led the Federal Reserve have generally refrained from speaking out about certain sectors of the market and have instead looked at general asset classes, which is why we were a bit surprised by Chairman Yellen's comments about valuations in the smaller social media and biotech names.
The market heard her comments during the Senate testimony and subsequently began selling those entire industries. So while we were surprised that a Fed Chairman would make comments focused on such a small area of the market, we were not surprised by the sell-off which followed. The fact that investors also took down big names such as Celgene within the biotech sector and both Facebook (NASDAQ:FB) and Twitter in the social media space was also no surprise, as the larger companies suffered collateral damage caused by the various mutual funds and ETFs based off of the entire sectors that intertwine all of these names.
Many of the talking heads were upset that the Federal Reserve, with many of its members having no experience actually working in markets as traders, analysts or fund managers, would begin making such comments which single out small areas of the market. One could look at the fear created by those comments yesterday and say that the comments did far more harm than good because solid names such as Celgene in the biotech sector were pulled down. Depending on which research reports you read and your risk profile, there are many people out there who think that the top-tier biotech names have more attractive valuations than their "Big Pharma" counterparts.
The same story holds true in the social media space. Everyone in the market knows that there is a bubble in the area, but for the most part a lot of the over speculation is taking place in the private market with venture capitalists. Yes, both Facebook and Twitter have rich valuations, but the thinking is that both companies are on track to create an advertising network to rival those of other large tech companies which have normal valuations. Investors pay up for the promise of growth, and as these companies seek to buy up smaller names to fill out their product offerings they pay top dollar. So while we think that based off of today's numbers that social media names are expensive, looking at forward projections simply highlights the fact that we cannot say the same thing moving forward.
With a history of growth industries growing into their valuations, we find it odd that Yellen would single out biotech and social media. We get the thinking behind the move, but we also wonder whether the Federal Reserve is spreading itself too thin as it looks for the next bubble. The question also arises as to how responsible it is to single out subsectors or certain companies within larger sectors that are going to drag down other stocks on sell-offs caused by comments from the Fed. The world of ETFs, both long and short funds, intertwine both large and small names together and as high speed trading firms adjust to news, more often than not you see the baby thrown out with the bath water.
The selling was not nearly as bad as it could have been yesterday, but we are making such a big deal about this today because it appears to be a change in policy, and not necessarily for the better.
Enterprise Alliance Announced
After the market closed yesterday Apple (NASDAQ:AAPL) and IBM (NYSE:IBM) announced that they were teaming up to launch a suite of apps that will enable IBM to offer their services through Apple's hardware and open the door for Apple to make further progress in selling to corporate IT departments.
Apple shares are hitting fresh highs after the IBM enterprise alliance announcement.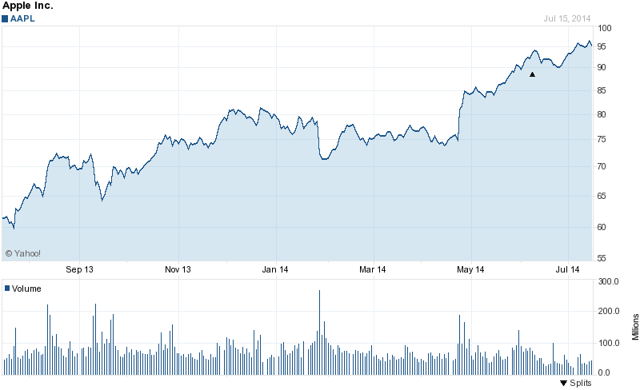 Source: Yahoo Finance
The move should be a boost for both companies, as the tie-up enables each to leverage their current offerings through the new apps to be released. IBM is trying to keep relevant versus its new competitors who have sprung up with the big move towards the cloud, while Apple continues to show steady growth in the corporate segment as their devices are adopted for more corporate uses. At first glance, and assuming that both companies are in this for the long run, we could see this being a home run for all parties involved. A new sales channel for Apple with a respected name that has a large portfolio of Fortune 500 clients, and a new platform for IBM to better compete with its more nimble competitors already offering services such as these.
Disclosure: The author has no positions in any stocks mentioned, and no plans to initiate any positions within the next 72 hours. The author wrote this article themselves, and it expresses their own opinions. The author is not receiving compensation for it (other than from Seeking Alpha). The author has no business relationship with any company whose stock is mentioned in this article. AAPL has previously been recommended.