Introduction
Even though my Halliburton (NYSE: HAL) calls have been successful, I've not done a good job of writing them fast enough or getting them seen by readers. Had I finished this one just two days sooner, it would've (again) been the first opinion with the highest price target by far. As detailed below, my prior target was reached, as have most of my targets that were the highest when offered.
However, just as I was finishing it up late last week, Goldman Sachs raised their HAL price target by $15. I mention that not because I think I'm in the same league with the venerable Goldman Sachs, but to make clear that my target decision and timing is unrelated to the GS target increase.
Similarly, my first official HAL call was in an October 2013 article with cursory opinions on several stocks, which got lost in the shuffle. It included:
"As I opined in a July 2012 comment about the Macondo accident, 'bits of news in Halliburton's favor will begin to trickle out, they probably get a relatively small slap-on-the-wrist fine just to relieve some of the political pressure, then target prices are realized.'"
That was exactly the outcome, as summarized in a July 2013 comment:
"The specific charge and fine are extremely important to understanding the level of culpability the Department of Justice considers Halliburton to have. In other words, BP -- tens of billions, Transocean -- hundreds of millions, Halliburton -- a couple hundred thousand. Speaks volumes."
I didn't know the outcome a year before it happened from a crystal ball. I just did my due diligence and read far beyond the shock-value headlines, including various reports [pdf] and statements from individuals present at the accident.
I mention that because the Macondo incident made HAL very undervalued and created opportunities to open a new position, whereas the subsequent dips are great chances to add to HAL holdings. In other words, my call is for building a long-term investing position over time, not for short-term trading.
Call Performance
Because no stock goes up in a straight line, it's deceiving to only evaluate call performance on the day a follow-up article like this one is posted. Therefore, in order to contextualize the to-date performance of my initial published call, I've also included peak performance from that call, as well as to-date performance from my unofficial call/buy. My October 14, 2013 initial published call was:
"My opinion is to consider HAL in the $45-46 range and I expect $60 by this time next year (32% return). Top it off with a modest 1% dividend, which I expect to grow, and you have potential for outstanding returns."
In an update article written during the first week of this year and published on January 9 (while HAL was trading around $48-49, which is its low for 2014); I increased my price target with the following:
"It has sold off from a recent $56.50 high, but HAL was well on its way to my initial $60 price target from October. I consider current weakness just another chance to buy so I'm raising my 9-12 month price target to $66.
The performance of my call has been:
[+41% to-date from published call / +45% peak / +142% from $29 call/buy]
At the time of my early-January update, the vast majority of firms had been reducing both their ratings and price targets for HAL. In fact, a number of the price targets sank to the low $50s (where HAL had already been for a month) and most firms didn't raise their ratings or price targets until after the April 21, 2014 Q1 earnings report (HAL had already reached the low $60s by that time).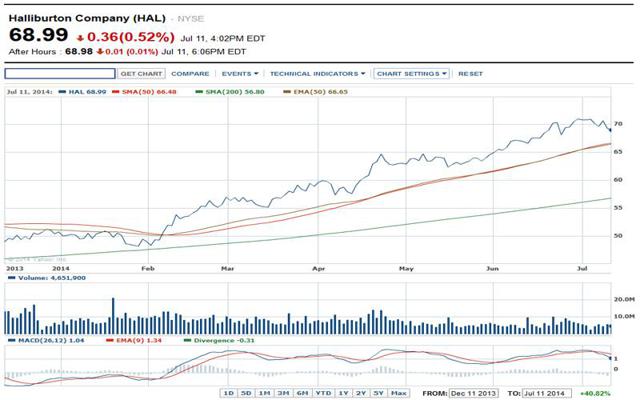 Source: Yahoo Finance
Call Update (Upside Potential, Time Frame & Downside Risk)
I'm again raising my 9-12 month price target for HAL. My new target is $85, which is 195% above the $29 price of my initial buy call, 74% above the $49 price at the time of my official calls, and 23% above the $69 current price. To be clear, I'm not suggesting that HAL shares will immediately rally to my 9-12 month price target following the next earnings report or other news event. As always, the timeline is just as important to the call as the price target.
My price target is based partially on the trailing and forward P/E ratios for HAL, both in absolute terms with current and historical valuations, as well as from a relative valuation perspective comparing HAL to competitors. Similarly, I also factored in the PEG ratio, both in absolute terms and relative to competitors. And, yet another basis for my price target is numerous Discounted Cash Flow calculations to estimate how HAL might fare in various earnings scenarios.
Discounted-Cash-Flow Valuations
As the chart below shows, HAL's earnings are expected to grow at an average rate of 21.85% over the next five years. Even though the next-year growth rate is projected at 29.10% and the growth rate for the past five years was 22.39%, I reduced the next-five 21.85% projected growth rate to only 20% in order to make my DCF calculations very conservative.
For the same reason, I applied the 20% reduced growth rate to only the next three years, rather than the projected and more typical five years. I also used a conservative 3% terminal growth rate and reduced the $5.15 next-year EPS projection to only $5.00. I also used a conservative 12% discount rate, instead of the far more forgiving and more common 10%. These calculations result in a share price of $88, and are one basis for my 9-12 month price target of $85.
Price-To-Earnings Ratio Valuations
I've calculated the P/E ratios using the EPS data shown in the chart below. The last four quarters of adjusted diluted EPS from HAL were $0.73, $0.83, $0.93 and $0.73 (total $3.22). With the current $69 share price, the trailing-twelve P/E for HAL is 21.43x (not the 22.08x shown on Yahoo Finance). The $5.15 next-year EPS projection for HAL makes the forward P/E 13.40x.
According to ten-year historical data from S&P Capital IQ, the past P/E range for HAL is 10-24x, with the most typical range being about 16-17x. Obviously, investors are most interested in future value and, more specifically, I'm most interested in value 9-12 months from now since that's my target timeline.
Applying a 16.50x forward P/E to the $5.15 next-year earnings projection for HAL results in a share price of $85 and that is one basis for my price target. If 2015FY estimates continue to trend upward and eventually surpass $5.50 over the next 9-12 months, as I believe they will, the forward P/E would only need to approach 15.50x in order for the share price to reach $85.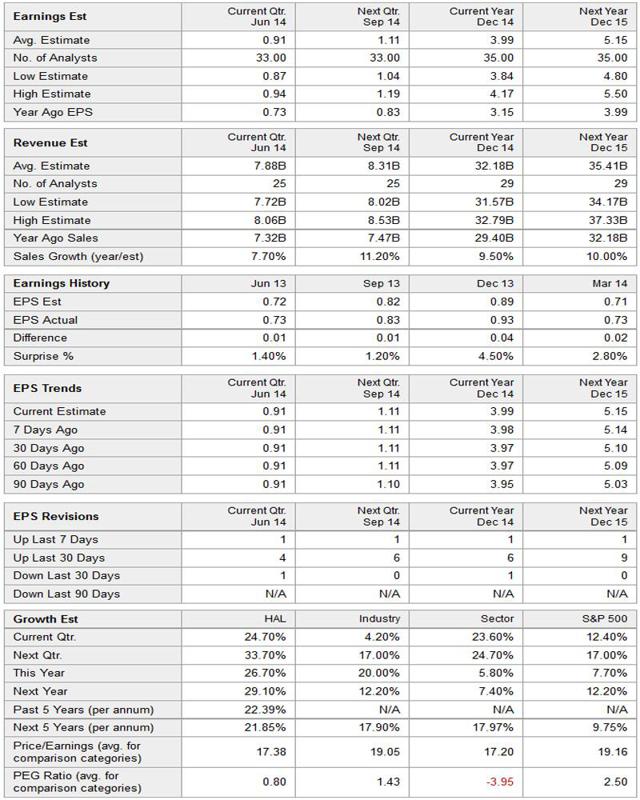 Source: Yahoo Finance
Peer Group P/E Relative Valuations
I'm actually not a big fan of relative valuation since I believe that there are far too many differences among companies for anything even remotely close to an apples-to-apples comparison. At the same time, I also understand that many investors value all companies based solely on relative valuations, which makes such valuations relevant since investors collectively set share prices.
Thus, while I never base my price targets solely on relative valuations, they do help confirm that a valuation is reasonable. The fact that my price target falls within the valuation ranges already granted to competitors is encouraging.
As the table below shows, HAL is currently valued more cheaply than all major competitors except WFT, which I do not really consider comparable to HAL, or any of the other major oilfield-services companies, for that matter.
Company

Market

Cap

Trailing

P/E

Forward

P/E

Dividend

Yield

Share

Price

Baker Hughes (NYSE:BHI)

$31.70B

24.48x

13.46x

0.90%

$72.70

Halliburton

$58.26B

21.43x

13.40x

0.90%

$68.99

Schlumberger (NYSE:SLB)

$149.36B

22.94x

16.84x

1.50%

$114.70

Weatherford (NYSE:WFT)

$16.91B

N/A

13.03x

N/A

$21.89
Source: data from Yahoo Finance, calculations by author
If HAL were to trade up to the 24.48x trailing P/E currently allotted to BHI, the HAL share price would be $78.83, and that's with trailing earnings significantly lower than current earnings. Similarly, if HAL traded up to the 16.84x forward P/E currently allotted to SLB, the HAL share price would be $86.73. I believe similar multiples are achievable for HAL, but I'm not necessarily arguing that they should apply on a sustainable basis. Again, my opinion is not only that the current multiples are too low, but also that 2015FY earnings will surpass $5.50. If that happens, the aforementioned multiples won't really need to be reached, as the earnings would drive the shares to $85 at lower multiples.
Price-To-Earnings Growth Valuations
The other valuation methods are also supported by the fact that the 0.98x PEG ratio for HAL is also the lowest in the peer group. WFT has been losing money (negative EPS is why there is no trailing-twelve P/E ratio in the above chart) and doesn't pay dividends, so only the PEG ratios for BHI and SLB are relevant to HAL. The PEG ratios for BHI and SLB are 1.39x and 1.30x, respectively.
I like the PEG ratio as a valuation metric since it's more forward looking than a trailing P/E ratio, but a drawback to both is that they disregard dividends. As a result, stocks with dividends typically have a higher PEG ratio than the general target of 1.00x or below. The higher dividend yield of SLB (plus other factors) explains why SLB is valued with a notably higher PEG ratio, but I contend that HAL should be valued at least comparably to BHI, if not better.
Downside Risk Estimation
It's always possible that HAL could drop back to, or below, its current 200-SMA of $57, but I think that's unlikely since the fundamentals have been so strong and improving over the past couple of years. In fact, HAL has not traded below its 200-SMA in almost two years.
Especially in absence of a market-wide correction that is more severe than the possible 10% I expect, or some other extreme event, I think HAL is unlikely to dip lower than about 5% above its 200-SMA. I don't plan to add to my position unless HAL dips to at least a $60-64 range, though I'm not predicting that will happen. Your situation, preferences and risk tolerance may vary.
Company Growth Drivers
In addition to the stock valuation factors just covered, there are actually many components of my HAL investment thesis that collectively lead me to believe the company has additional growth in its future. With that said, in attempt to keep the article from being even longer, I'll stick to the following three factors: [1] market-leading products and services, continual technology advances and focus on integrated services; [2] global expansion is following North America leadership with particularly good timing; [3] short-term weaknesses subsiding.
Some specific events that support each of the three factors seemed to best fit in the chronological Company Updates section below, so it's important to take all of the information offered throughout the article as part of a single thesis.
Also, before getting into HAL's extremely strong and growing market position, I must first set a foundation to address the inevitable question of what makes HAL better than BHI or SLB. I'm not a fan of oversimplifying everything into zero-sum, Highlander-type "there can be only one" false choices; so I simply don't subscribe to the thinking that only one company in any industry can be very successful and, thus, a great investment. The fact that HAL is a great investment does not mean that BHI or SLB are not.
For example, I consider why the customer lists are practically identical for all of the oil services "big three" (BHI, HAL and SLB). Perhaps it's because they don't all have exactly the same products, services or technologies, and each company has specific strengths that can be more or less important in any of many scenarios within a very complex industry. After all, the companies are not manufacturing clothes that are exactly the same except for a brand.
[1] Market-leading products/services, technologies and integrated services
In addition to the discovery of huge deposits like the Eagle Ford and Bakken shale formations, as well as a push for U.S. energy independence, the North American oil and gas boom is largely driven by process advancements such as fracking. As noted in the Company Overview section above, HAL is the pioneer of fracking and has always been an industry leader in technologies. Especially for mature traditional wells already past their peaks, unconventional wells that decline faster, and wells in deepwater or otherwise environmentally sensitive locales; continually improving technology is key to oil and gas development.
I contend that HAL's penchant for technological advancements will allow the company to gradually increase prices, margins and profitability over the long term as customers are able to do the same with the help of HAL technologies.
Similarly, I contend that HAL's move toward more integrated services offerings will perpetuate the trend toward gradually increasing profitability over the long term since consulting-oriented work offers particularly high margins.
I combined those two sub topics into one section because it's hard to separate services integration from technology since it occurs largely via technology. The bottom line is that, whether it's by turning over management of mature fields to HAL to get more out of them, or by taking a similar approach to developing new wells, customers like the increased integration that HAL is offering since it simplifies their workflow and increases their profits. Not only will that increase profits for HAL directly, but I believe it will lead to more industry consolidation since only the "big three" have the breadth to service entire projects.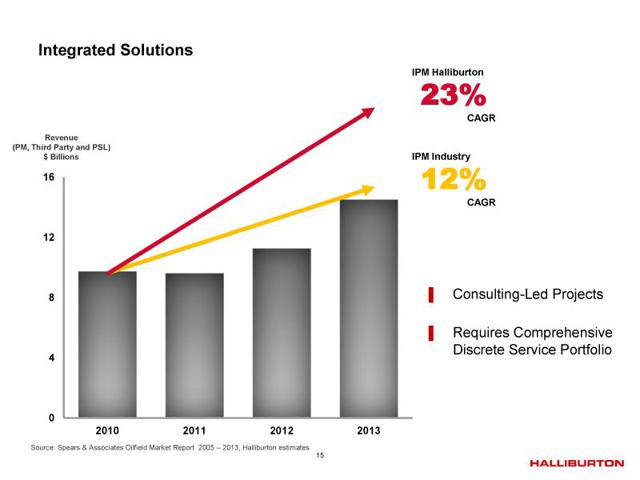 Source: company presentation
In 2013, HAL introduced [pdf] CYPHER Seismic-to-Stimulation service. The CYPHER service is a collaborative workflow that integrates various engineering disciplines to better predict and produce unconventional reserves. The service is supported by a breakthrough technology suite that uses an iterative process to incorporate deposit data from the past, present and future into a continually updated modeling environment. This allows customers to accurately identify the best well placement and stimulation designs, which leads to increased total production in less time and with fewer resources, thus increased profitability.
CYPHER is unique to the industry in that it is capable of updating dynamically and iteratively with the seismic and well data required to model the structure, rock and fluid properties. In June of 2014, HAL announced the release of the CYPHER 2.0 service. Jim Brown, HAL Western Hemisphere President, said:
"Since we released the CYPHER service in September 2013, we have seen tremendous customer interest and uptake. Projects on shale assets in several North American basins have delivered a 35 percent production increase on average. The CYPHER 2.0 service is a step-change improvement in our ability to deliver better wells for our customers at a lower cost per BOE [barrels of oil equivalent]."
The use of water for fracking is another area where HAL has made significant technological advancements and can offer customers more integrated services, lessening their need to rely on as many suppliers. I believe this will become an increasingly important competitive advantage as fresh water scarcity becomes more pronounced over the long term, and as increased global presence puts HAL on more projects in locales where water scarcity is an even bigger issue.
HAL pioneered the H2OForward water treatment service to use non-freshwater sources (including some forms of waste water) and recycle frac water for reuse in frac fluids and other production processes. With its CleanWave, UniStim and other custom-chemistry technologies, HAL reduces the overall amounts of water that well operators consume, thereby also reducing customer costs for water procurement and disposal.
Speaking of water, offshore drilling will clearly play a major role in the future of oil and gas production as new deposits are discovered in deepwater areas that were previously inaccessible, and new technologies make developing such resources feasible. One of those new technologies from HAL is the company's ESTMZ (Enhanced Single-Trip Multizone) completion system. Because wells with deposits on multiple layers usually require drilling each layer separately, the ESTMZ system has the potential to save as much as forty two days of rig time for a five-zone well completion. A five-zone well with a $1 million spread rate (total daily cost to drill the well) would result in up to $42 million savings to the operator on a single well. Obviously, this technology has tremendous implications for HAL customers, and for HAL. See a Chevron case study [pdf].
[2] Global expansion following North America leadership with good timing
According to the U.S. Energy Information Administration [EIA], U.S. crude oil production will have increased by nearly 60% between 2008 and the end of 2014, and the 2015 forecast represents the highest annual average level of oil production in the more than four decades since 1972.
HAL has the greatest exposure to North America of the "big three" and, as the company's financial performance has indicated over the past couple of years, that has worked out quite nicely. Clearly, North America has been a good place to be the oil services market leader in recent years.
At the same time, as noted in the Company Overview, HAL also has operations in eighty countries and has been active internationally for many decades. The table below shows that HAL has been shifting to an even more balanced mix between North America and the company's other three geographic regions. So far in 2014, the mix nudged back up to 53% of revenue from North America due to the three reasons shown on the slide below, but the trend remains.
Fiscal-Year Total Revenue From North America vs. All Other Regions

2011

2012

2013

2014 (YTD)

North America

58%

56%

52%

53%

All Other Regions

42%

44%

48%

47%
Source: data from company annual reports, compiled into table by author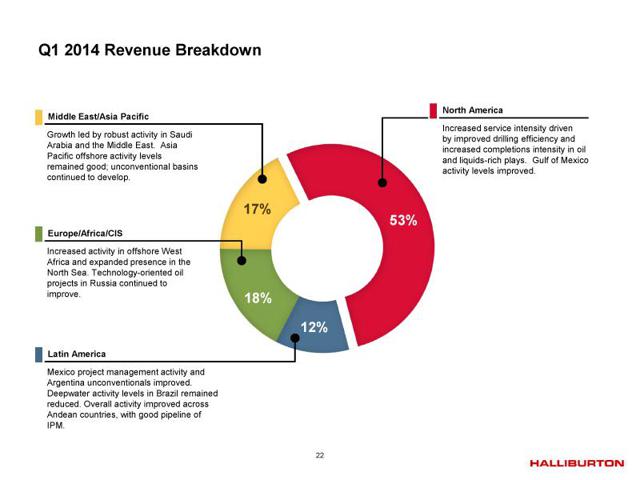 Source: company presentation
Having spent over $1 billion in the past three years to open fifty new facilities in thirty of the eighty nations in which the company operates, HAL is investing aggressively to build its global infrastructure and develop new opportunities. I think HAL is making this transition with perfect timing that will drive long-term growth for the company since it aligns with the global landscape.
Most of the rest of the world started recovering from the global economic crisis of 2009 even more slowly than North America, so it was actually beneficial to HAL not to have as much exposure to weaker markets. Perhaps because of the economic conditions, most other regions seem to be a few years behind North America regarding the shale boom. It also seems that many nations are just starting to make progress in accepting the need for outside expertise in order to optimize mature fields, as well as to develop unconventional deposits.
Most other markets throughout the world (including many developed nations) simply don't have a comparable combination of large unconventional deposits, the technological know-how to locate and develop the deposits they do have, and the infrastructure to handle the output once they develop deposits. Both optimizing mature fields and developing unconventional deposits present very significant technological and logistical challenges, which represent opportunity for HAL in the Middle East/Asia, Latin America, Europe/Africa/CIS regions.
For example, even though both Mexico and Brazil have been weak points for HAL in recent quarters, I don't believe that changes the long-term story and there are signs that both are improving already. As Mexico opens up its oil and gas industry to foreign investment for the first time in 76 years, it may to turn into the leader in the Latin America region. As Mexico and other Latin America nations adjust, Brazil will have to follow suit if it is ever going to smooth out its very bumpy road to becoming the sixth largest crude oil producer in the world (see recent encouraging news from Brazil in the Company Updates section).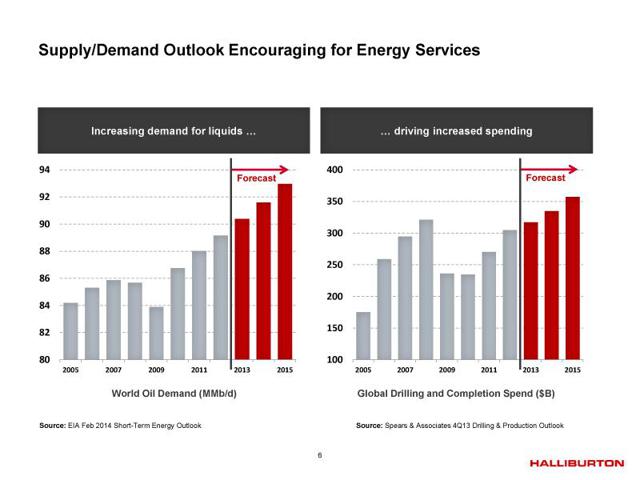 Source: company presentation
[3] Various short-term factors that led to undervaluation are each subsiding
As detailed in the earnings results comments in the Company Updates section, the extreme weather of this past winter in North America had a major impact on oil and gas activity throughout the industry. Especially as a Florida resident, it seems strange to talk about that in July, but the upcoming 2014 Q2 earnings report is actually the first one for a period that wasn't fully blanketed by winter months. As CEO David Lesar mentioned during the 2014 Q1 earnings call, HAL expects a strong rebound in the 2014 second half, not just the second quarter:
"While the first quarter margins were impacted by weather and logistical issues, this will dissipate and North American margins should rebound to second half 2013 levels in the second quarter and we continue to expect North America margins will approach 20% before the end of the year."
In the article introduction, I touched on the fact that concerns about the 2010 Macondo accident (a.k.a, Deepwater Horizon) wrongly caused HAL to become extremely undervalued for a period of time. Granted, this doesn't really apply to the types of investors who read SA, but there are many investors out there who don't read or fully understand information about the industries they don't work in and still fear investing in HAL because of Macondo. So, there is likely still some degree of overhang on the stock even at this point and that kind of thing only gradually becomes less of a drag on share prices with time.
There are other short-term factors that affected recent periods, such as excess fracking capacity in some areas, but the point is that each of these temporary headwinds have been getting resolved and transforming into tailwinds for HAL.
Company Updates
The following list of updates is not intended to be exhaustive. It is a collection of noteworthy events that directly relate to my thesis, and that I believe many investors will find helpful to have referenced in one place.
January 8: HAL opened a new Unconventional & Reservoir Productivity Technology Center in Saudi Arabia. I believe this venture will strengthen the relationship between HAL and Saudi Aramco, leading to future opportunities.
January 14: HAL announced [pdf] its plans for a new Integrated Completions Center in Louisiana. The new facility will expand HAL resources and capabilities for deepwater completion tools while improving service alignment, equipment maintenance, preparation and job execution for Gulf of Mexico customers.
January 20: Bloomberg reported that HAL may again be interested in acquiring England oilfield-services company Expro International Group, which HAL had previously bid to acquire in 2008. I could find no new developments on this.
January 21: HAL reported [pdf] 2013 Q4/FY earnings results, beating both the revenue and EPS consensus estimates. North America growth was modest due to disruptions from extreme winter weather, but strong international growth more than made up the difference. Even so, the shares sold off for two weeks, presenting the best buying opportunity this year. The selloff was likely due to market weakness combined with management comments about challenges the Latin America business faced. The conference call transcript is here.
February 3: HAL announced [pdf] the signing of a partnership agreement with Gubkin Russian State University of Oil & Gas to help develop unconventional resources in Russia, including the Bazhenov shale. HAL plans to provide senior technical and management staff to serve on Gubkin's Industry Advisory Board, as well as the foundation material for the university unconventional resources curriculum that will become the basis for student and industry training.
April 17: Petrotech Xinjiang Engineering, a subsidiary of SPT Energy Group, which is one of the leading non-state-owned oil field service providers in China, entered into a joint venture [JV] with HAL [pdf]. The JV will focus on hydraulic fracturing and production enhancement services in Xinjiang, China.
April 21: HAL reported [pdf] 2014 Q1 earnings results, again beating both the revenue and EPS consensus estimates. North America performance improved, but only modestly as the impact of extreme winter weather lingered. However, 2014 Q2 North America operations are expected to be robust due to pent-up demand from weather issues. As forecasted on the prior call, Latin America revenue dropped off significantly due to reduced activity in Brazil and Mexico, but margins improved and HAL expects full-year performance in the region to be in line with 2013 levels. The conference call transcript is here.
May 5: HAL won the Offshore Technology Conference Spotlight on Technology Award for its TDReam Tool.
May 21: HAL held its 2014 Annual Meeting of Shareholders.
May 21: Bloomberg reported that Petroleos de Venezuela, the state-owned oil company, signed a financing deal with HAL worth $600 million.
June 15: HAL presented at the World Petroleum Congress in Moscow, Russia.
June 30: Bloomberg reported that HAL is likely to participate when Petrobras (NYSE: PBR) reissues more than $2 billion of its drilling-service contracts "after a reduction in the company's rig fleet eroded supplier margins." During the earnings call in January, David Lesar, CEO of HAL, made comments that seemed to foreshadow some improvement in the company's Brazil situation:
"The entire services industry in Brazil is looking for relief to the over capitalization that has occurred there in anticipation of a much higher deepwater rig count. No relief has been forthcoming at this point. We have an excellent long-term contract position in Brazil and I still believe it will pay off in the long run, but for now the depreciation and personnel costs of our high capital investment is having a severe downward pressure on Brazil margins. However, we intend to stay the course with Petrobras to try to gain some relief over the next several quarters."
July 10: HAL Baroid drilling fluids and waste management service line received American Petroleum Institute [API] Specification Q2 Certification, which is an advanced industry certification standard for oil and nat gas service companies.
July 11: HAL announced additional details about the JV it entered into in April for hydraulic fracturing and production enhancement services in China. HAL has worked on conventional projects in China for over three decades and has worked with China's SPT Energy Group since 2004, but this new deal is HAL's first fracking JV in China. HAL will hold 49% and SPT will hold 51% of the new company called Xinjiang HDTD Oilfield Services Company Limited. The JV is focused on the Xinjiang province, which is among the most geographically complicated regions of China and is rich in tight oil and gas. This is especially significant considering two directly related factors. First, China's stated goal to double oil and gas production by 2030, primarily via unconventional sources (HAL excels in unconventionals). Second, there are plans for a new $30 billion pipeline through Xinjiang, which will be the most expensive oil pipeline in the world. David Zeng, HAL vice president for China commented about the JV:
"Over the next decade, there will be great opportunities from the parallel development of conventional and unconventional resources in China. SPT's strong client relationships combined with Halliburton's technical expertise positions Xinjiang HDTD to be the leading service provider as we develop westward."
July 21: HAL is expected to report 2014 Q2 earnings results before the market open and hold the corresponding conference call shortly thereafter.
August 13: HAL will present at the Annual Deepwater Intervention Forum.
Company Overview
Established in 1919 by Erle P. Halliburton in Oklahoma, the Halliburton Oil Well Cementing Company [HOWCO] is now called Halliburton - Fortune 500 global oilfield-services company that provides a wide range of products and services related to the exploration, development and production of oil and natural gas.
In the late 1920s and 1930s, Halliburton began its transition into a global firm and, in the 1940s, Halliburton expanded into Latin America and the Middle East; and also started providing services to the Arabian-American Oil Company (predecessor of Saudi Aramco, the largest oil company in the world). In 1949, the first commercial license for hydraulic fracturing was granted to HAL. In the 1950s, Halliburton expanded its operations to Italy, Germany, Argentina and England. In the 1980s, Halliburton was the first U.S. firm to perform oilfield service work in China and, in the 1990s, Halliburton opened offices in Russia.
While Halliburton is known for its leadership in North American operations, its divisions are organized in four geographic regions comprised of approximately eighty individual countries: North America, Latin America, Europe/Africa/CIS and Middle East/Asia. In 2007, Halliburton established a second headquarters in Dubai, United Arab Emirates to strengthen its Eastern Hemisphere presence and "provide new manufacturing capacity, move closer to key markets, and help reduce the costs of moving materials, products, tools and people."
In addition to wholly-owned segments that include the Halliburton name, some are widely known by distinct brands since they had strong industry recognition prior to being acquired by Halliburton. Those include: Baroid Industrial Drilling Products, Boots & Coots, Landmark Software, SensorTran and Sperry Drilling.
Halliburton also owns stakes in numerous joint ventures [JVs] throughout the world including: Arabian Rockbits & Drilling Tools [ARDT]; a JV with Trinidad Drilling (OTCPK:TDGCF), which SA contributor Jeff Williams wrote an article about; a Gazprom Neft (OTCQX:GZPFY) Technology Cooperation Agreement; and a SPT Energy Group JV announced in April [pdf]. I wasn't able to confirm whether HAL still owns a stake in Enventure Global Technologies, which it started as a JV with Royal Dutch Shell (NYSE:RDS.A), (NYSE:RDS.B).
Halliburton comprises thirteen product service lines [PSLs], which operate in two divisions: Drilling & Evaluation, and Completion & Production. Because the Consulting & Project Management PSL is the single spearhead of Halliburton's integrated-services strategy, it works across both operating divisions, though its financial results are included within the Drilling & Evaluation division.
For more details about Halliburton, see the company website.
Analyst Opinions
Two analysts now rate HAL a Strong Buy, nineteen rate it a Buy, seven rate it a Hold and zero rate it a Sell. The consensus rating is Buy and the consensus price target is $68.83. Here are the most recent analyst changes:
7/10/2014 Goldman Sachs raised Conviction Buy price target to $87
5/06/2014 FBR Capital Markets raised Outperform price target to $69
4/28/2014 Morgan Stanley reiterated Underweight price target at $63
4/24/2014 Argus raised Buy-rating price target to $79
4/23/2014 Guggenheim raised Neutral-rating price target to $60
4/22/2014 BMO Capital Markets raised Outperform price target to $82
4/22/2014 Citigroup reiterated Buy rating with price target of $75
4/22/2014 Cowen & Company raised Outperform price target to $73
4/22/2014 Goldman Sachs reiterated Conviction Buy price target at $72
4/22/2014 Jefferies Group reiterated Buy rating with price target of $75
4/22/2014 Raymond James raised Strong Buy price target to $80
4/22/2014 Susquehanna reiterated Buy rating with price target of $75
4/22/2014 UBS raised Buy-rating price target to $80
4/04/2014 Societe Generale raised Outperform price target to $69
3/28/2014 Deutsche Bank lowered Buy-rating price target to $73
3/27/2014 RBC Capital raised Outperform price target to $70
Final Thoughts
I obviously like HAL a lot and believe that it has very strong company-specific, industry-specific and macro-economic growth trends in its favor. However, no stock goes up in a straight line, so perhaps writing about HAL while the price is a little higher than I'm willing to pay helps reaffirm that my opinions are from a long-term investing perspective. Even though my HAL position is already at a pretty low cost basis, I get more conservative with every new grey hair, so I only add at prices that offer both upside potential and downside protection.
Plus, I think this is a time to be cautious in the market in general. I'm far from among those who've been predicting a deep market correction every day since 2009, but for only the second time in two years, I do believe that a correction has become more likely in the coming weeks or months. That is still within the context of a secular bull market that I believe will continue for at least another year or three, but the recent market dip probably wasn't all for the year either.
Therefore, my opinion is that scaling into positions is as important as always, if not more, and that applies to HAL just like any other stock. Or, as Peter Lynch puts it, "The best stock to buy is the one you already own."
I have one final thought that's somewhat off topic. Articles on stocks like HAL that everyone knows get ten or twenty times as many readers, but many of my best money-making calls are about sparsely-covered companies that I had never even heard of until I started researching them for investment suitability.
Whether mine or those of other SA contributors, articles about under-covered stocks are often where the real money is at, so perhaps consider looking at my recent Standex International article and/or Raymond James Financial article. I have many others on under-the-radar companies that've been successful calls, but those are probably the only two still within the free-access thirty days.
Thanks for reading and best of luck. I wrote this article 5/26-7/13. I apologize in advance that I can no longer spend time on comments beyond the opinions that I offer in my articles. As always, every reader is free to dismiss any or all of my opinions. Or, as SA puts it, "Read. Decide. Invest."
Disclosure: The author is long HAL, CVX, RJF. The author wrote this article themselves, and it expresses their own opinions. The author is not receiving compensation for it (other than from Seeking Alpha). The author has no business relationship with any company whose stock is mentioned in this article.
Additional disclosure: I am long HAL, CVX and RJF, and may buy or sell shares at any time, though I currently have no immediate plans to buy or sell.