Earlier this morning, the news was all peaches and cream when Bank of America (NYSE:BAC) released its earnings. Lo and behold, the stock is selling off rapidly this morning because it cannot run from reality. This is not your classic buy the dip pull back, as far as I am concerned this is the classic "dump it now" sell off that comes from complete frustration by shareholders who would have loved to see an end to all of the mortgage mess issues that have and will continue t plague the bank.
First, BAC Takes A $4 Billion Litigation Hit
Right off the bat, this news release tells it like it actually is:

Bank of America said Wednesday that its second-quarter earnings were hit by higher litigation expenses.

The Charlotte, N.C.-based bank earned $2 billion in the second quarter after payments to preferred shareholders, compared with $3.6 billion in the same period a year earlier, a decline of 43 percent.

Revenue fell 4 percent to $21.9 billion from $22.9 billion.
Does this sound like wonderful news to you? As a matter of fact, just these few sentences are what BAC has to look forward to in the coming quarters as well as the dark cloud that follows it around, without even coming close to an agreement with the DoJ.
Like its competitors, Bank of America is still dealing with the fallout from the financial crisis that began in 2007 and the subsequent collapse of the housing market. The bank said in March that it will spend $9.33 billion to resolve a dispute over mortgage securities with the Federal Housing Finance Agency, the regulator that oversees Fannie Mae and Freddie Mac......However, unlike JPMorgan and Citigroup, Bank of America has yet to settle a federal investigation into its handling of risky subprime mortgages. Citigroup said on Monday that it had agreed to a $7 billion settlement with the Department of Justice, while JPMorgan reached a $13 billion settlement in November.
As far as I am concerned, this sounds like Purgatory to me, at least for the foreseeable future.
Talks With The DOJ Are Still In Limbo, At Best
Then there was this news article released this morning as well, which further crystallized the mess in its current state, as well as its potential future "form":
On Tuesday, the banks' lawyers met in Washington with the Justice Department, but the two sides remain far apart on reaching a settlement, people briefed on the matter said. In a call with reporters on Wednesday, Bruce Thompson, the bank's chief financial officer, declined to say whether the large legal expense was related to a possible Justice Department settlement, but he acknowledged that "the D.O.J. is one of the significant remaining mortgage-related matters we have left."
Could this have been a "real" acknowledgement, or just his opinion? Obviously nothing has been settled, yet:
He also declined to comment on the status of the negotiations.
Now there is a real shocker!
Where Does This Leave Shareholders
The shareholders who continue to hold on for some sort of good news, might have a much longer period of time to wait. Some might actually add shares in the hopes that this entire mess will be put to bed.
As for me personally, the proof is what the market is saying, right now.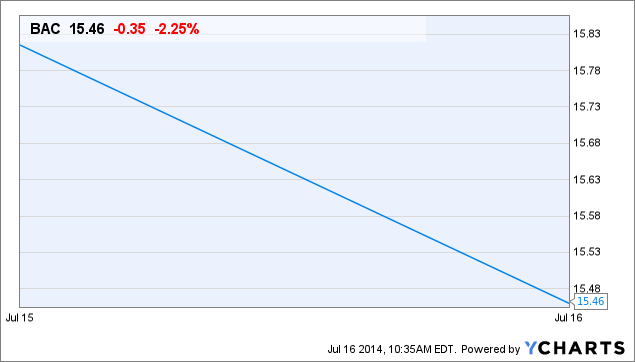 BAC data by YCharts
The Bottom Line
I would not be a buyer at the current price, nor would I add shares to an existing position. As it has turned out, my thesis thus far has been correct.
BAC has been and is, dead money.
Disclaimer: The opinions of the author are not recommendations to either buy or sell any security. Please do your own research prior to making any investment decisions.
Disclosure: The author has no positions in any stocks mentioned, and no plans to initiate any positions within the next 72 hours. The author wrote this article themselves, and it expresses their own opinions. The author is not receiving compensation for it (other than from Seeking Alpha). The author has no business relationship with any company whose stock is mentioned in this article.