Back in 2007, when Apple (NASDAQ:AAPL) introduced the first iPhone, the smartphone was just a novelty. But since then, the times have changed.
In this day and age, the smartphone has become one of the most important pieces of computing equipment in our everyday lives. And for many technology stock investors, news of the ongoing smartphone war is perhaps the one thing that we would all follow.
The Latest Update in the Smartphone War
In recent time, IDC has updated the latest statistics on mobile market share, and for technology investors, these numbers could offer some very valuable insight to how things are moving in the ongoing smartphone war.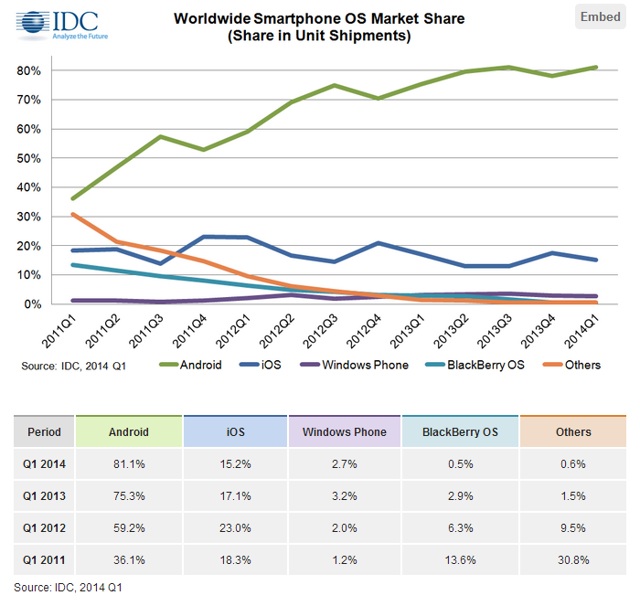 Click to enlarge
The Four Competitors In The High Tech War
I. Google & Android, The Biggest Gets Even Bigger
Based on IDC's numbers, Google's (NASDAQ:GOOG) (NASDAQ:GOOGL) Android ranks first in the battle for market share in the smartphone war. It's widely known that Android is king when it comes to mobile market share, but over the past year, it has proven that in spite of its enormous size, there is still room for more growth. Despite taking up more than three quarters of total market share since last year, Android has managed to add another 6 percent to its stake and push out its market share from 75.3% to 81.1%. In terms of mobile sales, IDC estimates that Android has sold a whopping 233 million units in Q1 2014, and this represents a year-to-year growth of more than 40%. With complete dominance in market share and growth rate, Google is the undisputed king of the smartphone war.
II. Apple & iOS, Small In Market Share But Big In Profit Share
The runner-up to Google's Android in market share is Apple's iOS, and as the IDC statistics have shown, the iOS has seen a year-to-year decline in market share. From 17.1% in Q1 2013, iOS's market share has dropped by roughly 2 percentage points to 15.2%. In my view, this is to be expected since a majority of mobile sales growth is coming from the middle and lower end of the market segment. As a luxury smartphone maker, it is likely that Apple will continue to see its market share erode. But don't panic yet, Apple investors, because market share doesn't tell the entire story: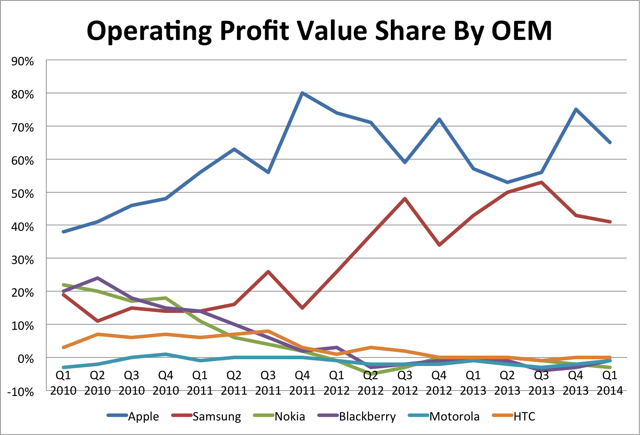 Click to enlarge
Source: Canaccord Genuity
As shown in the graph above, while Apple is small on market share, it rakes in the lion's share in smartphone profits. In terms of mobile profits, its only real competitor is Samsung (OTC:SSNLF). And after Samsung announced their less-than-stellar Q2 earnings, it would definitely be interesting to look out for how Apple will do in the upcoming earnings report. As an Apple investor, I would pay close attention to the Q2 earnings release, because for Apple, profit share dominance, not market share dominance, would be the key to the company's success.
III. Microsoft and Windows, Losing Ground In The Mobile War?
Coming behind iOS at third place is Microsoft's (NASDAQ:MSFT) Windows Phone. And interestingly, it turns out that the Windows Phone has been losing market share over the past year. This is a sign for alarm as it marks a reversal of trend from earlier growth. As we could see from the IDC chart, the market share for Windows Phones has been rising right up until 2013, from 1.2% to 3.2%, but during the past year, it has reversed course and dropped half a percentage point in market share from 3.2% to 2.7%. While half a percentage point may seem small, it is not insignificant as it represents a 15% drop in the Windows Phone's market share. This does not bear well for the company, and in one of my earlier article, I have highlighted the problem with the Windows Phones.
With its abysmal number of users, Microsoft will continue to have a hard time persuading developers to create apps for its ecosystem. And without apps, consumers will not want to buy its devices. It's a vicious cycle, and it's only going to get worse.
In my view, the smartphone war is a critical mass game, and if Microsoft cannot break into the mass market now, then I highly doubt that it would get any better. Rest assured, Satya Nadella is going to have a tough time turning things around in Microsoft.
IV. BlackBerry, Dead As A Doornail
While the situation for Windows Phone may be a borderline hopeless case, the situation for BlackBerry (NASDAQ:BBRY) OS is much, much worse. To all the BlackBerry investors out there, if you are banging on a turnaround to happen, don't count on mobile sales to drive earnings growth. This is because BlackBerry's market share has just declined to a pathetic 0.5% of the total. From the IDC chart, we can see that BlackBerry is the biggest underperformer amongst its peers. And in the previous three years, it has shredded market share with remarkable consistence at an alarming rate; in those past three years, it has lost at least 50% of its market share per year and its current stake of 0.5% is less than one-twentieth of its 13.6% market share in 2011. Things are definitely looking pretty bleak for the BlackBerry OS right now, and there is a good chance that it may never get any better.
Much like Microsoft's Windows Phone, the BlackBerry OS suffers from the problem of having a backward ecosystem with few developers. And on top of this challenge, BlackBerry also has neither the marketing power nor the resources to compete with its competitors (Apple, Google, and Microsoft). Note that even Microsoft, the smallest of the Big Three in capitalization, is more than fifty times the size of the current BlackBerry. It would take a miracle for BlackBerry to get back on its feet on the smartphone war. And if Android is king, then BlackBerry may just be the fallen soldier in the smartphone war.
Verdict
Based on the most recent statistics, it appeared that there were two winners and losers in the smartphone war. On the winning side, Google's Android was the indisputable king in the battle for market share, while Apple took the cake in sheer profit share. Their two competitors, on the other hand, were not so lucky. Both the Windows Phone and BlackBerry were caught between a rock and a hard place as they struggled with eroding market share and a lack of dedicated developers. In BlackBerry's case, the situation is especially dire and it may be on its last breath in the battle for mobile supremacy.
Disclosure: The author is long AAPL. The author wrote this article themselves, and it expresses their own opinions. The author is not receiving compensation for it (other than from Seeking Alpha). The author has no business relationship with any company whose stock is mentioned in this article.