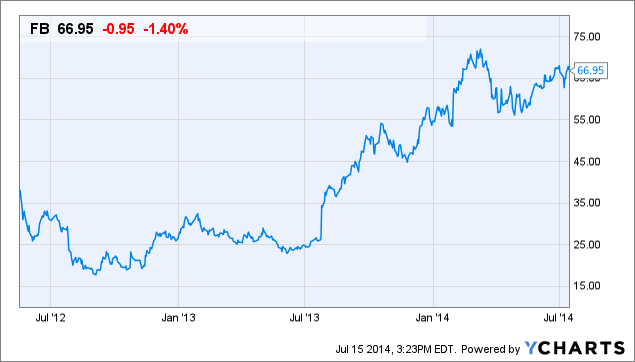 Background: Facebook, Inc.(NASDAQ:FB) operates as a social networking company worldwide. Facebook, Inc. was incorporated in 2004 and is headquartered in Menlo Park, California. The company's shares are liquid and trade an average of 40.3 million shares per day, and the company has a market cap of $172 billion.
Other competitors in the same space include LinkedIn (NYSE:LNKD), Google (NASDAQ:GOOG) (NASDAQ:GOOGL), Microsoft (NASDAQ:MSFT), Yahoo (NASDAQ:YHOO), and Twitter (NYSE:TWTR). To be sure, Facebook overlaps others as well, but Google and LinkedIn are the closest comparisons in my opinion. I recently wrote about Yahoo's earnings.
The upcoming second-quarter earnings is highly anticipated by hopeful investors expecting an earnings growth report after the market closes on July 23, 2014. The analysts' mean profit appraisal is presently 32 cents a share, a gain of 13 cents (68.4%) from 19 cents during the corresponding quarter last year.
Analysts are estimating as low as 28 cents per share, up to the most optimistic estimate of 38 cents per share.
The whisper numbers I've read range from 32 cents to a high of 39 cents. That means, Facebook will have to generate a significant beat in order to impress the market.
Compared to Facebook's 36 forward price-to-earnings ratio, LinkedIn has a rich P/E of 64, Twitter sports a mile high 145 P/E, and Google comes in at about 34. Arriving at 36 was a wild ride for shareholders.
The stock traded under $26 and above $72 within the last year. It's beginning to stabilize though. The Beta is down to 1.08, or slightly more volatile than the overall market.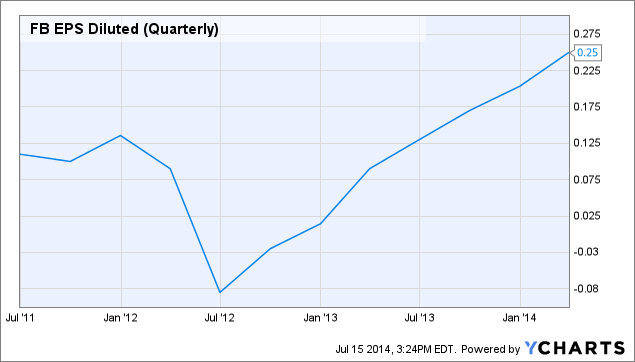 36 analysts rate Facebook a buy or strong buy out of 42 analysts. The company has 6 holds, and no analysts recommend selling. Analysts are calling for a price target of $78.12.
Stocks with options trading provide the average retail investor with a crystal ball of sorts and a view of what others are thinking. Unfortunately, most don't take advantage of the information options offer.
Option prices are the most accurate method known to gauge price action post-earnings. If you're truly interested in earnings, do yourself and your portfolio a favor and calculate the expected price range. I've calculated it at the time of writing, but it's a good idea to do it again as the day approaches.
Traders and investors are expecting $7.10 change higher or lower, or about a 10% change during the next 10 days. The earlier 1.08 Beta may prove to be a wolf in sheep's clothing.
In other words, shareholders or potential investors should reasonably expect the stock to trade as low as $60.80, or as high as $75, and still remain within one standard deviation. If you're not already fully prepared for at least that much volatility (and there's no guarantee it won't move beyond the expected range), you want to make the necessary adjustments.
After last quarter's results, the shares decreased only slightly, 0.8%, or 49 cents from the close before earnings release to the closing after. The final price preceding the report was $61.36, and concluded at $60.87 the next trading session. That's misleading also. Looking at the chart demonstrates extreme price fluctuations to arrive at the small next-day closing price.
Within the next few days, the stock traded below $56 and then moved right back up to over $63. So fasten your seatbelt and maybe consider selling some covered calls.
Based on last quarter's results and the current implied volatility of options, it appears that all else being equal, selling premium is superior to buying. Shareholders wanting downside protection may be just as well off selling covered calls instead of buying puts.
Regardless of the change in price, investors can capture the time premium between now and after the earnings release by selling call options while also protecting your portfolio. Simply buy back any calls and/or puts sold after the report. If the shares jump higher, what you lose in stock appreciation is likely more than made up through the expected fall in implied volatility after the report.
Shares have moved more or less with the overall market in the last 30 days, with a 3.7% improvement.
The 200 day moving average is climbing, and overall, the chart technical are bullish. Google has and is trying to crack further into the social media space with limited luck. Twitter directly competes for ad revenue, but doesn't offer nearly the versatility that Facebook does.
I attended the Social Media Marketing expo in Las Vegas last year to better understand the monetization capacities of each social network. One common theme throughout the entire show was that all paths lead back to Google. The intention may not be directly related to SEO, but indirectly it always was mentioned.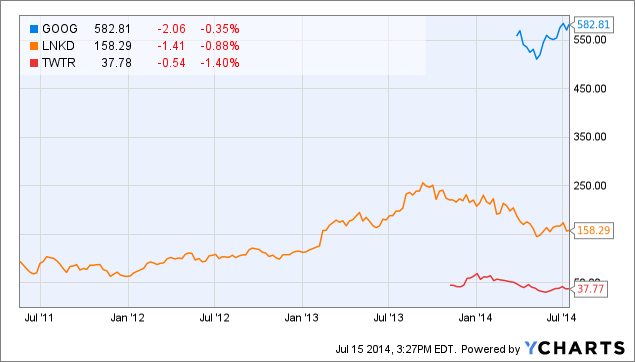 For me, it leads to no other conclusion than Google maintains its leadership position and Facebook, Twitter, and LinkedIn are secondary in regards to ad revenue importance. Obviously each has its strengths, but when I listen to speakers describing methods of driving traffic to a site through Twitter, and the benefits of higher traffic leading to an improving Google Pagerank number, we know what's driving ad buying decisions.
Same with Facebook, driving traffic from a company's Facebook page can lead to better search results within Google. That said, Facebook has an information advantage over Google and Twitter. Facebook's knowledge of what you and l like, along with our friends allows marketers to sell very finely tuned demographics.
LinkedIn has the same information in a different format. LinkedIn knows what professionals like, and they tend to be a higher socio-economic status. I'm not a fan of the concentration of shares within the CEO position, so it's not easy for me to get excited about buying Facebook. However, there's no other game like it, and I can't find a reason within the other metrics that makes me want to avoid it.
Presently, based on the float the short interest is unimportant and not a worry. The small amount of short interest is 2.2%. I consider short sellers the smart money and if they don't think it's worth shorting, it probably isn't. Turned around, that means a long position is the most likely to capture profits.
Disclosure: The author has no positions in any stocks mentioned, and no plans to initiate any positions within the next 72 hours. The author wrote this article themselves, and it expresses their own opinions. The author is not receiving compensation for it (other than from Seeking Alpha). The author has no business relationship with any company whose stock is mentioned in this article.